Africa Startup Ecosystem Builders Summit And Awards 2023, Extends Nominations To Mid-September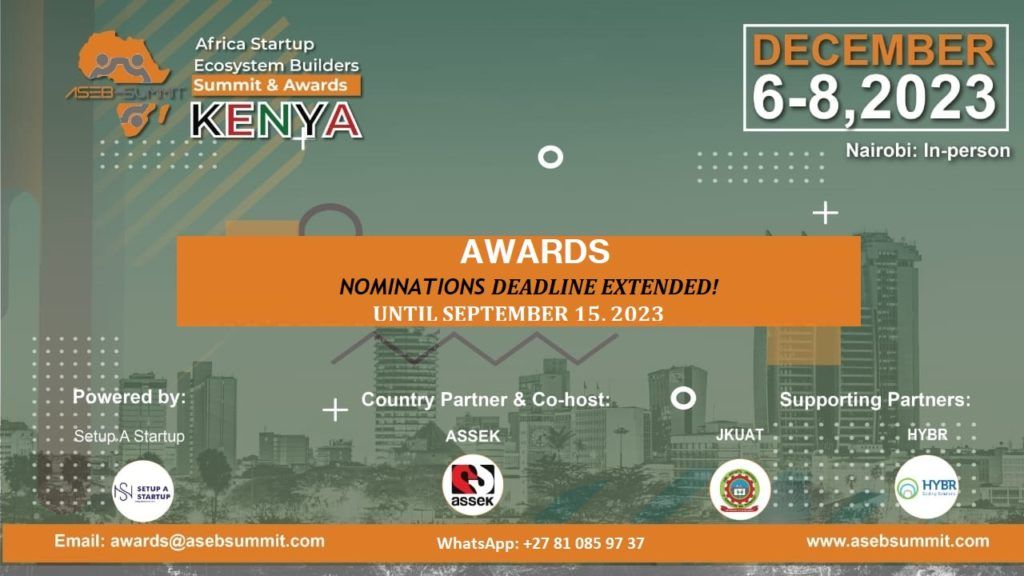 The Africa Startup Ecosystem Builders Summit and Awards (ASEB) has announced the extension of the dateline for nominations to its 2nd annual summit to September 15, 2023. The three-day event is scheduled to take place from December 6-8, 2023, in the vibrant city of Nairobi, Kenya. This extension offers a unique opportunity for more architects of the ecosystem to either self-nominate or put forward their accomplished peers, thus celebrating the profound impacts they have imprinted on the dynamic entrepreneurial landscape of Africa. It's noteworthy that participants are eligible for nominations across an impressive array of 30 categories.
Originally launched in 2021 by McKevin Ayaba, the CEO of Setup A Startup, the inaugural ASEB summit, held in Johannesburg last year, successfully brought together over 150 attendees from 36 diverse African nations. The summit culminated in the presentation of a staggering 88 awards distributed across 22 categories, all to acknowledge the often-overlooked champions of the ecosystem - the builders themselves.
In the words of McKevin Ayaba, "To fully harness Africa's latent potential, it is imperative that we acknowledge and honor the masterminds behind our ecosystem - the unsung heroes, the builders. As we stretch out our hand for nominations, this act stands as a testament to our belief that every contribution, regardless of its scale, constitutes a significant stride towards Africa's renaissance in entrepreneurship. Through unity and collaboration, we will pen Africa's next remarkable chapter in innovation and economic expansion."
Embedded within the core mission of ASEB is an unwavering belief that constructing a resilient and thriving startup ecosystem is an outcome achieved through a collective endeavor. This belief seamlessly aligns with the focal point of ASEB 2023: collaboration. This spirit of collaboration is further magnified through ASEB 2023's co-hosting partnership with The Association of Startup and SMEs Enablers of Kenya (ASSEK). The event's expansive vision is additionally fortified by the support of esteemed entities such as HYBR Group, Jomo Kenyatta University of Technology and Agriculture, and AfriEDX of Mauritius.
As the African continent in recent years witnessed a monumental digital transformation, the urgency for a robust and integrated startup ecosystem has never been more palpable. The ASEB Summit stands as a pivotal touchpoint, orchestrating partnership, resource allocation, and knowledge exchange, all of which converge to fulfill its guiding mantra - "Building A Vibrant Startup Ecosystem, one step at a time, together."
Going beyond illuminating discussions, enriching workshops, and solution-oriented sessions for startups, ASEB places a significant emphasis on bestowing awards that recognize the tireless endeavors of ecosystem builders, those who nurture, connect, and empower startups with the essential resources and guidance.
In light of forecasts that astonishingly predict the digital economy to contribute $300 billion to Africa's GDP by 2025, the indispensability of ecosystem builders takes center stage. ASEB not only amplifies this pivotal role but also passionately advocates for the collective endeavors that are indispensable to realizing Africa's immense promise in the realm of startups.
The summit's design is grounded in seven core pillars that encompass trust, collaboration, shared objectives, and a common language for fostering ecosystems. The ultimate aspiration is to elevate both the domestic and global startup landscapes by synergizing localized strategies with broader, overarching approaches.
For more information on the ASEB Summit, or to submit your nomination, please visit www.asebsummit.com.