African Startups and Individuals can apply for the GoGettaz Agripreneur Prize Competition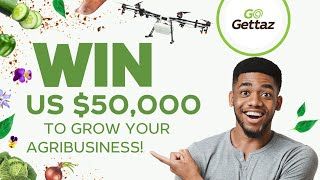 Generation Africa is inviting Agric startups to apply for its third annual US$100,000 GoGettaz Agripreneur Prize Competition.
The platform seeks to engage young, Agrifood change-makers with business models that can revolutionize food systems across the African continent.
Since its inception, Generation Africa has inspired Agrifood entrepreneurs from Cape Town to Cairo to use their energy, courage, and creativity to solve the biggest problems facing Africa's food systems. The GoGettaz Agripreneur Prize Competition is open to African citizens between 18 and 35 years old who are founders or co-founders of social or commercial Agrifood businesses headquartered in Africa.
This year, the award ceremony that will see two winners selected from the applicants will take alongside the Africa Food Prize. The program is been organized as a reward to young Africans and Agritech startups that demonstrate an entrepreneurial mindset and innovative problem-solving in developing and growing their Agrifood businesses.
Winners of the challenge will be unveiled in a grand finale pitch competition in July 2021, and they will each receive $50,000 to scale their businesses. Interested startups and individuals can click here to apply.