ANALYSING CBN'S BAN ON CRYPTO CURRENCY IN NIGERIA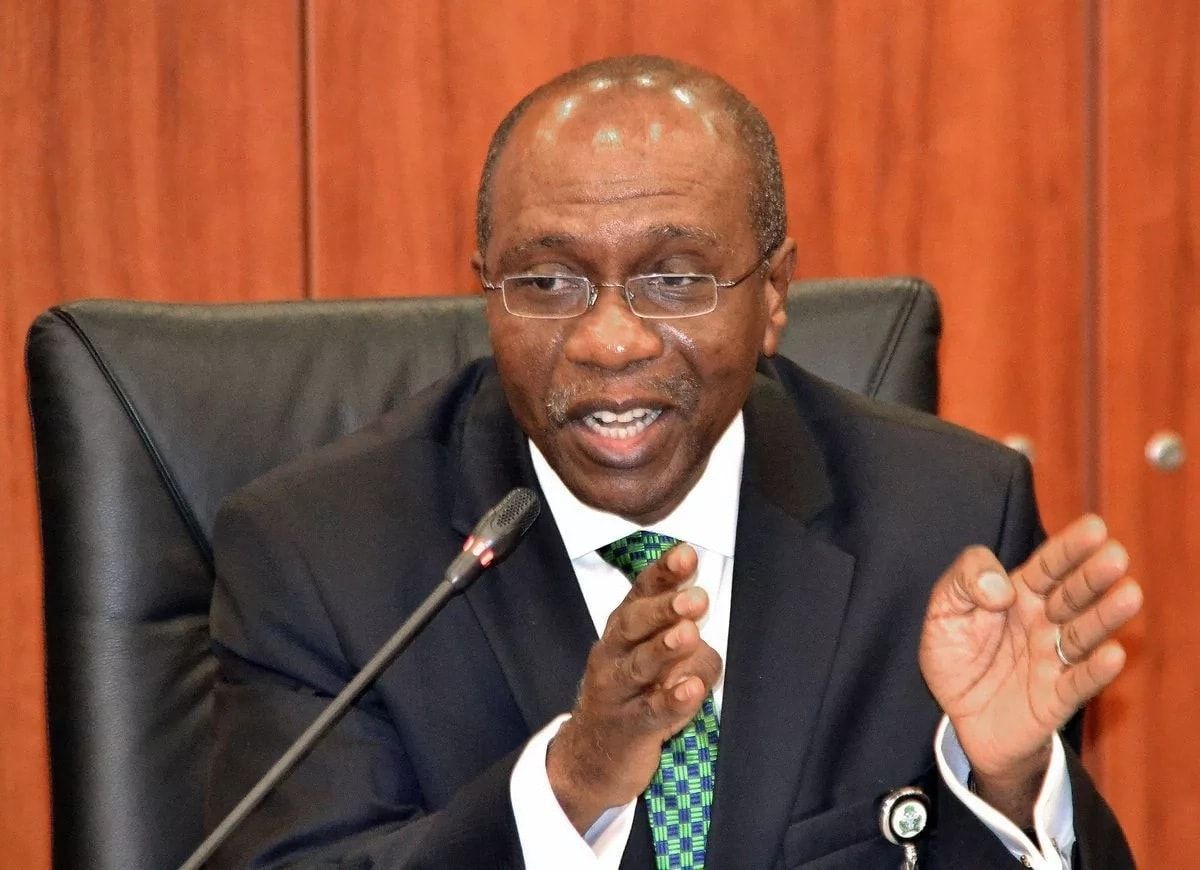 CBN Governor, Godwin Emefiele
The Central Bank of Nigeria (CBN), in a circular released on Friday 5th of February, 2021 ordered commercial banks and licensed financial institutions in Nigeria to close all accounts dealing with crypto currency in the country.
The apex bank maintained that "regulated institutions dealing in crypto currencies or facilitating payment for crypto currency exchangers is prohibited". It warned that, any breach of this policy would bring "severe regulatory sanctions". The circular also instructed banks to investigate all accounts dealing with crypto for fraud.
The implication of this policy is that while cryptocurrencies are not illegal, financial institutions will not be able to process crypto transactions on crypto exchanges in the country. The apex bank also mandated that financial institutions should investigate and block all accounts trading cryptocurrency in the country.
This policy is coming after an earlier memo released by the regulatory body in 2017 where it cautioned banks on the dangers of crypto and advised all financial institutions to be wary of the use of crypto as it is largely untraceable and more likely to be used by criminals as a medium of transaction. The apex bank also prescribed some directives financial institutions could take pending when substantial regulations or directives have been arrived at by the regulatory body.
The Central Bank also warned that bitcoin and other such crypto currencies were not recognized legal tender thus any bank who deals in any of these does so at its own risk.
On February 28, 2018, it released another circular reiterating its earlier position on the matter, stating that "dealers and investors in any kind of crypto currency in Nigeria are not protected by law" and went on to caution Nigerians on the risk inherent in Crypto transactions.
Despite these warnings, financial institutions and exchange platforms have been able to develop a workable template to facilitate Crypto transactions. A move that has seen Nigeria emerge the second country with the second highest volume in crypto trading in the world, second only to the United States.
However, CBN's recent circular prohibiting banks to facilitate transactions for crypto exchange platforms came as a rude shock to players in the industry as many claimed they were not consulted or given preliminary information of the move. The bank also directed all licensed financial institutions to "identify persons and/or entities transacting in or operating cryptocurrency exchanges within their systems and ensure that such accounts are closed immediately.".
This development sparked a wild social media backlash and in a letter signed by the Acting Director of corporate communications Osita Nwanisobi on Sunday 7th of February, the bank sought to provide further justification for the ban.
The bank stated that "the recent regulatory directive became necessary to protect the financial system and the generality of Nigerians (including the youth population) from the risks inherent in crypto assets transactions, which have escalated in recent times, with dire consequences for the integrity of the financial system and financial stability".
The CBN also stated that its stand on Crypto was no different from the decision taken by many countries, international financial institution and distinguished investors as "They have all made similar pronouncements based on the significant risks that transacting in cryptocurrencies portend- risk of loss of investments, money laundering, terrorism financing, illicit fund flows and criminal activities." This view is becoming obsolete as many institutions in the world are beginning to device ways they can actively use Bitcoin in financial transactions and find ways to lower the risk involved in crypto by bringing about more transparency during transactions. The United Nations Secretary General has also been quoted to have said the institution will be embracing Blockchain technology to boost donations. This came after UNICEF received its first bitcoin and ethereum donation in October 2019.
According to the CBN, the use of Cryptocurrency in Nigeria was a contravention of existing laws in Nigeria, in their words, "the fact that they are issued by unregulated and unlicensed entities, their use in Nigeria goes against the key mandates of the CBN, as enshrined in the CBN Act (2007), as the issuer of legal tender in Nigeria"
Although the ban does not criminalize the ownership of crypto, the fallout of this ban is that, it will become very difficult for Nigerians to transact in Crypto. Many exchange platforms such as Luno, Binance, Patricia etc. rely on non-bank financial institutions and other financial institutions to transact with bank customers in Nigeria. With this policy, Nigerians will only be able to buy or sell crypto through peer-to-peer transactions. The danger in this method is that, it is more susceptible to fraud, as the P2P model is highly dependent on trust.
It bears mentioning that Nigeria became the second country in the world, after the United States, with the highest Bitcoin trade volume according to Paxful, a Peer2Peer trading platform. According to analysts, this is tied to the prolonged dollar shortage in the country caused by the dwindling oil revenue. As the government grappled with this economic challenge, the inflation rate became very high and there was prolonged instability and uncertainty around the naira. Cryptocurrency became a viable means for Nigerians to work around the lack of access to foreign exchange and also preserve their money from being eroded by inflation.
Crypto has also become the preferred currency for receiving foreign remittals which has significantly affected the country's foreign exchange earnings over the last few years. This can be traced to the exclusion of Nigerian residents from foreign financial service companies like Paypal, cashapp, sripe and others. This is also due to policies introduced by the CBN to shore up the naira as the currency became unstable due to dwindling foreign exchange earnings. The apex bank placed a cap on how much Nigerians can spend using their domiciliary accounts and gave stipulations on how much Nigerians can spend on foreign transactions using the naira. In a data released by Nairametrics, between January 2020 to September 2020, remittance that accrued to the nation through official channels dropped from $2.05billion to $54.4 million. A massive 97.3% shortfall in foreign exchange.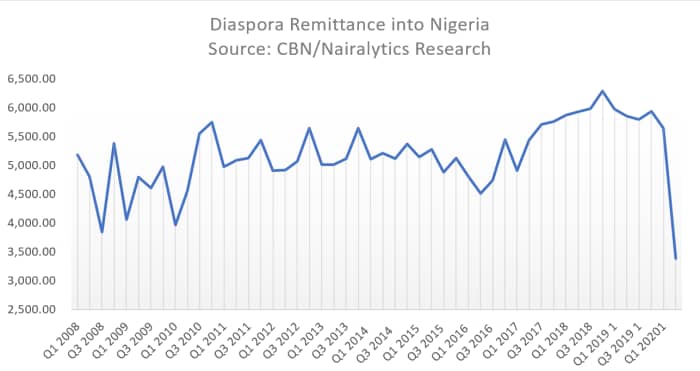 Source: Nairametrics
However, there has been no marked improvement in foreign remittals. With this ban, analysts say CBN has shot itself in the leg, as businesses that would ordinarily use cryptocurrency channels to transact their business would now need to source for dollars to do their business, leading to increased pressure on the CBN for already scarce foreign exchange.
A former deputy governor of the Central Bank, Kingsley Moghalu has criticized the ban saying, "people can use cryptocurrency for wrong uses but every medium of exchange is subject to fraud and criminality." He suggested that, the bank should have developed a regulatory framework that restricts the use of cryptocurrency or subjects it to some form of surveillance. "If you can manage the risk of fraud in paper money and other electronic platforms, why can't you think of managing it with crypto currencies?" he said.
What does this change signal for investors?
Prior to the overt ban by the CBN, the Nigerian Securities and Exchange Commission (SEC) had released a statement on digital assets with a view to enhancing the transparency of crypto currency transactions in Nigeria. The SEC was quoted saying "any person, (individual or corporate) whose activities involve any aspect of blockchain-related and virtual digital asset services, must be registered by the SEC and as such, will be subjected to the regulatory guidelines". The SEC intention was to create standards that encourage ethical practices that would in the end make for a fair and efficient market. With this release, stakeholders in the Nigerian crypto industry were looking forward to government regulations that would bring about greater efficiency and transparency in the sector. However, with the CBN emphasizing the ban of crypto in Nigeria and taking action to deter participants, a clear lack of coordination and synergy amongst government institutions in the country has been further exposed.
Unfortunately, this is one of the many actions that reduces investor confidence and sends a signal that the government is high handed in its dealings with the private sector. Participants in the crypto industry are hopeful that government will lift the ban on crypto in the near future as adoption of crypto becomes more popular in the world.