ARM selects 6 Startups for DAAYTA 2021 Finalist Pitch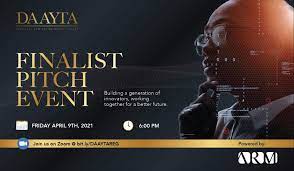 The Deji Alli Young Talent Award (DAAYTA) finalist pitch will be held on Friday, 9th April 2021. The announcement was made via ARM who also pointed that the program will be held virtually.
The Deji Alli ARM Young Talent Award is an ARM initiative that is in partnership with TechnoVision's TVC Labs that aims at providing young Nigerians with an opportunity to develop innovative start-ups that are aimed at adding to the economic value of Nigeria. The program considers startups minimum viable products and at least one customer.
In November 2020 when DAAYTA 2021 was announced the application for the program, over 500 startups applied and the organizers have now selected the top six startups from the lot having seen that they possess all necessary features.
The six finalists include:
EduPoint Limited: an Edtech startup that connects people seeking to learn any subject or skill – both formal and informal – with competent and verified tutors.
Natal Cares: a Healthtech startup that combines mobile technology, machine learning, and low-cost innovation to combat maternal and infant mortality in Nigeria.
Lend An Arm (HealthBotics): a Healthtech startup that aims to solve the persistent shortage of blood and blood products in Nigeria.
Scrapays Technologies Ltd: a startup that connects waste producers (individuals and enterprises) with independent recyclable material collection businesses so they can dispose of their sorted waste efficiently with a return.
SALUBATA: a startup that makes shoes out of plastic wastes.
Utiva: a tech startup that teaches individuals tech skills necessary to gain job-ready expertise for the careers of the future.
These six startups will be given the platform to present their pitches to judges consisting of entrepreneurs and seasoned professionals and the winner shall receive funding of N12M over a period of one year.