AUTO24.africa Expands Its Used Car Marketplace to Four New African Markets
AUTO24 has expanded into Morocco, Rwanda, Senegal, and South Africa to redefine car ownership on the continent through innovative customer-centric services.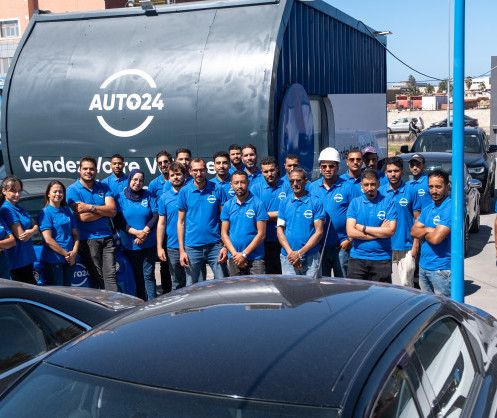 AUTO24.africa, an Abidjan-based used automobile marketplace, is making tremendous progress toward its goal of transforming the African automotive business. Following a remarkable first year in Ivory Coast, the company has expanded into Morocco, Rwanda, Senegal, and South Africa. This growth is in line with the startup's aim of redefining car ownership on the continent through innovative customer-centric services.
Axel Peyrière, CEO of AUTO24, expressed the company's unwavering commitment to being customer-centric, stating, "Our goal is not only to be the best in the market but to ensure we deliver unparalleled services for every used car buyer and seller. This expansion is a testament to our dedication."
What sets AUTO24 apart is its distinctive and exclusive services. For all automobiles, it provides a five-day refund policy, a six-month warranty, one-year maintenance, and one-year insurance coverage. Furthermore, in partnership with many partners, the portal offers convenient financing solutions. In many African countries, these products are pioneering, setting new norms for car ownership experiences across the continent.
Stellantis, AUTO24.africa's principal investor, has been a driving force behind the company's ambitious journey. Stellantis, which owns major automakers such as Chrysler, Dodge, Fiat, Ram, Peugeot, Jeep, and others, supports AUTO24's goal. Stellantis' assistance is consistent with the company's strategy plan, DARE FORWARD 2030, which intends to extend its mobility solutions to fulfill the different needs of consumers in Africa.
The auto startup operates under the umbrella of Africar Group, which has been a pioneer in online automotive classifieds in Sub-Saharan Africa since its inception in Australia in 2016. This expansion is part of AUTO24.africa's long-term vision to become the leading multi-brand certified pre-owned car retailer in Africa. The platform intends to introduce even more features and capabilities that will enhance the automotive buying and selling experience, all while ensuring trust and transparency.
To cater to a wider range of customers, the upcoming platforms for the newly added countries will be available in both international and local languages. These dedicated websites—auto24.ma for Morocco, auto24.rw for Rwanda, auto24.co.za for South Africa, and auto24.sn for Senegal—will introduce a unique feature that allows customers to reserve and secure their desired car before test-driving and finalizing the purchase. This innovative offering sets a new benchmark in the market, further elevating the customer experience.
About AUTO24.africa
AUTO24, a direct-to-consumer used car firm, was launched in Abidjan, Ivory Coast, in 2022, in its first year as part of Africar Group's mission to establish confidence in African clients in the used vehicle industry. "After more than five years of working with automotive manufacturers, distributors, and other key players in the industry, we have developed a class-leading, multi-country digital automotive solution across Sub-Saharan Africa," said Peyrière during the startup launch. Auto24 is launching today to bolster African buyers' trust in the used automobile sector. A fantastic challenge that will allow us to have a safe, convenient, trustworthy, and fun experience buying or selling used vehicles."
In Africa's vibrant automotive sector, AUTO24 faces competition from players like Autochek, Nigeria's automotive technology company. Autochek is focused on auto financing across Africa and has been expanding its presence in the region. With acquisitions like ROAM Africa's automotive marketplaces Cheki Kenya and Cheki Uganda, Autochek is making significant strides. It has also acquired CoinAfrique, a classified ad marketplace operating in French-speaking Africa, as part of its strategy to expand auto financing services in French-speaking African countries like Senegal and Côte d'Ivoire.
As AUTO24.africa continues to redefine car ownership experiences across Africa, its expansion into new markets is set to make waves and usher in a new era of trust, convenience, and transparency in the pre-owned car market on the continent.