Boya And Paymentology Partner To Simplify Corporate Expenditure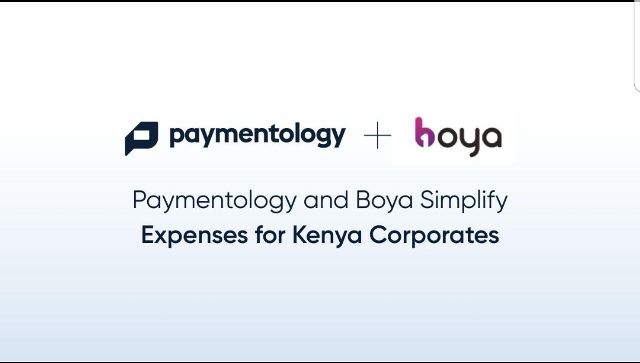 Global issuer-processor, Paymentology, has partnered with Kenyan Tech startup Boya to simplify expenses for Kenyan corporates.
With the support of Diamond Trust Bank, a tier 1 bank in Kenya, Paymentology has connected Boya to Visa through its card issuing platform which will provide enhanced data analytics capabilities support.
Boya was founded in 2021 as a cloud-based expense management solution that streamlines the entire process for businesses from tracking expenses through mobile and web applications to automatic transaction recording.
The solution provides reporting capabilities, generating reports for better financial insights and decision-making. It also integrates with popular accounting software which eliminates manual data entry and ensures adherence to company guidelines and regulations.
Commenting on the launch, Alphas Sinja, Chief Executive Officer at Boya, said: "Boya has streamlined and revolutionised expense tracking and reporting for businesses of all sizes in Kenya, and is empowering businesses to make smarter business payment decisions. Thanks to our issuer processing partner, Paymentology, Boya has access to a fast and scalable infrastructure solution that has enabled the smooth launch of our virtual Visa expense card. We look forward to the future of the partnership and together empowering organisations to make better business spending decisions."
Additionally, the mobile app allows employees to manage expenses and track approvals conveniently from iOS and Android devices. Overall, Boya simplifies expense management, enhances financial visibility, and promotes cost savings for businesses.
"In today's fast-paced digital landscape, thriving in business demands agility at every level. As Boya's strategic issuer processing partner, we take immense pride in supporting their new Visa virtual card, acknowledging the growing importance of efficient financial tools for businesses in Kenya. With our innovative solutions and deep expertise, Boya's customers can be confident that their expenses are seamlessly handled, enabling business owners to focus on other vital aspects of their organization," Kirsten Wortmann, Regional Director for Africa at Paymentology said.