Bundle launches crypto community to educate crypto enthusiasts.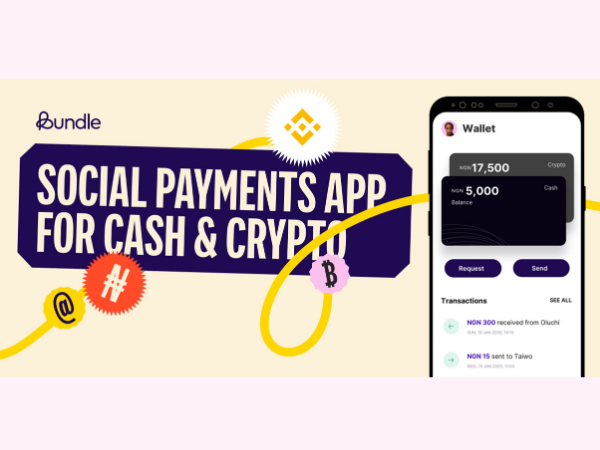 Bundle, a social payment app for cryptocurrency has launched a community for crypto enthusiasts with the mission to promote the adoption of cryptocurrency in Africa.
In a series of tweets, the company announced the launch and enumerated the benefits members stand to gain from the community.
According to the tweet,  members will;
learn to make good trades directly from investors with great experience
meet connect and share ideas with crypto experts
enjoy the opportunity to have an authentic conversation with others within  the community
If you want to become a good trader and learn more about Crypto, Bundle wants you to join by filling out this form.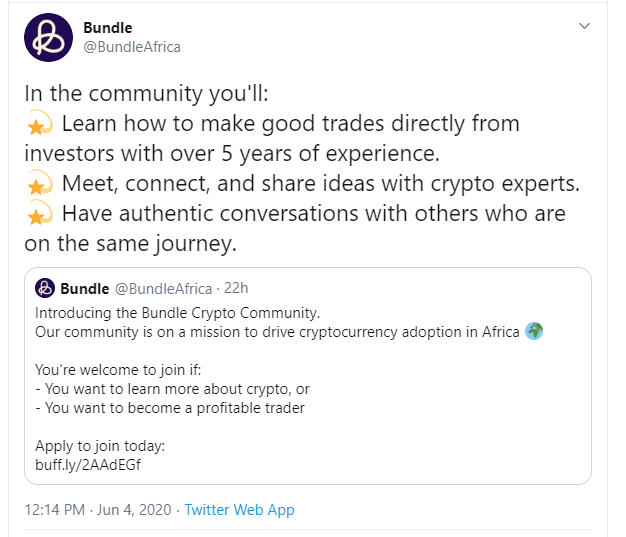 The growth of cryptocurrency in Africa is exponential, with currency exchanges and various applications springing forth daily, the education and awareness about cryptocurrency are needed at this time.
Bundle was established to make prosperity a reality for Africans and to drive the adoption of crypto on the continent.
"We built Bundle with the digitally native African user in mind. They are social, online, and connected across geographical boundaries. They prefer their financial services delivered digitally via mobile apps as opposed to visiting brick and mortar bank branches. We decided to build a mobile wallet that supports cash and crypto, and makes using crypto feel like just another digital financial transaction done on a mobile app," says founder, Yele Bademosi.
Bundle was founded by Yale Bademosi, a successful entrepreneur and a partner at Microtracton.  Bundle has also successfully raised $450k in pre-seed from Binance.