Careem goes remote.
Careem, the Egyptian tech giant is going remote, allowing their employees to work from home.
Careem is joining other tech giants within the region to announce remote work following the devastating effect of the pandemic on commerce and the importance of social distance which has become impossible within the workplace. For the company, working remotely will now be the default way of working with the company.
In a social media post announcing the decision, Mudassir Sheikha, the co-founder, and CEO of Careem, "We believe it is the future of work that is good for business and more flexible for colleagues. Moreover, it is deeply aligned with our cultural values of ownership and trust,". The CEO also stated that only 10 percent of employees have expressed a desire to work from the office.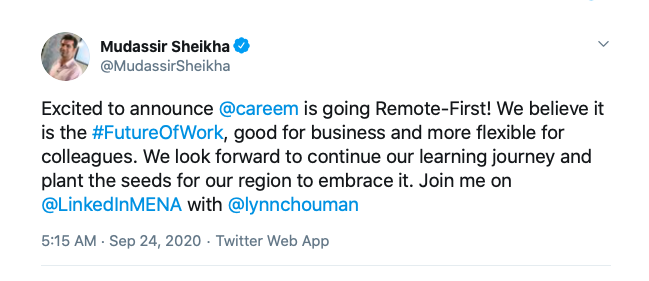 The company has also given its employee the option of in-office work if they so desire. The offices will remain open and used as collaboration spaces, according to the company's Director of Talent.
During a live session with LinkedIn News Gulf, Ella Fordham, the Director of Talent and Learning, stated that Careem employees will have the opportunity to work from anywhere in the world with 60 calendar days every year, and the rest of the year must be spent in their respective contracted location and can work from anywhere within their contracted country throughout the year.
On the issue of allowance, Ella Fordham stated that the company will not introduce any new allowance for employees working from home and might repurpose the travel allows currently benefitted by employees.
Careem was one of the first tech companies to announce a remote work when COVID-19 hit the region and with 36 offices within the MENA region, working from home will now become the new norm with the Dubia based tech company.
Careem is also owned by Uber, Inc which it acquired earlier this year for $3.1 billion.