Catapult: Inclusion Africa 2020 registration closes soon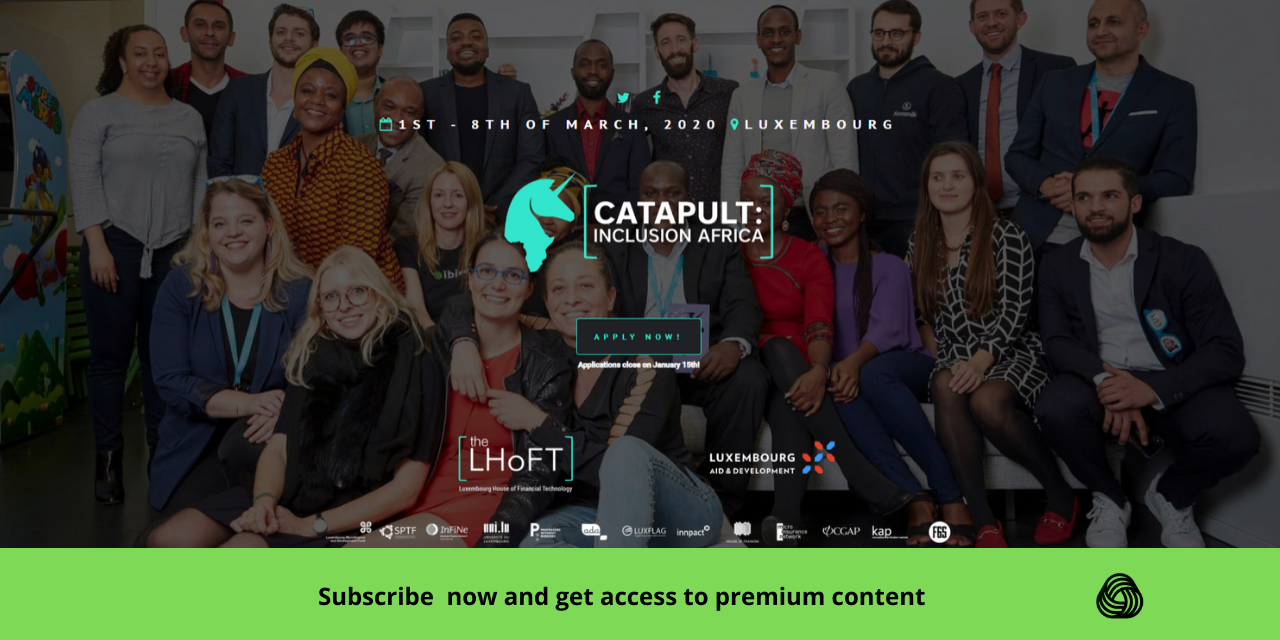 The second edition of Catapult Inclusion Africa, a program of Fintech startup development holds this year. This program was first held in 2018. Catapult Inclusion Africa focuses on financial inclusion in Africa.It is organized by LHoFT Foundation.
This year's event would be a week training and networking Bootcamp. It intends to only accept  12 Fintech firms' applications in a bid to improve financial inclusion in Africa. These 12 fintechs' travel and accommodation costs will be sponsored.
The first edition of Catapult Inclusion Africa in 2018 was a great feat with these 12 companies as participants. Akaboxi Limited in Uganda, Akiba Digital in South Africa, BitValley at Luxembourg, Four financial services limited in Uganda, Inclusivity Solutions in South Africa, Koosmix Corp at Luxembourg, Matontine Senegal in Senegal, Nala in Tanzania, Oko in Israel, Ovamba Solutions in the United States, Vouch Digital Limited in Uganda and WECASHUP in Cameroon/France.
Among the twelve, the Ugandan micro-pension service and e-wallet platform Four One Financial Services won the Best Catapulter Award.
The deadline for this year's application is 15th of January, 2020.  The program is scheduled to hold March 1-March 8, 2020.
The location for the event is set at 9, Rue du Laboratoire, Luxembourg, Luxembourg. Target participants are African with particular focus on the sectors like Artificial intelligence, Blockchain, Financial services and Fintech.