Changera Partners MoneyGram, Stellar to Revolutionize Cross-Border Payments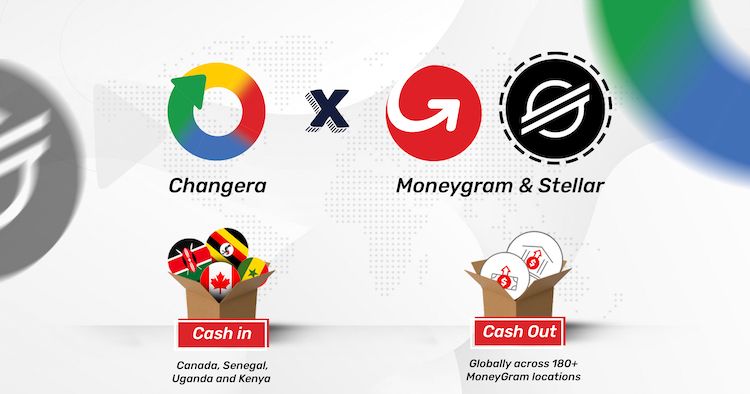 Changera, one of the fastest-growing cross-border payments startups, has partnered with global leader, MoneyGram and the open-source, Stellar network to enable cash-to-crypto deposits and withdrawals for customers worldwide. This strategic integration aims to democratize cross-border payment access for people and businesses across the continent, and the world at large, signaling a significant milestone in Changera's mission to empower underserved regions with seamless and secure transactions.
Founded in 2021, Changera's core focus lies in facilitating cross-border payments and remittances for its users, and since then, it has proven its value proposition, providing ease of transactions for businesses across Nigeria, Ghana, Kenya, and Canada.
With this latest integration, Changera takes a giant leap forward, becoming the first African-based custodial wallet collaborating with MoneyGram. The partnership enables cash-in services in Canada, Senegal, Uganda, and Kenya, and cash-out services via Circle's stablecoin, USDC, on the Stellar blockchain network at participating MoneyGram locations across 180+ countries.
This partnership aligns perfectly with Changera's commitment to fostering financial inclusion for the excluded, unserved, and underserved regions in Africa. By leveraging MoneyGram's extensive agent network, users in Canada, Senegal, Uganda, and Kenya will experience reduced costs and faster transactions when cashing into their Changera Wallets. Furthermore, withdrawals are now available to existing and new customers globally, ensuring unparalleled access to cash-out funds conveniently.
Ruth Iselema, the Chief Executive Officer of Changera, emphasizes that the primary objective of this integration is simplifying the funding process for Changera wallets' users. The solution comes at a crucial time when a significant portion of the global population lacks access to bank accounts, and a majority of adults still rely on the cash economy despite digital wallet availability. The collaboration between MoneyGram and an African Fintech company outside traditional banking institutions is groundbreaking, and Changera takes immense pride in pioneering such advancements.
Umar Adamu, Chief Technology Officer at Changera, expresses excitement about the transformative collaboration with MoneyGram. The integration marks a significant milestone for Changera, enhancing user experiences and fostering financial inclusion throughout Africa. With USDC on the Stellar network, Changera empowers Africans with unparalleled convenience and accessibility, revolutionizing engagement with digital wallets.
The integration of MoneyGram's trusted services underscores Changera's commitment to advancing financial inclusion. Customers can now access their funds swiftly and securely, eliminating previous limitations and bridging gaps in underserved regions. Changera aims to offer individuals convenience, reliability, and security for digital wallet payments and remittances, transforming the financial landscape in Africa and beyond.
Africa has long aspired to achieve widespread financial inclusion, and this strategic partnership has the potential to make that dream a reality. With Changera's innovative approach and the powerful support of MoneyGram and Stellar, the barriers hindering financial access are breaking down.
One of the key beneficiaries of this collaboration will be the unbanked and underbanked populations in Africa. Despite the continent's rapid technological advancement, a significant portion of its people still lack access to traditional banking services. Changera's user-friendly interface and MoneyGram's extensive agent network present an opportunity to bridge this gap by providing a seamless pathway into the digital economy.
Moreover, the integration's focus on cash-to-crypto deposits and withdrawals is a game-changer for the remittance industry in Africa. Remittances are a vital lifeline for many families, and the traditional methods can be costly and time-consuming. Changera's partnership with MoneyGram and Stellar allows for faster, more affordable transactions, empowering individuals to make the most of their hard-earned money.
Additionally, the collaboration has broader implications for the continent's economic growth and development. By fostering financial inclusion, more individuals and businesses will have access to credit, investments, and capital, enabling them to expand their ventures and contribute to economic growth. This, in turn, can lead to a more vibrant entrepreneurial ecosystem and increased job opportunities.