​Cisco And TD Africa Unveil EDGE Centre In Nigeria
Cisco has partnered with TD Africa, to commission a Cisco EDGE Centre in Lagos, Nigeria.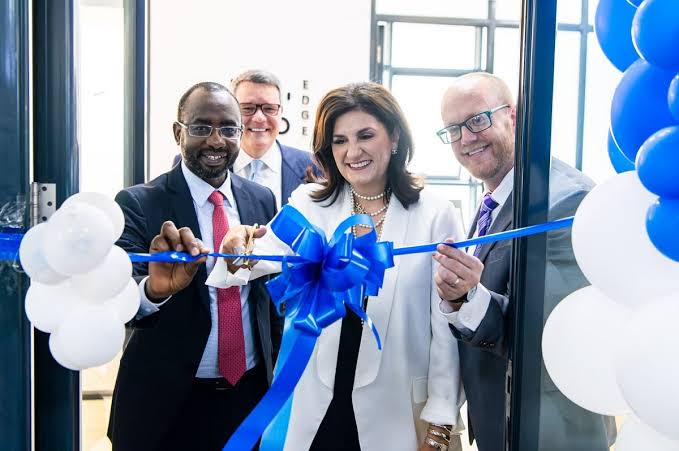 Cisco, in partnership with TD Africa, a leading provider of technology solutions in Sub-Saharan Africa, has commissioned a Cisco EDGE Centre in Lagos, Nigeria. Located at the Tech Experience Centre, the hub serves as an incubator: providing small and medium businesses with access to state-of-the-art Cisco communication and collaboration technology, alongside training and enablement programs.
Also, SMMEs will be able to connect with global Cisco experts, who can support them in developing business ideas and concepts in a digital world.
EDGE stands for "Experience, Design, GTM (Go to Market) and Earn" and has the objective to share business knowledge to stimulate innovation, help develop small and medium businesses in the digital age, speed up their market entry, and a result create new jobs for the local economy.
Interestingly, the center hosts three key functions under one roof: it provides a space where local partners can showcase technologies and host client events; it brings resources and tools to local innovators and entrepreneurs to help them develop more secure, intelligent, and connected solutions; and offers training programs and education in the most advanced digital technologies.
The inauguration ceremony which took place on Wednesday, August 9th, 2023 at the Tech Experience Centre, Lagos welcomed dignitaries like Kashifu Inuwa Abdullahi, Director-General/CEO, NITDA; US Consulate General in Lagos, Will Stevens, and Cisco Executives: Fran Katsoudas, Cisco Executive Vice President, People, Policy and Purpose officer; Guy Diedrich, Vice President, Cisco Country Digital Acceleration (CDA); Sebastine Nzeadibe, Cisco General Manager; Clayton Naidoo, CDA Lead Africa; Conrad Steyn, Cisco CTO SSA; Charmaine Houvet, Cisco Government Affairs Africa, and Cisco Nigeria employees
Fran Katsoudas, Executive Vice President and Chief People, Policy & Purpose Officer of Cisco in his remark said, "With its vibrant economy and young population, Nigeria stands to benefit from the promise of an inclusive digital future. Cisco is here to help the nation with digital skills development, innovation, and incubation as well as cutting-edge technologies. Today, we welcome Nigeria to the Cisco Country Digital Acceleration program and look forward to working with businesses, government, and academia, enabling them to take the lead in shaping the future and driving social and economic inclusion from the ground up."
The EDGE Centre is part of Cisco's CDA program in Nigeria. CDA was founded in 2015 and has since evolved into programs in 49 countries, with over 1,500 active or completed projects – encompassing over two-thirds of the world's population and 75 percent of global GDP. In May this year, under the scope of CDA, Cisco, and NITDA signed a memorandum of understanding (MoU) to support the nation's digital transformation agenda and contribute towards digital skills training and development.
Chioma Chimere, Coordinating Managing Director of TD Africa explained, "Through this collaboration with Cisco, we aim to enable SMMEs to scale rapidly by providing the tools, resources, and knowledge required to thrive in the digital age. By fostering skill retention and development, we can ensure that individuals are adequately empowered with the expertise to excel in the ever-evolving technology landscape. We are convinced that this partnership will not only drive GROWTH; our theme for the fiscal year, but also create new job opportunities, laying the foundation for a brighter and more inclusive future."
A key pillar of the CDA program in Nigeria is Cisco Networking Academy, which currently trains over 120,000 students at 228 academies across the country. Cisco Networking Academy, one of the longest-standing IT skills-to-jobs programs in the world, over the past years, equipped over 400,000 people in Nigeria with digital and cybersecurity skills.
In November 2018, Cisco opened the first Cisco EDGE Incubation Center in Pretoria, South Africa, which turned into a great example of local businesses creating meaningful jobs via technology. Since then, Cisco has continued to expand the reach of EDGE in Africa.