Dotting the 'I's and Crossing the 'T's for a Successful Implementation of the Cashless Policy in Nigeria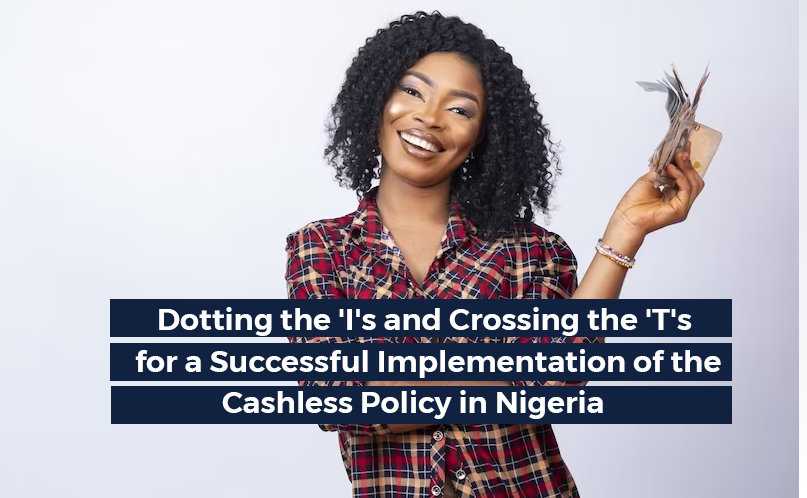 The recent scarcity of the naira across Nigeria as a result of the CBN directive to phase out old notes of the #1,000, #500, and #200 denominations has increased the country's alternative payment options to an all-time high, a win for the CBN cashless policy. As we recently reported, the situation has revealed that there is still a lot of ground to be covered, despite an increase in activity in the nation's fintech space over the last ten years.
However, the situation has also revealed some fundamental issues that must be addressed immediately if Africa's most populous nation is to achieve its twin goals of Financial Inclusion and a Cashless Society. One such challenge is the insufficient infrastructure of the Nigeria Inter-Bank Settlement System (NIBSS), the country's central clearinghouse for all electronic financial transactions. It is critical for the efficient transfer of funds between banks and other financial institutions.
With the rapid growth and demand for mobile and electronic banking in Nigeria over the last week as naira scarcity bites hard across the country, it is clear that the NIBSS's current infrastructure is insufficient to support the growing demand for mobile and electronic transactions. For instance, since Monday, Nigerians have been unable to access banking apps, digital bank platforms, and USSD options across the country, prompting them to take to the micro-blogging site, Twitter to vent their frustrations.
The Need to Upgrade NIBSS Infrastructure to Drive the Cashless Policy
There is no gain in saying that upgrading the NIBSS infrastructure will guarantee a seamless mobile and electronic banking experience in Nigeria by improving transaction speed, security, and reliability. The new infrastructure will enable banks and other financial institutions to process transactions faster; reducing the time it takes for customers to access their funds. Additionally, advanced security measures will be put in place to protect against fraudulent activities and ensure the safety of customers' funds. This will give customers the confidence to engage in electronic transactions and make the most of the convenience that mobile and electronic banking offers.
Furthermore, an upgraded NIBSS infrastructure will provide a more stable platform for financial sector innovation. Financial institutions will be able to develop and launch new and innovative products and services that cater to their customers' changing needs as their speed and security improve. This will increase competition and drive industry growth, providing customers with more options and better services, as well as ensuring seamless mobile and electronic banking experiences in Nigeria.
Also, improving the NIBSS infrastructure will benefit the Nigerian economy as a whole. Businesses will be able to transact more easily and securely with a more efficient and reliable payment system, resulting in increased commerce and economic growth. The shorter transaction time will allow for faster and smoother payment processes, reducing the likelihood of late payments and increasing the speed with which Nigeria does business.
The improved infrastructure will align Nigeria with international best practices in mobile and electronic banking. The country will be in a better position to compete with other countries for investment, talent, and technology. A better payment system will boost Nigeria's reputation as a modern and technologically advanced economy, making it more appealing to foreign investors.
How Telecoms' Mobile Money Can Drive Cashless Policy in Nigeria
To attain the much-desired cashless society in Nigeria, the telecom companies have a huge role to play, particularly by going beyond obtaining a license from the CBN to operate mobile banking, to going all out like M-Pesa in Kenya to reach the unbanked in rural communities through their already established strong infrastructure and distribution network such as mobile money agents and retail outlets, to create a widespread network.
Once a strong distribution network is in place, the next step is to educate the rural population about the benefits of mobile payments. This can be done through targeted marketing campaigns, road shows, and workshops. By explaining the benefits of mobile payments, such as convenience, security, and low cost, people in rural communities will be more likely to adopt the technology. Moreover, offering attractive incentives to early adopters will also encourage more people to sign up for mobile payment services.
One of the key advantages of mobile money is its accessibility. With a mobile phone and a valid SIM card, anyone can open a mobile money account and start using digital financial services. This is especially important in a country like Nigeria, where only about 40% of the adult population has access to formal financial services. By providing a simple and accessible alternative, mobile money can help bridge the gap, increase financial inclusion, and aid with the implementation of the cashless policy.
Also, with the ability to transfer funds, make payments, and access other financial services from their mobile phones, users can save time and reduce the need for physical cash. This can be especially beneficial for small businesses, as it allows them to receive payments from customers without the need for a physical point-of-sale terminal.
Nigerian Fintech Startups Need to Re-direct their Focus to the Unbanked
Nigeria has one of Africa's largest economies and a thriving fintech sector. Despite this growth, the majority of the population is still unbanked and lacks access to basic financial services. While many fintech startups are focused on providing solutions for the banked population, there is an urgent need for these startups to also target those who do not have smartphones or internet access, particularly in rural areas, who are unfortunately in the majority.
Over 60 million Nigerians are estimated to be unbanked, with many of them living in rural areas. This creates a significant opportunity for fintech startups to provide financial services to those who are otherwise unable to access the formal financial system. The benefits of financial inclusion for this population are numerous, including improved access to credit, reduced vulnerability to financial shocks, and increased economic opportunities.
However, targeting this population requires fintech startups to come up with innovative solutions that are not reliant on smartphones or internet access. This could involve the use of low-cost mobile devices or a network of agents who can assist with financial transactions. Additionally, these solutions should be designed to be user-friendly and accessible, even for those with limited financial literacy.
To summarize, while the fintech sector has been driving financial inclusion and the implementation of the cashless policy in Nigeria, much work still needs to be done to bring the unbanked population into the financial system and reduce reliance on cash for payments. However, for any of this to happen, there is an urgent need to upgrade the Nigeria Inter-Bank Settlement System's infrastructure, which will improve transaction speed, security, and reliability, drive innovation and competition in the financial sector, and contribute to Nigeria's overall growth.