Egyptian Fintech Startup, Sympl, Secures Funding from A15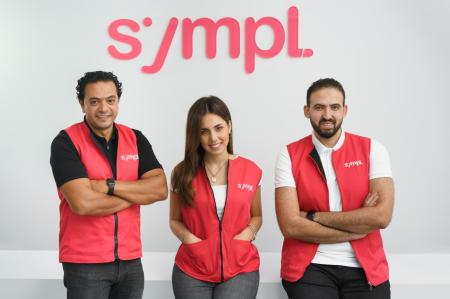 Cairo-based leading venture capital firm supporting entrepreneurs in the Mena region, A15, has announced it is the first investor in one of Egypt's latest startups to successfully launch, Sympl – an Egyptian Fintech startup.
Sympl was co-founded by Mohamed El-Feky (CEO), Yasmine Mohmed Henna (CCO), and Karim Tawfik (CTO) in October 2021, the startup is focused on evolving customer checkout experience and is the first technology platform empowering merchants to sell products and services directly to customers, on short-term, completely interest-free repayment plans.
Sympl has already secured key partnerships with major retailers from multiple product and service categories, including Egypt's Apple-authorized reseller Tradeline; mega hypermarkets such as Hyperone; authorized Sony-Playstation reseller XPRS; leading consumer electronics stores 2B; leading jewelry stores Al-Mawardy Jewelry, and leading auto parts online store Your Parts.
The partnership between A15 and Sympl will enable A15 to support the development of the Sympl checkout platform and successfully help to bring it to launch to help drive innovation in Egypt's payments sector and contribute to Egypt's ongoing commitment to a transition to a cashless society.
Mohamed El-Feky, Sympl's co-founder and CEO spoke on the partnership with major retailers in the region and also expressed delight in A15's partnership.
"We were inspired by the desire to evolve and improve, the current checkout models for customers. Our platform gives customers more choices at the checkout, promoting customer saving and flexible cash flow management.
"We are delighted to count on key partnerships with major retailers as we launch the Sympl checkout platform and look forward to growing our presence among other local merchants, while simplifying the buying process for customers, especially in underserved segments left behind by traditional pay later offerings. We are also proud of the A15 fund's support and excited to have them on board as valuable partners – to drive real value for the business, customers, and our merchant partners," said El-Feky.
Karim Beshara, General Partner at A15, commented: "At A15, we are committed to partnering with strong founding teams in the very early stages of their ventures, where we can work closely together to unlock value. We pride ourselves on the close relationships we maintain with the founders and their teams, supporting them from the beginning as part of the A15 family. We are excited to have backed Sympl from day one and are proud of the early positive signs from their launch. We look forward to continued close collaboration and scaling the  business."