Eversend Surpasses 500K Users Globally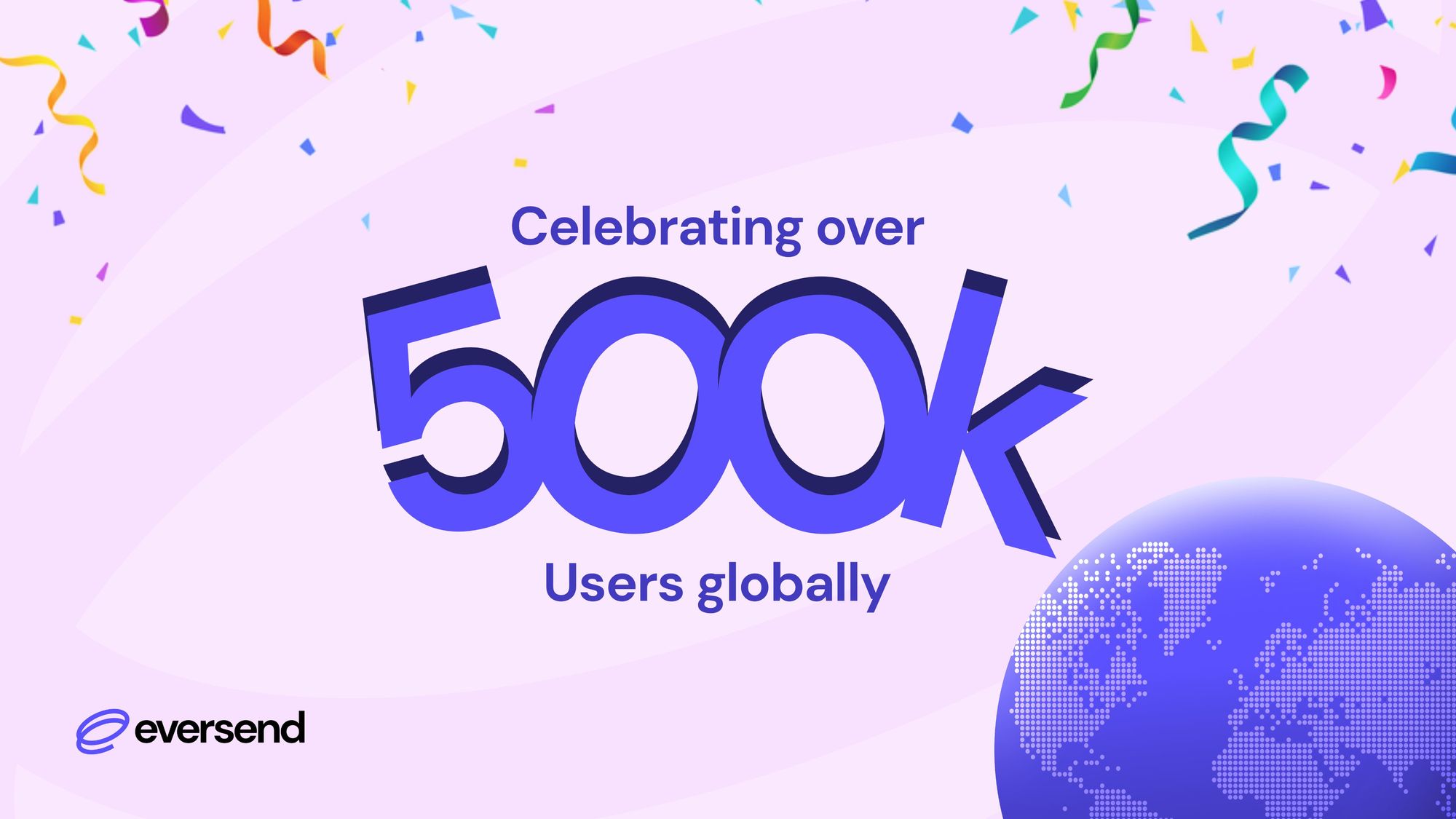 Eversend, a Ugandan Fintech startup announced that as of July 26th, they had amassed 500,000 customers using their app. Through his Twitter account, co-founder Stone Atwine also added that they had raised $1.2M and had 1.5 million downloads so far.
The company founded by Atwine and co-founder Ronald Kasendwa in 2017, launched to the public in 2019 as an all-in-one payments platform offering mobile-based cross-border P2P payments, virtual cards, bill payments, and crypto. In addition to a financial infrastructure with API-based crypto-fiat collections, payouts, and currency exchange.
Atwine attributed Eversend's milestone to data-driven decision-making and an understanding of the market.
"At the heart of our approach is a maniacal focus on unit economics. Anyone who has ever interacted with me knows this. We operate with an unwavering dedication to data, allowing us to make smart spending decisions. We closely monitor the cost to acquire a customer and the revenue they generate, ensuring that we only spend what we're confident we can recoup. If the metrics indicate a poor return on investment, we don't hesitate to cease expenditure".
"A deep and ongoing understanding of our market has been crucial. We've realized that the African market behaves differently to incentives. It's very different from the blitz scaling style of Silicon Valley. You'll lose your shirt, spend 100s of millions, and still have nothing at the end of the day".
"Though free money attracts users, it doesn't guarantee customer retention, especially when you begin to charge for services. Instead, customers will say: X is cheating me. We opted for a different approach: we started with a higher pricing structure but share any cost savings we make with our customers by reducing prices. This model has fostered loyalty and trust among our user base. They know if we can reduce pricing, we will".
He also added that running lean and a revenue-first philosophy was crucial.
Raised: $1.2M
Downloads: 1.5M
Customers: 500K

Not raising.

— STONΞ (@StoneAtwine) July 26, 2023
"Efficiency is paramount in our operations. We do not hire unnecessarily. We have a lean team of 25 people today. We have one major office in Uganda with additional co-working spaces as required in Lagos, London, and Paris. We have more people in Nairobi and Lagos that work remotely. This lean approach minimizes overheads and allows us to direct resources where they are most needed".
"We adopted a 'revenue-first' model from our inception. Our first transaction generated revenue, and we have steered clear of subsidizing services in the name of growth. We consciously chose to focus on Foreign Exchange services, a sector with substantial revenue, as opposed to plain banking services, which, while attracting large user numbers, may not necessarily generate significant revenue quickly for startups".
"This has helped us to identify what we are good at. If you try to pay a market vendor from Eversend to mobile money, that transaction may be delayed for 3 minutes, and that would be a horrible experience, so we don't do that".
Eversend works as a money exchange service that allows users to make mobile and virtual transactions locally and internationally.
Transactions are free as long as it involves sending funds from one Eversend account to another.
It's currently available in Nigeria, the US, Kenya, Ghana, Tanzania, Uganda, and Rwanda.