Facebook's New Feature; "Manage Activity" To Help Users Delete and Archive Old Posts Altogether.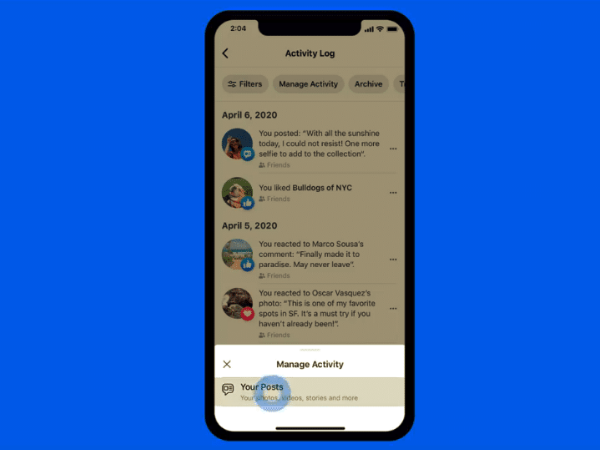 Facebook has introduced a new feature called "Manage Activity" to help its users delete and archive old posts altogether at once, instead of having to go through a hard time to clear them individually.
Facebook made this announcement on Tuesday in a blog post clearly explaining that, if a user deletes a group of posts, it would be gone permanently for good and when it is archived, there is a chance to access it again and again but no one else will.
According to them, this new feature will also allow users to view and reorganize their posts, using the date, post type, tags, and other categories in filtering their posts.
In a blog post, Facebook says, "Whether you're entering the job market after college or moving on from an old relationship, we know things change in people's lives, and we want to make it easy for you to curate your presence on Facebook."
Mark Zuckerberg, Facebook founder, and CEO in a 2019 post revealed that "As we build up large collections of messages and photos over time, they can become a liability as well as an asset." he said.
Following some reasons why the new feature, in 2014, concerns were raised over a new feature that allowed users to search for posts in the search bar, with the fear that the search will result in old embarrassing posts appearing once again and the only way users could prevent these from happening was going to pain to remove their old activity logs individually.
Gmail has also offered similar features for more than a decade. Despite this, these tools are not common in every place and Twitter still lacks the option to delete or archive old tweets in batch.
Facebook's new feature has prompted external companies to come up with tools of their own, including "TweetDelete" from Twitter that is now helping its users delete their old tweets they would like to get rid of.