Ghana Healthtech Startup, Redbird Raises $1.5-million in Funding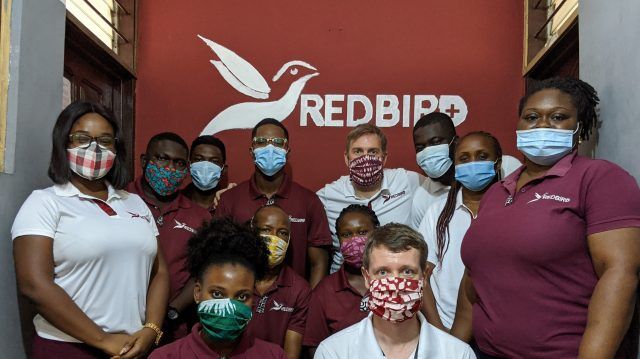 Ghana based healthtech startup, Redbird has raised 1.5million in Seed Round of investment with Johnson and Johnson, Newtown Partners (via the Imperial Venture Fund) and Founders Africa participating in the round.
This investment brings the total amount raised by the company to $2.5 million in seed funding. The startup will use this new funding to enhance its business operations and expand to new markets.
Launched in 2018 by the trio of Patrick Beattie, Andrew Quao and Edward Grandstaff, Redbird enables patients in Ghana easily manage their health through five-minute medical tests available at local pharmacies. These tests include anaemia, blood sugar, blood pressure, BMI, cholesterol, Hepatitis B, malaria, typhoid, prostate cancer screening and pregnancy. The startup also provides pharmacies with the necessary equipment, supplies and software to make this possible. The software – Redbird Health Monitoring – is networked across all partner pharmacies and enables patients to build medical testing records.
Fusing technology with health, the Redbird app enables patients to access their health records on a digital platform wherever they are. What makes the Redbird model different is that, many health tech startups are primarily focused on connecting patients with medical practitioners, but only a few seek to provide a decentralised database of a patient's medical records and make them available in a quick and seamless manner when requested by the patient or medical practitioners.
With about 360 pharmacies currently using the Redbird health platform in Kumasi and Accra, these pharmacies have recorded over 125,000 tests over the last three years from more than 35,000 patients registered so far on the platform. Redbird seeks to expand its operations within Ghana and expand to new markets that remain undisclosed.
With chronic non-communicable diseases projected to rise by almost 25% over the next 10 years, patients in Africa would require more intermittent interaction with the healthcare system. According to the CEO of Redbird Patrick Beattie, this development will make a decentralised healthcare system inevitable in the continent.
"Like previous leapfrog events, this momentum is happening all over the world, not just in Africa. Still, the state of the current infrastructure means that healthcare systems here will be forced to innovate and adapt before health systems elsewhere are forced to, and therein lies the opportunity,"
With this new funding, Redbird will be launching its health-tech services in many new locations in Africa and is set to compete with other notable start-ups like HeliumHealth, 54gene, LifeBank, mPharma and others.