GIGM launches Stella, Nigeria's first 24hour mobility virtual assistant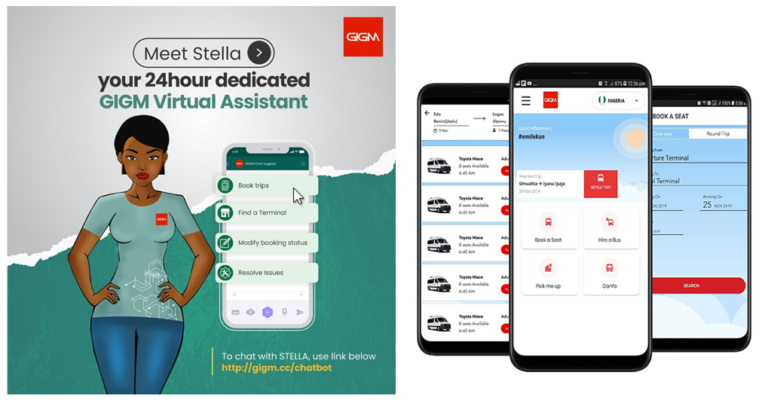 Anyone who has uses a logistics company consistently in Nigeria has a story or two to tell concerning delays or misplaced packages in transit. Most times, it takes a patient and competent customer service provider to settle these queries quickly and amicably.
This is why Africa's leading tech-driven transport company – GIG Mobility (GIGM) is enhancing its customer service experience with the launch of Stella, a new 24hour virtual assistant.
Say hi to Stella!
Have any enquires or queries to resolve ?
Talk to Stella.
She is available 24/7 to provide you with prompt assistance.
Try now, https://t.co/6m4K5XwNQp#GIGMChatBot #StellaVirtualAssistant #GIGMobility #WeMoveNigeria #ForThePeople pic.twitter.com/nFPolkmYjA
— GIG Mobility (@GIGMobility) April 28, 2021
Created to always be on standby, Stella is a bot designed and launched by GIGM to deliver prompt and uninterrupted assistance to customers who use their mobility services. Stella can be accessed via WhatsApp and the GIGM's website.
It bears mentioning that this is the first of its kind in the Nigerian transport space, as no transport company has launched a virtual assistant before now. With this innovation, customers can now begin to experience on-demand service at their own convenience.
Founded in 1998, GIGM has evolved to become one of Nigeria's foremost mobility companies enabling quick and hitch-free movement for commuters through its innovative travel solutions within and outside the country.
As part of its mission to prioritize customer needs and guarantee their satisfaction, GIGM's Stella provides superfast guidance to customers and intending travelers who want to book trips, view terminals for arrivals/departures, modify booking status, or simply resolve an issue.
Stella offers this all-in-one solution to GIGM users in less than 5 minutes! With Stella, customers no longer have to wait for days to receive clarifications on certain issues or get responses to a complaint.
GIGM's Chief Operating Officer, Vuakpor Muoghereh, said explained that the objective of launching Stella "is to ensure that customers are empowered with more channels to transact with GIGM digitally and get a prompt response to inquiries and queries.
"While social media can serve as a channel to collect feedback, a lot of messages can get lost in the flurry of the message received via the platform".
To experience improved customer service, you can easily access Stella via WhatsApp or through GIGM's website. With Stella, no message or query will go unresolved.