Hack the Planet competition 2021 opens to Innovators from Commonwealth Nations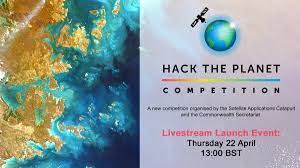 In commemoration of 2021 Earth Day, the Commonwealth Secretariat and Satellite Applications Catapult have announced the launching of the first-ever Hack the Planet competition. The program will assist individuals and startups with innovative and impactful ideas that can help address global issues including ocean degradation and climate crisis.
The sole aim of the Hack the Planet competition is to resolve some of the world's most pressing ocean-related concerns, such as eliminating plastic pollution, accelerating sustainable energy uptake, climate change, developing sustainable 'blue' approaches for the ocean economy, and protecting the marine habitat.
Startups from across 54 Commonwealth countries will be engaged in a five-month virtual competition. 30 selected teams will be invited to participate in a knowledge exchange program where they will learn about satellite technologies and elements of design thinking that could support their ideas, and hone these into robust, compelling pitches.
Specifically, the following issues will be tackled by Commonwealth Blue Charter:
Marine plastic pollution
Coral reef protection and restoration
Mangrove ecosystems and livelihoods
Marine protected areas
Ocean acidification
Ocean and climate change
Ocean observations
Sustainable aquaculture
Sustainable coastal fisheries.
Participants in Hack the Planet 2021 stand a chance to win a cash prize of £10,000 to help turn their idea into a real-life project. They will also receive coaching from experts to help support them throughout the competition, get a chance to pitch before a panel of satellite and ocean experts, get an opportunity to network with peers, mentors, and experts, and receive worldwide recognition for their idea.
Startups with ideas relating to one of the 10 challenges set out in the Commonwealth Blue Charter can apply here. Applications close on Monday, May 31, 2021.