ICYMI: APPLY FOR NIGERIA'S SDGS FINTECH HACKATHON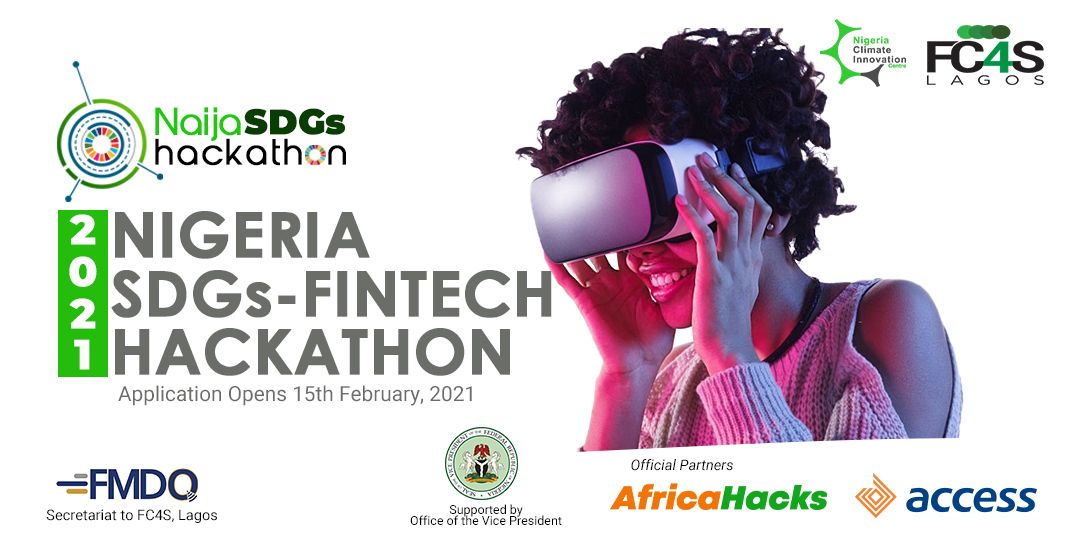 Applications are open till March 15th 2021, for the Nigeria SDGs Fintech Hackaton. This hackathon will see techies build solutions for payments, enhance financial inclusion, promote accountability and credibility, security, and privacy to impact the realisation of the SDGs directly.
The competition which is to start on March 25, 2021 will provide accredited teams and individuals the opportunity to develop creative solutions that address pressing local and global challenges in order to promote sustainable development goals. Top teams in this hackathon will be supported by institutions to scale these solutions to become Fintech success stories in Nigeria.
The focus areas of this Hackaton include:
Payment solutions
Offline mobile payment
Pay-as-you-go
Instalment payment
Distributed ledger assisted payments
Lending
Accountability and Credibility
Novel credit scoring
Loans document checking
Business traction updates
Loans credibility check
Information Solution
Digital Identity
Verification of funding opportunity for businesses
Data credibility
Offline mobile information source
Participants can win up to ₦30Million in prizes including cash, resources, credits, and perks. Meanwhile, the overall winners of the hackathon will get the following:
International Exposure: Access to event partners' networks and platforms in the domestic and international spaces.
Competition Prize: The top project from each of the three (3) challenges will be awarded a ₦500,000 cash prize to be used towards the solution realization process.
Mentoring and Networking Support: Top winners will be offered mentoring from the partnering organizations.
Integration to Related Organisations: Top winners will also be recommended to relevant existing/participating firms for integration.
Interested participants can apply at sdghackathon.africahacks.com
Deadline: March 15th, 2021
The Naija SDG Hackathon is created by the Financial Centre for Sustainability, Lagos (FC4SL), and Nigeria Climate Innovation Centre (NCIC) in partnership with AfricaHacks and Access Bank, and it is supported by the Office of the Vice President of Nigeria.