Indian Energy Solutions Brand Luminous Power Partners Hudaco Energy to Expand into South Africa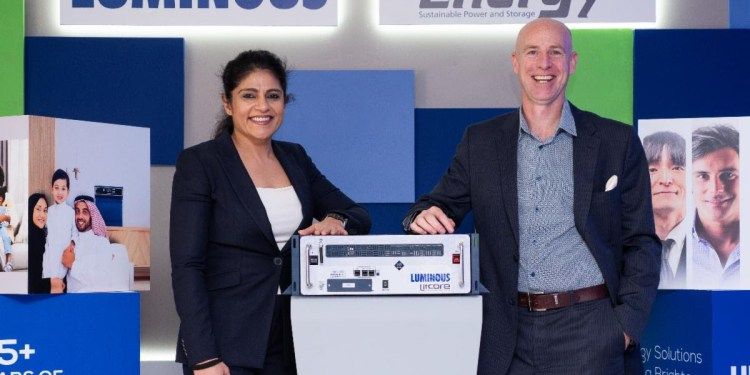 Luminous Power Technologies, a leading energy solutions company and a 100% subsidiary of Schneider Electric, is making significant strides to transform the global energy landscape by entering the South African market through a strategic partnership with Hudaco Energy, the leading country distributor and a group company of Hudaco Industries Ltd. This partnership marks a significant moment for the Indian energy company as it strengthens its presence in the African market, having successfully established itself across the continent over the last 15 years.
As part of its entry into the South African market, Luminous is introducing a range of market-specific products designed to cater to the unique requirements of South African consumers. Notably, the company has unveiled its groundbreaking product, the LITCORE lithium battery pack. This product, manufactured in India, offers a compact design, exceptionally fast charging capabilities (3X faster), and a higher power density for consistent performance. Alongside the LITCORE, Luminous is also launching an impressive lineup of inverters and batteries, including the ICON, Eco Volt Neo Series (ranging from 900Va to 2KVa), Optimus, and Inverlast Tubular batteries (available in 150Ah, 200Ah, and 220Ah variants).
Beyond its diverse energy solutions portfolio, Luminous has ambitious plans to position South Africa as a hub for sustainable power solutions. These plans encompass comprehensive residential rooftop solar solutions, available in 3KVa and 5KVa configurations. Furthermore, Luminous aims to contribute to the growth of the local renewable energy sector by providing training and certification programs for local electricians, equipping them with the expertise to become solar experts.
Commenting on the partnership and launch in South Africa, Preeti Bajaj, CEO and MD, Luminous Power Technologies, said, "We are excited to embark on this journey with Hudaco Group and extend our commitment to delivering reliable and innovative energy solutions to the people of South Africa. There is a growing power demand in the country, and we are confident that with Hudaco, Luminous' top-of-the-line, advanced energy solutions will be very well received in the country. Luminous is committed to playing a key role in Africa's renewable energy journey, and we look forward to contributing to the region's sustainable development and energy transition with our solar solutions."
"The energy storage market in South Africa is highly fragmented and unorganized, and this presents a unique opportunity for a trusted and reliable global brand like ours to enter the market with a commitment to prioritize customer needs at every step, from product search to installation and after-sales service. Ensuring that customers have a seamless experience, Luminous aims to establish more than 200 touch points across the country by the end of next year," she added.
Speaking on the occasion, James Sherley, MD, Hudaco Energy, said, "We are happy to partner with Luminous Power Technologies, which brings a global brand promise to the South African energy market. The addition of Luminous Power Technologies to our portfolio of world-class products adds a significant push to our drive to energize and delight Southern African consumers. Our partnership enjoys a shared commitment to contribute to the country's energy transition mission while creating employment opportunities in South Africa and the introduction of market-relevant products such as lithium-ion solutions and gel batteries."
This strategic partnership and Luminous' entry into the South African market signify a significant step toward enhancing the availability of innovative and sustainable energy solutions in the region, ultimately contributing to the transformation of the global energy landscape.
About Luminous Power Technologies
Luminous Power Technologies is a powerful and trustworthy brand with a wide range of innovative products in the power backup and residential solar space that cover inverters, batteries, and solar solutions. Luminous has been in business for 35 years now. Recently, CRISIL upgraded its credit rating to AAA+. With six manufacturing units, more than 28 sales offices in India, and a presence in over 40 countries, our 6,000 employees serve more than 100,000 channel partners and millions of customers. Our motto has always been customer delight through innovation and passion, with a focus on execution and teamwork.
Hudaco Industries Ltd.
Hudaco Industries, based in South Africa, specializes in the import and distribution of high-quality branded products across various sectors. Their business encompasses a wide range of products, including consumer-related items, automotive aftermarket products, power tools, and data networking equipment. Hudaco's focus on value addition through product specification, technical support, and training sets them apart, serving a network of specialized branches and distributors throughout southern Africa.