Instagram rolls out Reels for video creating and sharing to rival TikTok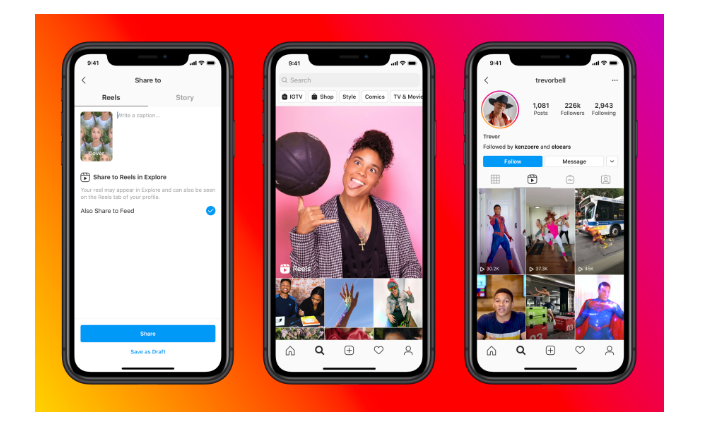 Facebook Inc's Instagram has rolled out Reels feature that allows users to create and share videos to rival popular Chinese app, TikTok.
This feature comes after Microsoft said it was in talks to acquire TikTok's US operations from China's ByteDance.
Just like TikTok, Reels users can record short mobile-friendly vertical videos, as well as adding special effects and soundtracks.
According to Facebook, users can share reels with their followers on Feed, and if they have a public account, make them available to the wider Instagram community via a new space in Explore.
Instagram's Vice President of Product, Vishal Shah acknowledged the similarities in a Tuesday video conference call with reporters and said that "inspiration for products comes from everywhere", including Facebook's teams and "the ecosystem more broadly".
The steps to using Reels are as follows:
Select Reels at the bottom of the Instagram camera. Reels can be recorded in a series of clips (one at a time), all at once, or using video uploads from their gallery.
Record the first clip by pressing and holding the capture button. Users will see a progress indicator at the top of the screen as they record. Stop recording to end each clip.
User will see a variety of creative editing tools on the left side of their screen to help create a reel, including:
Audio: Search for a song from the Instagram music library. Users can also use their own original audio by simply recording a reel with it. When users share a reel with original audio, other people can create reels with that audio by selecting "Use Audio" from their reel.
AR Effects: Select one of the many effects in our effect gallery, created both by Instagram and creators all over the world, to record multiple clips with different effects.
Timer and Countdown: Set the timer to record any clips hands-free. Once users press record, they'll see a 3-2-1 countdown.
Align: Line up objects from the previous clip before recording the next to help create seamless transitions for moments like outfit changes or adding new friends to the reel.
Speed: Choose to speed up or slow down part of the video or audio that's been selected. This can help users stay on a beat or make slow-motion videos.
Currently, the feature is available in more than 50 countries. Reels' first trial was in Brazil in 2018.