Kenyan Web3 Startup, HoneyCoin Partners with MYKOBO to Enter European Market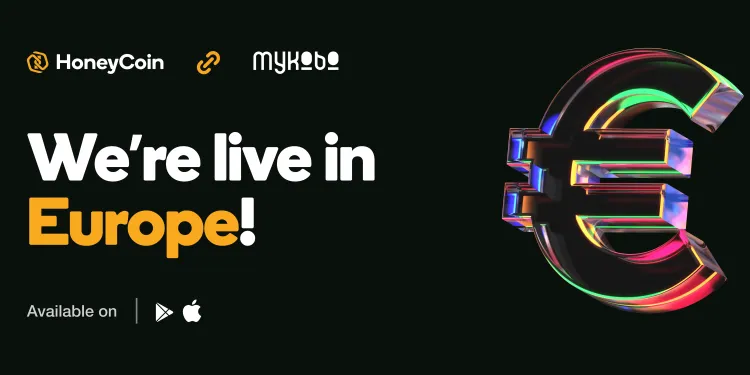 HoneyCoin, a Kenyan cross-border Web3 super app, has entered into a partnership with MYKOBO, paving the way for its introduction into the European market.
The partnership aims to empower users across all 27 European Union (EU) Member States to effortlessly deposit, withdraw, and transmit digital Euros to more than 140 countries, excluding any territories under OFAC sanctions or jurisdictions subject to global sanctions.
HoneyCoin's CEO David Nandwa said; "At a time when the world is seeing a global shift in payments technology, with stablecoins hitting an inflection point in real-world usage and the embedding of AI & machine learning into consumer products, HoneyCoin is at the very forefront of this digital transformation that's currently happening, and we believe that MYKOBO is as well.
"We're thrilled to be partnering with MYKOBO for our launch into Europe. Both teams share the same values in eliminating the borders and limitations that inhibit connectivity and accessibility whilst still paying close attention to regulatory compliance and security."
MYKOBO provides an easy and secure environment to buy, sell, store, trade and send the EURC stablecoin and other cryptocurrencies. The stablecoin issued by MYKOBO and pegged 1:1 with the Euro fiat currency, allows businesses and individuals to move seamlessly between traditional fiat financial services and the blockchain.
On his part, MYKOBO CEO Seyi Akin-Olugbemi said; "Our partnership with HoneyCoin allows us to continue our joint vision to make digital tokens not only accessible but also financially inclusive."
Through blockchain's inherent security and the user-centred designs of both HoneyCoin and MYKOBO, the two companies anticipate significant reductions in fees, faster transaction processing, and an overall enhanced user experience.
"Through this partnership we're combining our expertise in building consumer-facing products with the infrastructural superiority that MYKOBO has in the digital asset issuance space to innovate, disrupt and improve the experience that consumers and business have." Nandwa added.
In July 2023, HoneyCoin integrated the MoneyGram Access cash-to-crypto solution. The integration, powered by the Stellar blockchain technology, allows users in Kenya, Uganda, Tanzania, Nigeria and Ghana to withdraw their USD Coin (USDC) holdings as cash at any supported MoneyGram location.