Klickit Partners with EFG Hermes Corp-Solutions to Offer Education Providers Financial Solutions across Egypt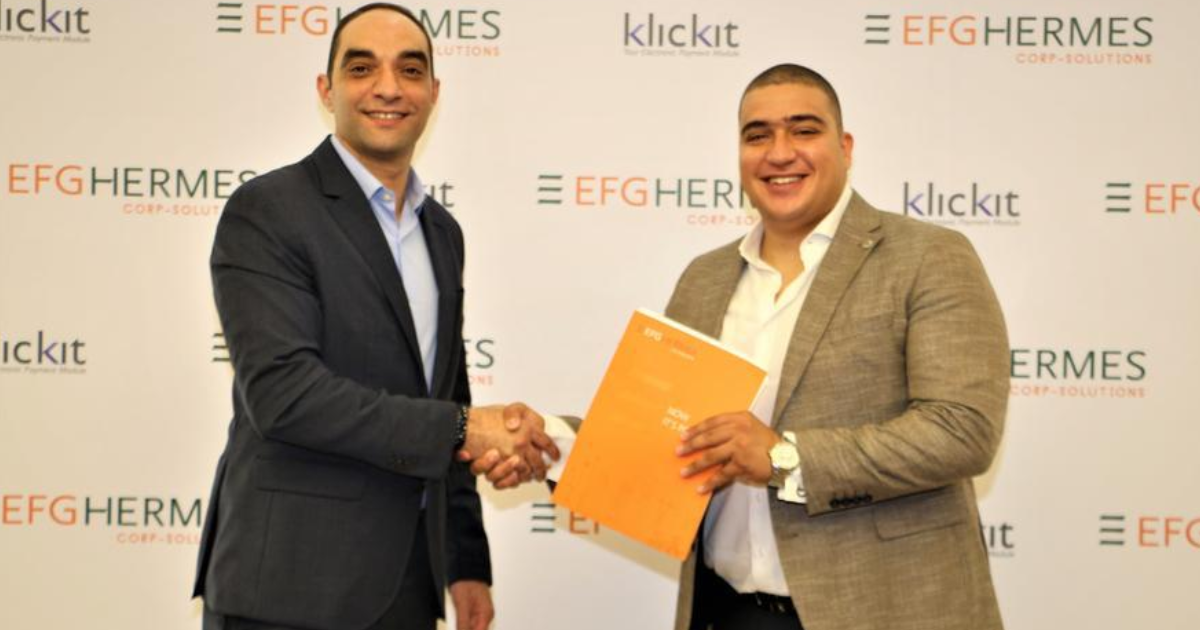 Klickit, Egypt's payment management and digital collection platform for education fees, and EFG Hermes Corp-Solutions, EFG Hermes Holding's subsidiary and leasing and factoring company, have today announced that they have entered into a strategic agreement to provide education service providers with financial solutions to drive the sector's growth and development.
The partnership will enable Klickit's network of education providers to access to EFG Hermes Corp-Solutions' leasing and factoring services to finance their capital expenditures. Utilizing receiving upfront funding covering forecasted tuition fees that will be collected through Klickit's platform, EFG Hermes Corp-Solutions' services will thereby fill any gaps in the schools' cash flow needs. Klickit, on the other hand, provides an online payment platform for parents and students that makes paying tuition fees faster, easier, and more affordable by extending a variety of payment solutions through its various partners, all while providing schools with a hassle-free, digital, and convenient collection, and reconciliation tool.
Furthermore, capital expenditures funded by EFG Hermes Corp-Solutions' leasing services cover a wide range of assets, including administrative and educational headquarters, school equipment, transportation fleets, and more. Education providers can also use their factoring services to cover customer invoices and late payments, increasing their cash flow, accelerating income, and avoiding operational disruptions due to overdue tuition fees.
Klickit, which was founded in 2017, is a digital platform that facilitates educational payments and fees. Last year, the startup signed a massive agreement with the Ministry of Education to serve 55,000 schools and 25 million students across 27 governorates, and it surpassed one million transactions. It added another 122 schools to its portfolio in 2022 and has so far facilitated transactions totaling over $50 million.
What Klickit and EFG Hermes Stakeholders are saying
Talal Elayat, CEO of EFG Hermes Corp-Solutions, commented on the deal, saying, "This is a great milestone for EFG Hermes Corp-Solutions, which has long supported the education sector, and we're proud to further contribute to Egypt's social and economic development goals by fueling the growth of this vital sector." Schools face difficulties in obtaining financing; thus, we want to facilitate this access to close the cash flow gap and contribute to the development of the education industry, which is the most distinctive driver of economic productivity as well as societal and individual prosperity."
Education is a priority sector for EFG Hermes. Its education fund, in collaboration with GEMS Education, is one of the largest specialized investment funds in the MENA region devoted to the development of Egypt's K-12 sector. EFG Hermes Finance also invested in Klickit in 2021 to add value-added services to the digital platform and drive cross-selling operations across their combined network of universities, educational institutions, and schools.
"Education contributes to reduced poverty and inequality," said Saeed Talaat, CEO of Klickit. "Our goal at Klickit is to alleviate financial hassles faced by education providers so that they can focus on what they do best, which is building Egyptian youth's skill sets and competencies. We're proud to serve our network in the sector with a more comprehensive suite of financial solutions through this partnership, which opens doors for expansion, growth, and the opportunity to provide superior services and facilities to individuals and organizations. We expect that the combined offer to education institutions will transform the way they experience their day-to-day operations, as well as how they think of their long-term objectives."