M-PESA Becomes Africa's Largest FinTech with 50-Million Active Users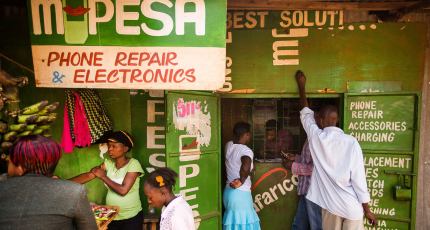 Kenyan mobile money platform, M-Pesa has announced a milestone of 50 million active users across Africa. Making it the most popular mobile money platform in the continent, and Africa's largest fintech company.
This was revealed by the M-Pesa Africa managing director Sitoyo Lopokoiyit. In a statement to mark the milestone, Sitoyo said "14 years ago, we launched M-Pesa to connect our customers and to different opportunities. We are delighted to celebrate this remarkable milestone with our more than 50 million customers across the continent."
Launched in 2007, M-Pesa has quickly grown to become the biggest mobile money platform in Africa and one of the biggest in the world.
Created by a Kenyan telecom company, Safaricom and Vodafone Group, it originally started as a platform for Kenyans to deposit, withdraw, transfer money and pay for goods and services easily with a mobile device.
Today, the Kenya-born company has expanded its partnerships to boost remittances, which empower customers to send and receive money across more than 200 countries and territories.
M-Pesa has been credited with lifting at least two percent of Kenyan households out of extreme poverty – so far. Safaricom claims that more than 500,000 businesses transact over $7-billion every month through M-PESA,
According to Business Insider Africa, access to financial services and products in Kenya grew by an astonishing 56 percent between 2006-2019 due to the availability of mobile money.
According to Safaricom, M-Pesa now has a network of partners that allows subscribers to send and receive money from about 200 countries and territories (especially in Tanzania, the Democratic Republic of Congo, Mozambique, Lesotho, Ghana, and Egypt).
The company launched the M-Pesa Super app in June to allow customers to send money to other mobile phone customers around East Africa. Analysts estimate M-Pesa's valuation to be close to $3 billion.