Meet Pitch2Win 15 Finalists Gunning For The $10k Prize Money
The grand finale of Pitch2Win is scheduled to take place on July 11th, 2023 in Lagos, Nigeria, where innovative startups in the Web2 and Web3 sectors will vie for the coveted $10,000 grand prize.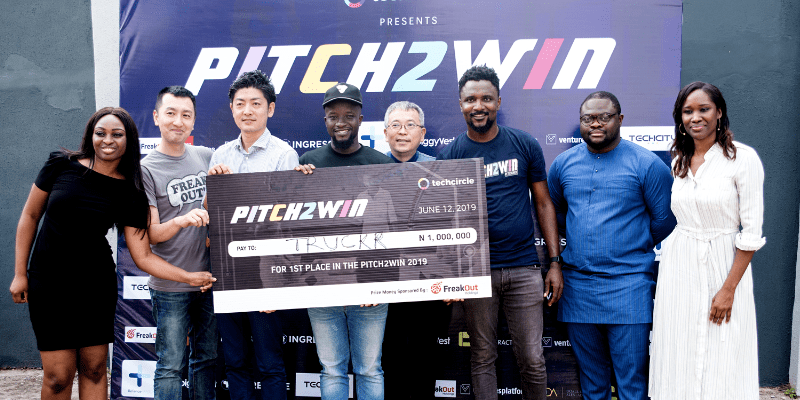 TechCircle Limited, in partnership with SGgrow and SGverse, has unveiled the 15 finalists of the highly anticipated Pitch2Win competition. The grand finale of Pitch2Win is scheduled to take place on July 11th, 2023 in Lagos, Nigeria, where innovative startups in the Web2 and Web3 sectors will vie for the coveted $10,000 grand prize.
The grand finale promises to be an exciting event, with each startup getting an opportunity to showcase their innovations, demonstrate their products, and field questions from a panel of expert judges. The climax of the competition will be the Pitch2Win awards ceremony, where the top three startups will receive equity-free funding, while the ultimate winner will walk away with an impressive prize of $10,000.
Pitch2Win aims to bring together more than 300 attendees, including builders, investors, regulators, startup founders, technical developers, and distinguished guests from both local and international spheres. The competition serves as a platform to address not only the funding and mentorship gaps but also to empower startups whose innovative business solutions have the potential to shape the future of technology in Africa.
According to Osita Nwoye, Founder and Executive Director of TechCircle, one of the primary objectives of Pitch2Win is to tackle the challenges faced by local entrepreneurs in Nigeria who are developing scalable products and solutions within their communities. These challenges range from the high volatility rate experienced by Web2 and Web3 startups to issues like inaccessibility, inadequate funds, and the lack of mentorship and support. Pitch2Win aims to reshape this narrative by establishing a structured solution in Nigeria, providing startups with the necessary support, spotlighting their work, connecting them with resources, and rewarding their achievements.
Meet the 15 startups in the final stage of Pitch2Win:
Akowe: Founded by Ayodeji Agboola, Akowe is an edtech startup that leverages blockchain technology to create a digital wallet for verified and verifiable academic records. It allows individuals securely store and share their educational achievements, certifications, and qualifications, eliminating the need for cumbersome paperwork.
Primed E-Health: is a healthtech startup that provides end-to-end E-healthcare solutions to digitize clinics and hospitals using its user-friendly and adaptable technology called, "The Smartclinic". Founded by Samuel Ogbonyomi, Alex Idowu, and Taye Odunfa, PriMED e-health aims to transform healthcare management.
Tyms Africa is a finance automation and cash flow management platform that is revolutionizing the way SMEs operate through automated bookkeeping and accounting tools. Founded by Ibrahim Adepoju and Chineye Ochem, Tyms Africa is looking to empower businesses to make informed financial decisions, enhance efficiency, and achieve rapid growth in a competitive market.
Motor Africa is a mobility technology startup that provides financial and technical support services (access to credit) to car owners and fleet operators in Africa. Founded by Chude Sylvester, Comfort Ute-Ushede, Godwin Adejoh, and Mubarak Mubarak, the company aims to provide financial support to motorists for repair financing, insurance, and other personal welfare needs.
Bridger is an African B2B platform that powers early payments in B2B trade, regardless of buyers' payment terms and transactions. Founded by Jeremiah Babasanmi, Bridger, is looking to help streamline business operations and unlock opportunities for growth by eliminating cash flow challenges.
Check Retail is an online retail startup dedicated to powering self-checkout at every retail point. Founded by John Ogungbaro and Oluwatobiloba Olosunde, CheckRetail is leveraging cutting-edge technology to enhance the shopping experience and eliminate long queues, and reduce waiting times.
Crunch Network is a blockchain-powered solution that offers easy access to cash flow and secure investments for crypto-holders, employees, and small businesses. Founded by Braimah Sumaina, Ehiagwina Omoarebu, and Manish Lath, its vision is to democratize access to credit, empowering individuals and businesses with the financial resources they need to thrive.
Oystr Finance is a fintech startup that provides easy access to alternative financial data, creditworthiness, and identification verification of borrowers across Africa. Founded by Ifedolapo Lawal and Omotayo Iginla, the startup is enabling businesses in Africa to extend affordable micro-loans to the unbanked and underbanked.
Pharmarun is a health tech on-demand platform that provides easy access to medication by finding, financing, and delivering medical supplies. Founded by Teniola Adedeji and Funmilola Aderemi, Pharmarun's mission is to provide fast and easy access to essential medications, leveraging innovative technology solutions to bridge the gap between patients and pharmacies.
DIAGON STUDIOS LTD is a crypto-powered Casual Gaming, Utility, payment, and NFT platform. The startup is looking to accelerate the global adoption of blockchain and digital assets through casual gaming for the global mass audience. Founded by Jeremiah Onojah and Ebuka Chigbu, the startup is looking to provide a user-friendly and engaging platform for individuals to enter the world of crypto.
PipeOps: a startup that provides a no-code tool for cloud deployments and infrastructure management in a bid to transform that industry. Founded by Samuel Ogbonyomi and Alex Idowu, PipeOps is simplifying the process of deploying and managing cloud infrastructure.
ZeroComplex AI is an AI startup that simplifies the integration of AI into existing applications or the development of AI products and services. Founded by Kehinde Olateru, Adegbenga Agoro, and Olusola Adebayo, ZeroComplex AI offers a proprietary AI-API platform that empowers small and medium-sized businesses (SMBs) and startups to harness the power of Artificial Intelligence.
Centiiv: Founded by Bolarinwa Odupe, the startup connects Africa to the global market through blockchain technology. By leveraging the power of blockchain, Centiiv creates a secure and transparent platform for international trade, enabling businesses to expand their reach and tap into new opportunities.
Shiip, is a startup that is empowering businesses to optimize their supply chain operations, streamline their logistics processes, and enhance customer satisfaction. Founded by Ridwan Rasheed and Quadry Olalekan, Shiip is reshaping the logistics landscape in Africa, enabling businesses to focus on their core competencies while entrusting their warehousing, freight, and fulfillment needs to a trusted partner.
Uburu Health, founded by Joel Aniegbe is a health tech startup transforming healthcare through its health data infrastructure platform. Uburu Health is dedicated to powering BigPharma and A. I R&D in Africa by providing a robust and secure platform for managing health data