​Meet The 15 Nigerian Tech Startups selected For The Inaugural Cohort Of Female Founders' Growth Program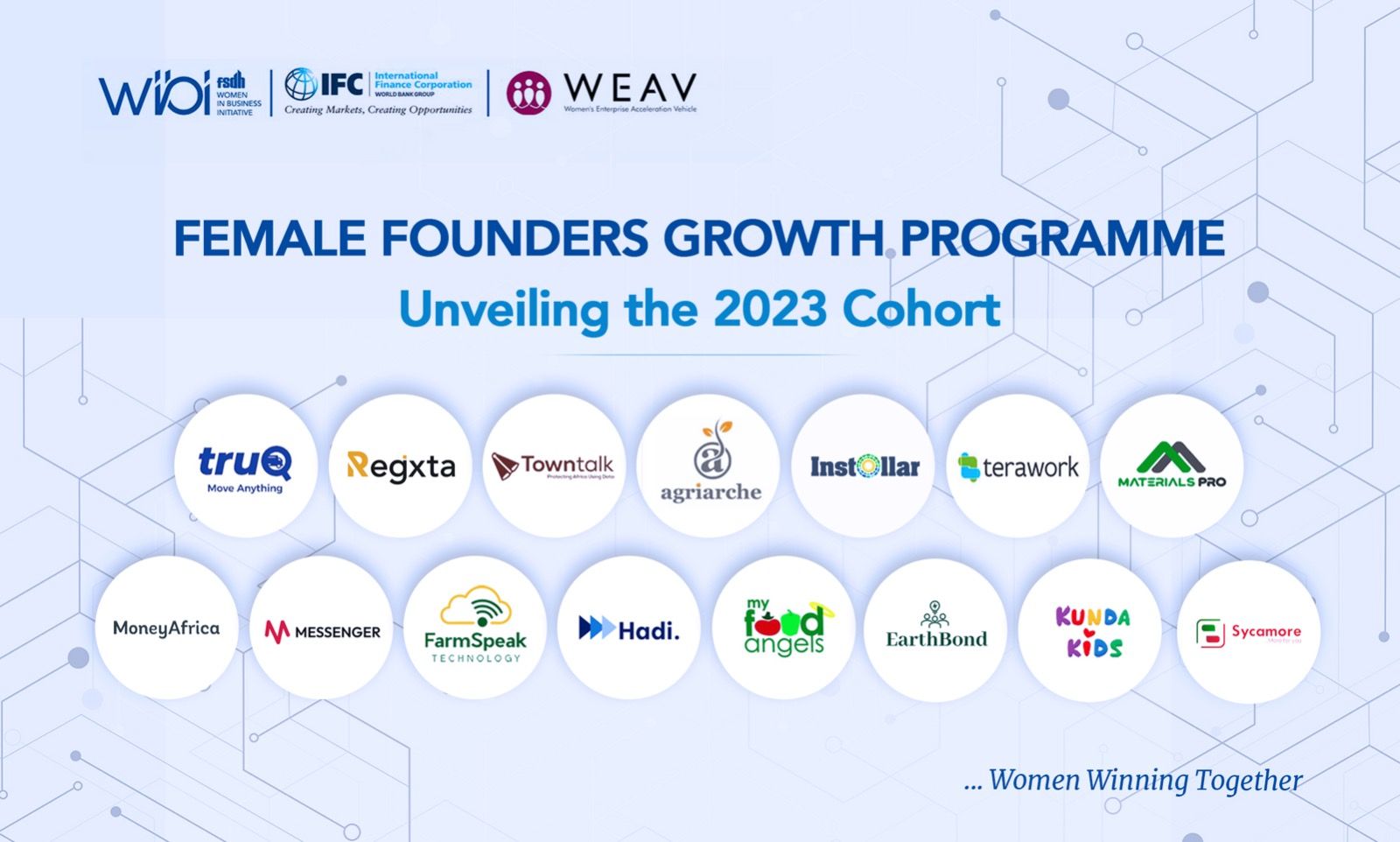 Fifteen (15) female-led Nigerian tech startups have been selected to participate in the first cohort of the Female Founders Growth Program. The acceleration program, powered by FSDH Merchant Bank in partnership with the International Finance Corporation (IFC) and WEAV Capital, is an investment readiness accelerator program aimed at empowering female founders to accelerate growth in their companies by making them investment-ready, especially for VC investments and funding opportunities.
The 15 chosen startups will undergo a 7-week investment readiness program, from mid-October to November 2023, that includes tailored-made and immersive sessions focused on improving their business model, developing their fundraising strategy, and preparing their data room for investors.
They will also receive comprehensive training covering financial management, cash flow optimization, and preparation for both equity and debt funding. Additionally, the startups will have access to one-on-one business coaching sessions with experts in their field, consultations with seasoned subject matter experts from renowned global institutions, and an exclusive opportunity to participate in an Investor Pitch Day event aimed at presenting their companies for potential investments and the chance to win a non-equity prize of $10,000.
The Selected Startups for the Female Founders' Growth Program
Sycamore is a platform that makes it easy for businesses to access loans in record time.
truQ is an operating system platform for third-party logistics in Africa, making third-party logistics smarter, faster, and more efficient.
Regxta: helping unbanked individuals and microbusinesses access online banking services, business loans, and business support services.
Towntalk: building a robust AI solution to strengthen supply chain resilience in Nigeria by providing real-time analytics, vehicle tracking, and access to affordable insurance.
Agriarche: digitizing the flow of commodities, trade, and payments in the agriculture ecosystem
Instollar: building a Green Workforce Marketplace that connects renewable energy companies in need of skills for solar projects with qualified freelance green-energy talents.
Money Africa: providing financial literacy training to middle- and low-income earners and a platform to save and earn interest on their savings
Messenger: optimizing the logistics ecosystem by simplifying order fulfillment and last-mile delivery for individuals and businesses across Nigeria.
Farmspeak: building technology that enables African poultry farmers to quickly manage and monitor their farms
Hadi Finance: empowering African informal retailers with essential financial services and digital tools
MyFoodAngels provides easy access to food supplies through an online marketplace, serving both buyers and sellers through a fresh food shopping and delivery platform.
Earthbond: empowering under-girded Nigerian businesses with access to reliable and affordable solar energy
Kunda Kids is a publishing and media studio providing diverse children's books, animations, and digital learning resources.
MaterialsPro is building an e-procurement and supply chain platform for the building and construction materials industry.
Terawork is a one-stop freelance marketplace helping African talent earn income globally through freelancing.
The program is designed for female tech founders who have successfully developed a minimum viable product and gained traction, offering solutions to critical challenges within a sector with significant growth potential in the local socio-economic context.
This first cohort is set to benefit from the collective insight of accomplished industry experts and successful entrepreneurs, all with a proven track record of establishing and operating thriving tech startups.
Bukola Smith, Managing Director/Chief Executive Officer, FSDH Merchant Bank, expressing her excitement and enthusiasm for the program, said, "We are extremely glad to finally begin this acceleration program. Historically, funding has been tougher for female founders. We believe that with this program, we are meeting a real need, which is to prepare female founders for the rigors of fundraising and investment readiness. We are also enthused to be on this journey with leading, credible institutions like the IFC and WEAV Capital. I'm sure the ladies will get so much value from this program''.
Kalim M. Shah, IFC's Senior Country Manager for Nigeria, said, "In Nigeria's thriving startup landscape, innovation holds the key to tackling pressing societal challenges. At IFC, we are committed to fostering increased female participation in the private sector. Empowering women entrepreneurs not only creates successful businesses but also drives social change and economic growth.
Through the Female Founders Growth Program, we have partnered with FSDH Merchant Bank and WEAV Capital to support women-led startups with the knowledge, skills, and access to investment capital needed to scale their businesses."
Also commenting on the program, Amaka Okechukwu Opara, Managing Partner, WEAV Capital, emphasized the importance of supporting female-led businesses in unlocking the full potential of the Nigerian economy, saying, "We believe that investing in female founders is smart economics. Through this immersive investment readiness program, we are paving the way for female-led tech companies to raise much-needed capital and demonstrating the bankability of female-led tech companies."