MEST Africa selects the first cohort for "Tech By Her accelerator program"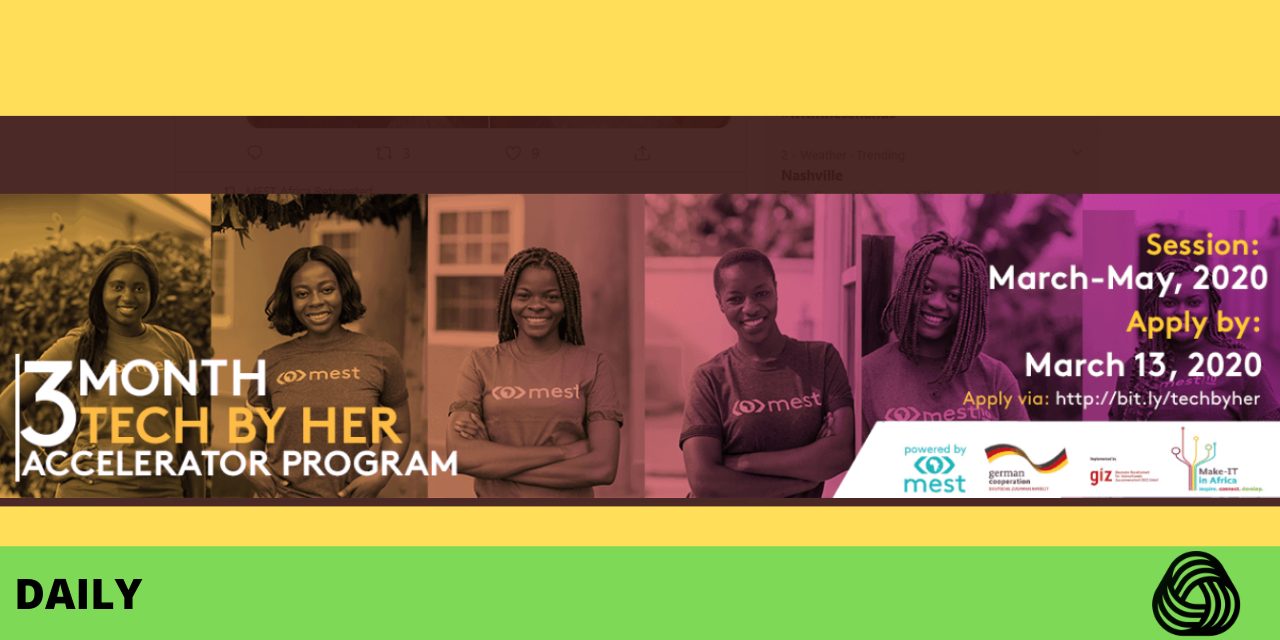 MEST Africa, in partnership with Make-IT in Africa, has selected the first cohort for the Tech By Her accelerator program.
These ten (10) female founders were selected from different parts of Africa.
The 2020 cohort of the Tech By Her Accelerator include:
CodeLn: A company that helps recruiters find their ideal programmer and connects programmers to their dream jobs. CodeLn waa founded in Nigeria by Elohor Thomas.
Africa Global Radio: An online radio station based in Ghana that produces, promotes, and covers compelling content on the diverse narratives in Africa. It was founded by Yasmine Bitugu in Ghana.
Afrikapu Ltd.: A social enterprise that sells African Handmade products made by marginalized women and youth in Africa to the rest of the world in a structured, profitable and sustainable way. It was founded by Nasreen Ali Mohammed in Kenya.
CoverApp: It provides insurTech solutions that enable users to purchase insurance and emergency services on the go through the mobile phone. It was founded by Anne Wambui Kamau in Kenya.
Farmula Ltd: A demand-driven Agritech startup that is on a mission to stabilize commodity prices globally by using agricultural data. It was founded by Vivian Awino Opoondoh from Kenya.
One Kiosk Africa Limited: One Kiosk Africa connects local stores to online customers leveraging Geo-location and machine learning to achieve a 59 minutes delivery cycle. It was co-founded by Oluwatomisin Ifeoluwa Adewumi-John in Nigeria.
Nvoicia: It provides collateral-free working capital to businesses that experience payment delays from their credit customers so that small businesses no longer have to wait weeks or months to be paid by their customers. It was founded by Itumeleng Moagi in Ghana.
Trusteefarm Limited: TrusteeFarm details all production processes involved in farming produce until it reaches the consumer's fork by providing cost-effective software and identification tools to make food supply information transparent. It was founded by Cynthia Edem Aveh in Ghana.
PlayJoor: A social gaming network that enables users to earn money from competing in real-time classic educational games such as Whot, Chess, and Draughts. It was founded by Nkemdirim Chinelo Arukwe in Nigeria.
MamaPrime: A flexible, automated financial planning platform where pregnant mothers and their friends or family can make flexible piecemeal payments that go towards meeting the cost of their delivery. It was founded by Anne Chege in Kenya.
The selected founders have proven to be leaders in their field and pioneers for female-led technological advancement in Africa.
Aside from the accelerator program, the ten (10) founders will receive mentorship from leading female gurus In Africa.
The selected cohort will attend two expense-paid boot camps in Accra, following government regulations on travel amid COVID-19.
The program seeks to equip female entrepreneurs with the needed knowledge, tools, and resources to scale and sustain their businesses in a competitive environment.
The accelerator program is sponsored by MEST with support from the Tech Entrepreneurship's Initiative, 'Make-IT in Africa'.
MEST is an African technology entrepreneur training program, internal seed fund, and network of hubs which offers incubation for technology startups. It was founded in Ghana in 2008.