Moroccan Logistics Startup Colis.ma Raises $50,000 From Kenya's Accelerator The Baobab Network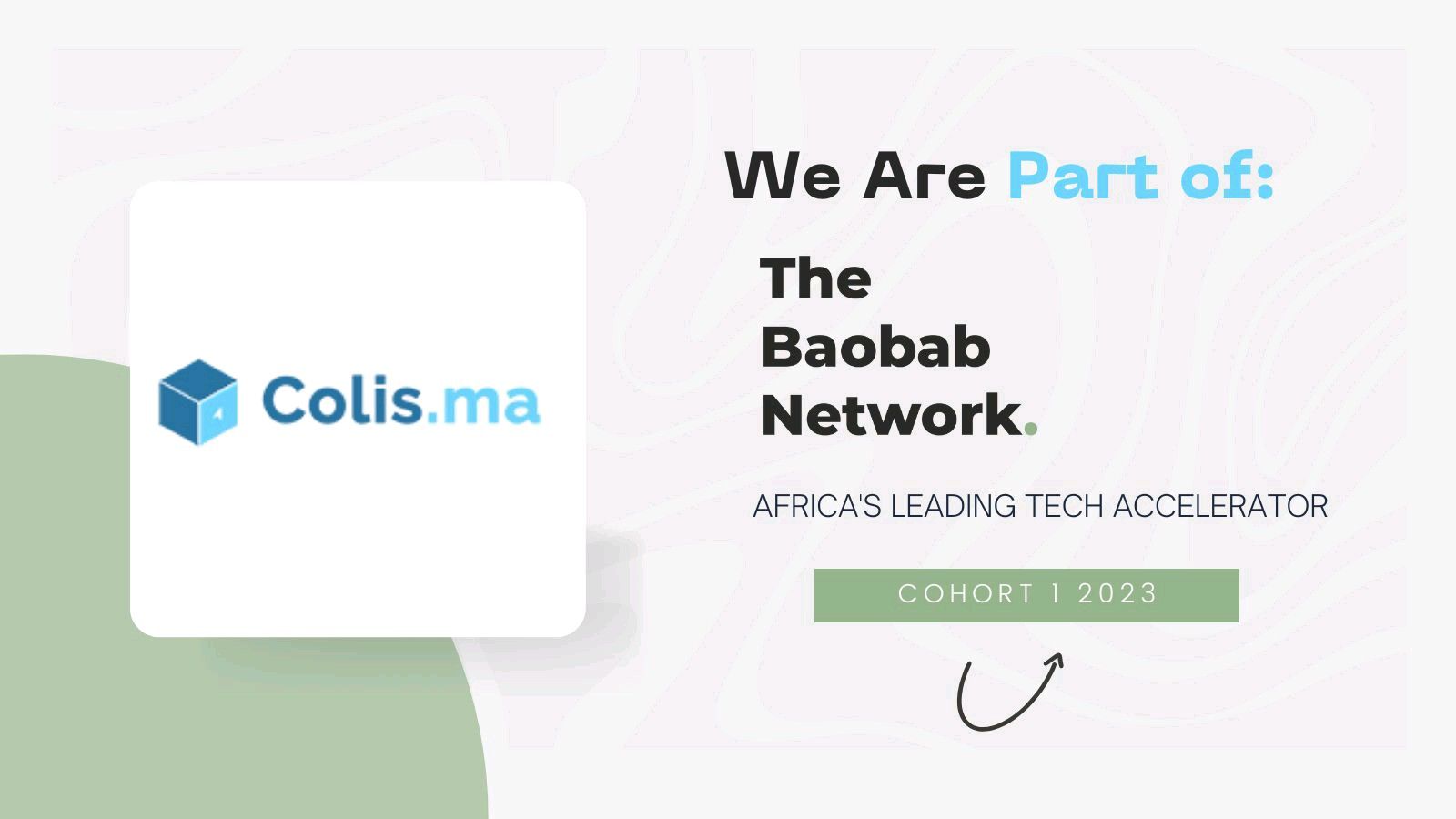 Moroccan logistics startup Colis.ma has raised $50,000 from Kenya's The Baobab Network as part of its accelerator program.  The recent cohort of the accelerator program broadens the Baobab Network portfolio by adding five new start-ups from Morocco, Kenya, Guinea, Nigeria, and Togo.
In addition to the cash prize of $50,000 USD for each startup is a customized, expert-led accelerator program. The program connects startups with leading angel investors and VCs through a Demo Day.
Head of Ventures at The Baobab Network, Christine Namara said, "Once again we have witnessed the power of African innovation first-hand with this incredible cohort of start-ups. Their passion, creativity, and determination to solve pressing challenges in their communities and ecosystems have been truly inspiring. We are proud to have been chosen to join them on this journey and looking forward to seeing their transformative impact in the African ecosystem and beyond as we go for scale."
Founded in 2022 by Issam Darui, Colis.ma is a logistics platform that helps clients identify, compare, and select their transportation based on personal preferences, as well as digitize the operations of transporters by enabling them to track their journey. Additionally, it makes it simple for customers and businesses to send and receive parcels from all over Europe while helping carriers to broaden their market reach.
Founder and Chief Executive at Colis.ma., Issam Darui said, "The insights and guidance we've garnered through their exceptional accelerator program have not only influenced our course but also provided us with a clear roadmap to scale and reach new heights. The Baobab Network stands out because of its commitment to supporting founders on an individual level, not solely focusing on the business aspects. Each interaction echoes their unique human touch and genuine care - their approach is both inspiring and distinctive. Thanks to their support, we've discovered the profound potency of collaboration and have unlocked boundless potential for Colis.ma's growth. We're excited for our journey ahead and  confident in the success that lies on our horizon!"
The accelerator also provided a similar amount of funding to Kenya's Afrigility, Togo's Eazy Chain, Nigeria's Poultry, and Mudu Pay, based in Guinea.
Afrigility is a Kenyan logistics startup with asset-light technology, offering B2B e-commerce services and on-demand warehousing solutions.
Eazy Chain, formerly known as Togo Cargo, provides an integrated logistics solution offering air, sea, and road freight services, facilitating seamless cargo transportation.
ePoultry is a Nigerian agritech that offers poultry farmers input credits, advisory services, and a dynamic B2B marketplace to eliminate systemic inefficiencies in poultry farming.
MuduPay is a Guinea-based fintech that allows Africans to move money via online payments from anywhere using their world-class technology tech stack.
Impacting Africa's tech ecosystem
Africa is witnessing growth in the establishment of technology startups. However, although some startups succeed a large number fail a few years after operations kick-start. Several reasons account for the high rate of failure of tech startups across Africa, and addressing these challenges is crucial to creating a thriving and sustainable tech ecosystem. Accelerators, like The Baobab Network, have positively impacted the ecosystem. They come with an all-in-one solution that includes funding, coaching, and guidance as well as connecting entrepreneurs to the right investors. The creation of these accelerators is sustaining new startups, in the end reducing the dying of new tech startups.
Managing Partner at The Baobab Network, Niama El Bassunie said, "Our journey with these founders goes beyond the demo day. Their fervour and our commitment sets the stage for their journey towards scaling and shaping a noteworthy imprint on Africa's tech ecosystem. As they navigate the intricacies of expansion, we stand ready to support them, anticipating the remarkable strides they will make in their respective sectors."