O7 Therapy, Partner with Boubyan Takaful Insurance to Introduce Therapy and Mental Health Services in Kuwait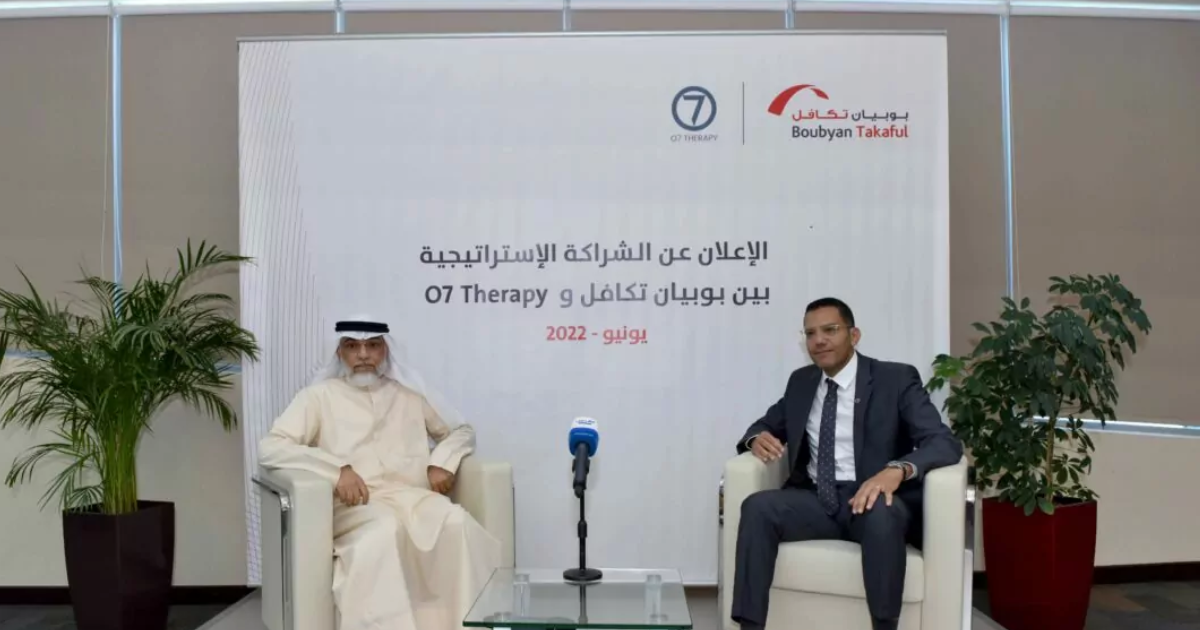 07 Therapy, an Egyptian health tech startup pioneering access to online mental health services for Arabic-speaking people around the world through technology-enabled and evidence-based therapeutic services delivered by a selected network of psychiatrists and psychotherapists, has signed a first-of-its-kind partnership agreement with Kuwait's insurance company, Boubyan Takaful Insurance company, which will allow it to introduce therapy and mental health services as parity.
Therapy fees are typically not considered by insurance authorities in the MENA region, making this the first time that mental health services have been included in insurance plans.
What the Founders are Saying
Ashraf Bacheet, Co-Founder and CEO of O7 Therapy, commented on the partnership saying, "O7 Therapy is the first Egyptian online platform to reshape access to online mental health services by delivering technology-enabled and evidence-based therapeutic services to Arabic-speaking individuals worldwide. This stems from our strong belief that everyone deserves access to mental wellness in a safe, supportive, effective, and stigma-free environment while resolving challenges and making an impact."
"O7 Therapy uses the world's latest technology to easily provide high-quality psychological care online; anywhere, any time for the platform users. Nevertheless, we take into account the protection and encryption of personal data, information, conversations, and messages of all platform users. On behalf of everyone at O7 Therapy, I would like to express our delight to collaborate with Boubyan Takaful in this unique initiative," Bacheet added.
Ebrahim AlKhuzam, CEO of Boubyan Takaful Insurance Company, explained the challenges that the insurance industry in Kuwait is currently facing as well as the opportunities that the agreement represents "Insurance companies in Kuwait face several challenges when it comes to including psychotherapy as part of their insurance policies. Other challenges include maintaining customer confidentiality and security, as well as setting prices that are reasonable for quality psychotherapy services. As a result, we seized the opportunity to collaborate with O7 Therapy, which gave new meaning to online therapeutic services while also developing trusted and reliable protocols for encrypting and storing data in a user-friendly framework. We are pleased to see that all Kuwaiti citizens and residents now have access to O7 Therapy's valuable services as a result of this."
This agreement comes as part of Boubyan Bank's exceptional campaign, "Boubyan Mental Health Awareness Initiative" which was launched in March in Kuwait, in alignment with the Bank's CSR strategy that initiated several other outstanding contributions in many related areas toward social development.
About Boubyan Takaful Insurance Company
Founded in 2006 as part of the Boubyan Bank Group, Boubyan Takaful Insurance Company provides a comprehensive range of Takaful insurance programs for companies and individuals, including family and health insurance.
Boubyan Takaful Insurance Company provides its products and services to the largest segment of customers in Kuwait through various channels such as the BTIC website and the Boubyan Takaful mobile app. The insurance company also sets high standards for customer service by utilizing cutting-edge technology that protects its customers' privacy.