Orange Digital Ventures opens applications for its MEA Seed Challenge.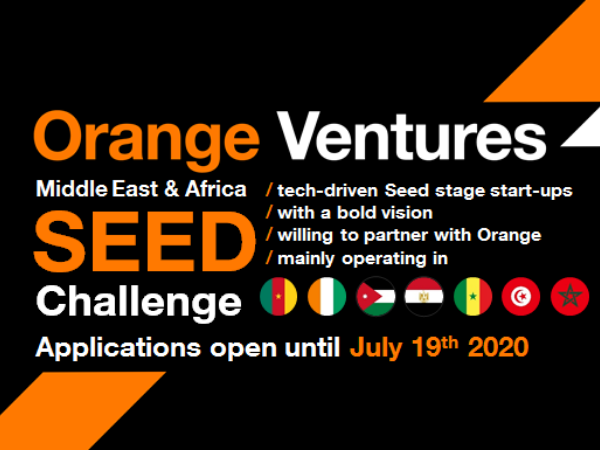 Orange Digital Ventures has opened applications for its MEA Seed challenge to support entrepreneurs and tech-driven startups during the ongoing COVID-19 crisis.
The COVID-19 pandemic has made access to financing difficult for startups since the number of active investors has reduced.
In the MEA Seed challenge, Orange ventures seven seed-stage start-ups will benefit from an investment between €50,000 and €150,000.
The Orange Digital Ventures has made this challenge open to startups operating in Cameroon, Côte d'Ivoire, Egypt, Sénégal, Tunisia, Morocco, and Jordan.
Entrepreneurs must take note to fill out a form online, share their investor deck, excel, and submit a three-minute video pitch between the period of June 1 to June 26.
The investees will be announced by September 2020 and will integrate the Orange Ventures Africa Middle & East portfolio.
Entrepreneurs who own or manage the seed-stage companies and have not raised more than €1m in total equity funding are eligible to apply for the Africa Middle & East Seed Challenge.
The challenges focus on startups mainly in the field of Networks & IT, Digital enterprise, Cybersecurity, Fintech, Insuretech, Edtech, E-commerce, Digital Inclusion, Consumer platforms, Gaming, CleanTech, CareTech, and Enterprise solutions.
This challenge follows the Orange Group 2025 strategy which is to expand digital services in the world.
This strategy has led Orange to innovate many digital solutions for individuals, companies, and entrepreneurs that had a great positive impact on the quality and efficiency of different businesses.
Speaking on the issue, CEO of Orange Africa and the Middle East, Alioune Ndiaye said, "As a major player in supporting the digital ecosystem in our territories, it is important for Orange to provide a financing solution in addition to our training and support activities for entrepreneurs in Africa and the Middle East."
Orange S.A, founded in 1988 is one of the largest operators of mobile and internet services in Europe and Africa. It is also a global leader in corporate telecommunication services.