Paga, partners with Visa, launches Naira virtual and physical cards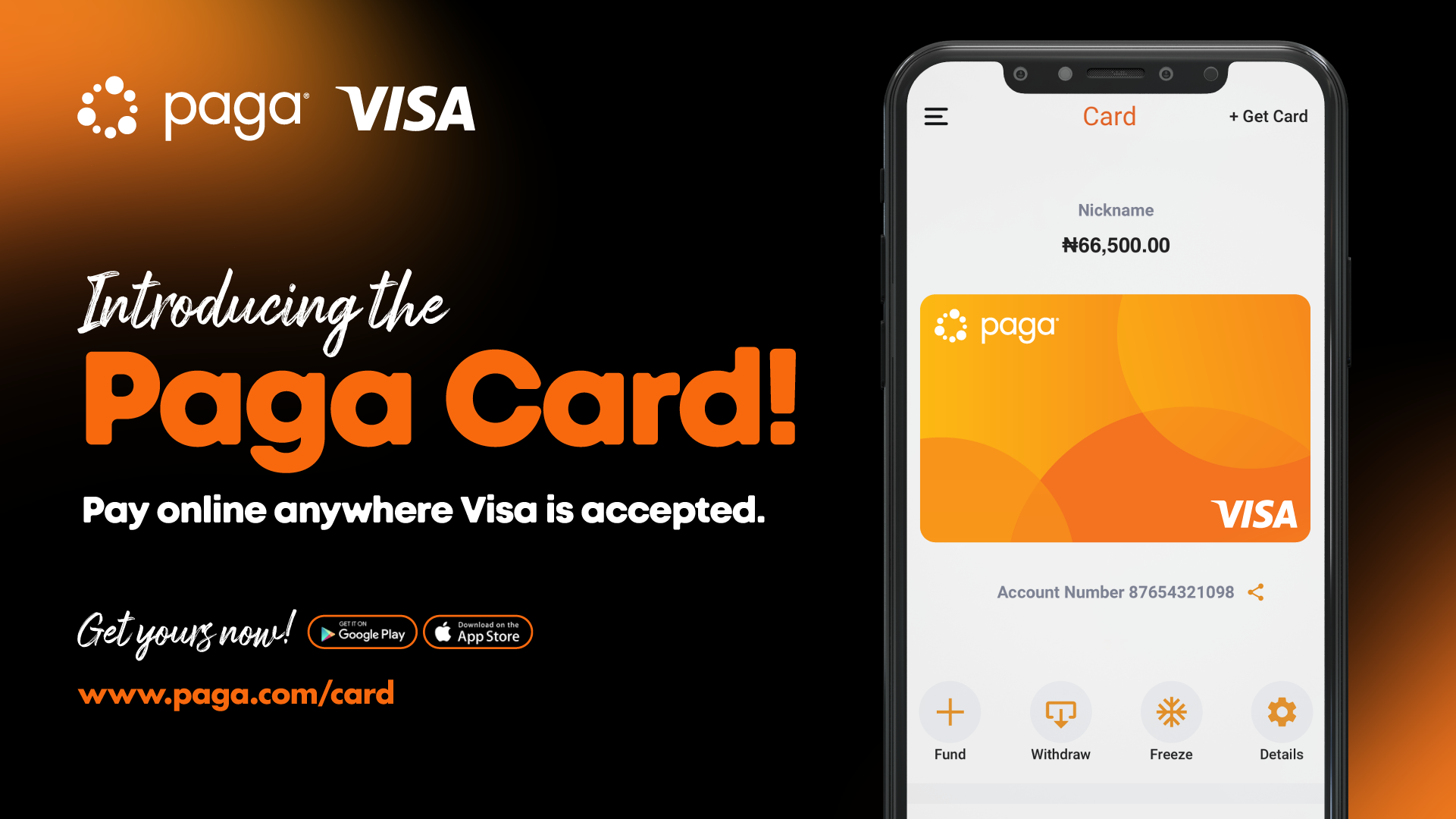 Leading mobile money company, Paga has on Monday, November 7, announced the launch of its Naira virtual and physical cards (Paga card) in partnership with American multinational financial company, Visa. This virtual payment method is set to start operating in Nigeria — the company's largest market before expansion to other core locations it serves.
We've been working on something big, and we finally have some excellent news. ??
Our first-ever Naira virtual card is live and we are ecstatic! ?
cc: @oviosu @jjalabraba @dmastermind @adamabate  @gideonabate @Visa pic.twitter.com/f44bulYOlf
— Paga (@paga) November 7, 2022
This development is based on the duo's pre-existing partnership in 2020 to accelerate digital and financial inclusion in the country. The new payment option joins Paga's money transfer app, Doroki, among others. In November 2021, Doroki, a commerce platform was launched to offer unique payment services from Paga and Visa.
Launched in 2009 by Tayo Oviosu, Paga has raised a total of $36.7 million according to data from Crunchbase and acquired Ethiopian-based software development company, Apposit in its vision to expand to Ethiopia and Mexico. It recently announced it has achieved $14 billion in transactions.
Nigerian Mobile Payment Company, Paga Announces $14 billion in Transactions
To access the virtual cards, users have to update their app and enjoy the flexibility of setting up in less than a minute. The cards come with a unique NUBAN number and can be funded only through bank transfers from any Nigerian account, paga wallet, USSD, paga, and other financial institutions agents.
Paga also launched a feature payment page: JustPaga.me which allows its customers to send payment links to their friends and family and have the money deposited directly into their Paga card in real time.
"We are thrilled about the launch of our Visa-branded cards. This is a significant milestone because it aligns with our goal of making it simple for people to access and use money. Customers now have access to Visa's global network through Paga cards. I am really excited about how Paga cards will make life easier for our customers in Nigeria and beyond," founder and CEO, Tayo Oviosu said.
Also commenting on the partnership, Vice President and Head of Visa West Africa, Andrew Uaboi said: "We believe in innovation-led collaborations, and fintechs remain core to solving the access to financial services gap in Africa. Partnerships are fundamental to our business model, and this expansion of our strategic alliance with Paga is another example of how we can help our clients deliver improved customer experiences."
"Whether it is changing the way people invest, manage money, or sending real-time payments to friends and family, Visa is a natural partner for FinTechs, providing them with new ways to reach their customers through Visa's vast network and global scale. We are proud to partner with Paga and support their ambitions to bring more Africans into the financial system with relevant digital solutions," Uaboi added.