PayTabs Partners Egypt's FlapKap to Support E-commerce Growth in UAE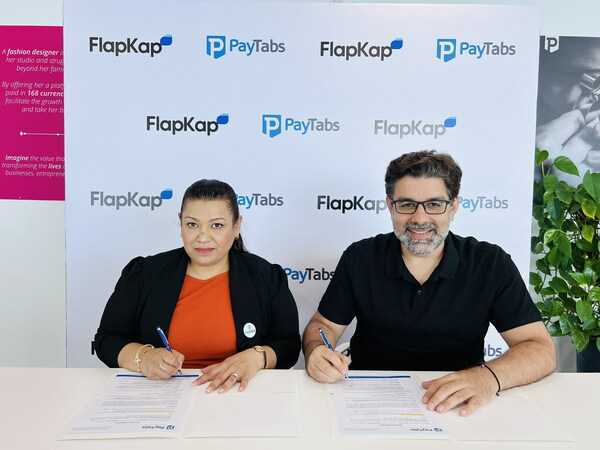 Payment solutions provider PayTabs has entered into a  partnership with revenue-based financing platform FlapKap to support the growth of UAE e-commerce.
The partnership will enable UAE-based small and medium-sized e-commerce firms (SMEs), webpreneurs, and PayTabs entrepreneurs to swiftly and seamlessly get finance offers.
Through the collaboration, more SME companies will be able to accept mobile, QR, and online payments through their e-stores in an easy and secure way using PayTabs' payment gateway. Additionally, they will be able to access working capital financing from FlapKap to take care of business needs like inventory purchases or logistical support, among other things, by using the funds.
Founded in 2014, PayTabs is a digital, mobile, social and payment processing hub for merchants to scale up their business. The platform provides merchants with a variety of payment acceptance methods including debit cards, credit cards and wallets. On the other hand,  FlapKap, which was established in 2022, also assists e-commerce and SaaS businesses to access financing solutions through the FlapKap app.
General Manager at PayTabs UAE, Neelam Keswani said, "FlapKap is the ideal partner as they understand the challenges that small businesses face since they operate under a similar ecosystem. Our partnership enables more web stores to streamline their payment acceptance and digital invoicing so they can focus on obtaining the necessary funding to scale their businesses to meet the surging demand for 'online everything.'"
FlapKap's VP of Growth, Kunal Harisinghani said the partnership with PayTabs will add great value to the SME ecosystem, making it the first time a best-in-class Payments Solutions provider and an innovative Revenue-Based-Funding solution have collaborated. He also expressed his excitement for both companies having a  similar goal of impacting the SME and eCommerce segments as well as cushioning them with data-driven growth opportunities.
SMEs in the UAE
According to the press release, SMEs are key players globally, especially in booming economic hubs like the United Arab Emirates. E-commerce is a sector with a high potential for entrepreneurs as there are now twice as many young Arabs in the GCC who buy online as five years ago. The Dubai Chamber of Commerce has predicted that the UAE commerce market will reach USD 9.2 billion by the end of 2026. The growth of the SME sector is dominated by electronic gadgets, fashion, and food. In spite of this, raising funds or working capital to develop an e-business continues to be a stressful and intimidating process.