Pharmarun Wins ($10K) Pitch2Win 2023 Competition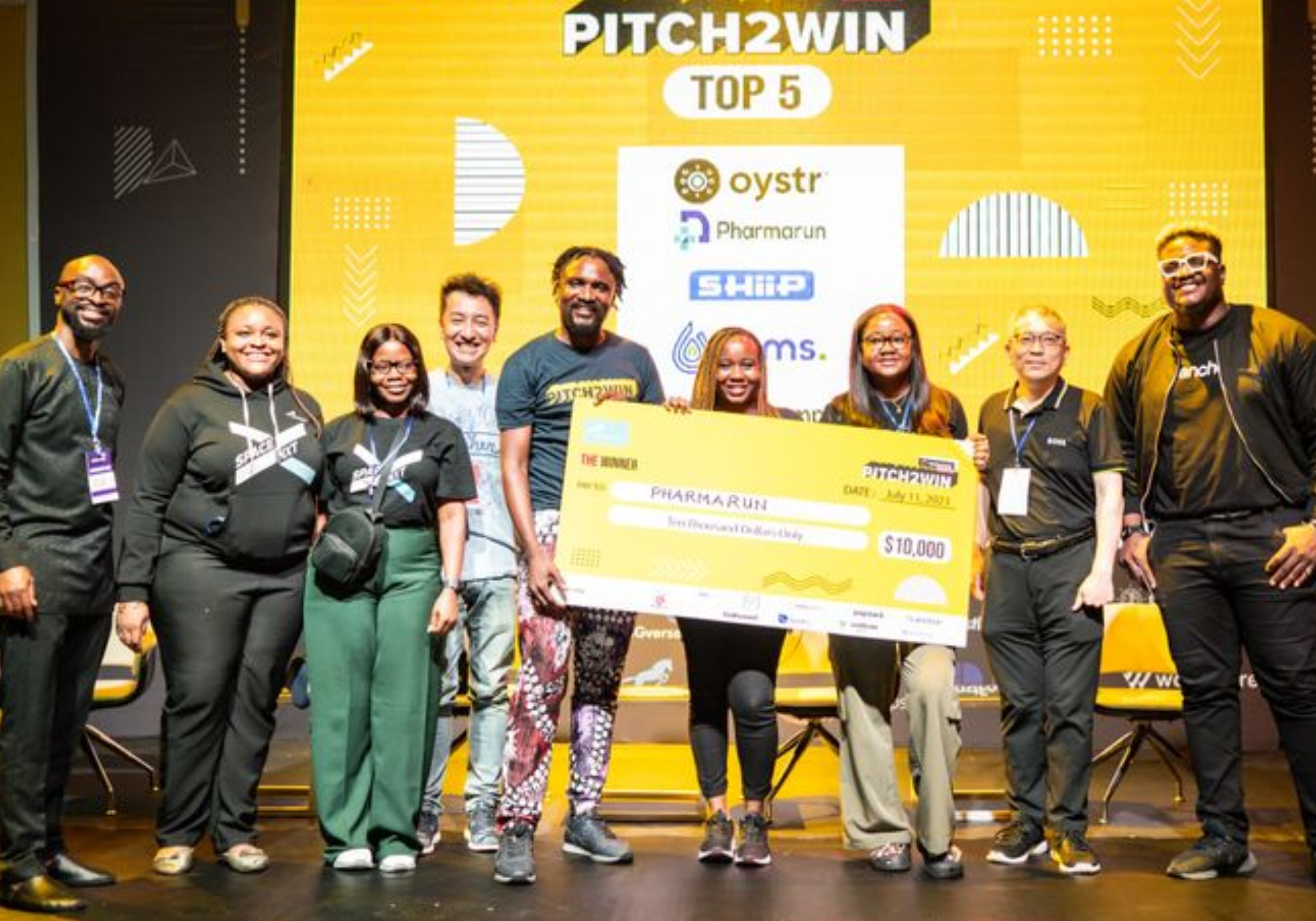 PharmaRun, a health-tech startup, has emerged as the winner of the third edition of the highly anticipated Pitch2Win competition, just over a year after being crowned as one of the winners in the Microsoft - GreenHouse Scale-Up Accelerator Program. This remarkable achievement grants the startup an equity-free investment of $10,000, a significant boost for their innovative endeavors.
Pitch2Win is an annual event that serves as a platform to connect aspiring entrepreneurs with potential investors. At this year's event, PharmaRun competed against 14 other promising early-stage startups, all vying for the coveted investment by showcasing their groundbreaking solutions in AI, blockchain, fintech, e-commerce, and logistics.
The star of the show was undoubtedly Teniola Adedeji, who captivated the panel of judges comprising Kola Owodunni, Yuzuru Honda, Eloho Omame, Hiro Mashita, and Kola Aina. Adedeji's compelling presentation, which lasted less than five minutes, convinced the judges that PharmaRun deserved the highly sought-after $10,000 financing.
The Pitch2Win competition released the $10,000 pitching program one week prior to the event. The objective was to discover fresh and innovative approaches to pressing challenges that could drive meaningful progress in the Web2 and Web3 industries.
Meet the Other Competitors for the Pitch2Win 2023
Among the 14 startups that competed alongside PharmaRun were notable participants such as Akowe, a blockchain and edtech startup; Primed E-Health, a healthtech startup; Tyms Africa, a fintech startup; Motor Africa, a mobility tech startup; Bridger, a B2B fintech startup; Check Retail, an e-commerce startup; Crunch Network, a blockchain-powered fintech startup; Oystr Finance, a fintech startup; DIAGON STUDIOS LTD, a blockchain startup; PipeOps, a cloud infrastructure startup; ZeroComplex AI, an AI startup; Centiiv, a blockchain startup; Shiip, a logistics startup, and Uburu Health, a health tech startup.
Securing the runner-up position was ZeroComplex AI, an AI startup committed to streamlining the integration of AI into existing applications. Oystr Finance, which facilitates easy access to alternative financial data, creditworthiness assessment, and borrower identification verification, claimed the third spot.
PharmaRun was founded in 2021 byTeniola Adedeji and Funmilola Aderemi. Their ability to overcome the limitations of traditional pharmacies left the audience in awe. Adedeji and Aderemi, lifelong friends for over two decades, recognized the pervasive issue of frequent stock shortages in pharmacies, which severely limits options for customers.
Adedeji argues that we often remain oblivious to the challenges faced by underserved areas like Jigawa, where only two pharmacies exist. Consequently, PharmaRun receives orders from across the nation, bridging the accessibility gap between underserved regions and vital pharmaceutical supplies. The critical need for a reliable and accessible platform like PharmaRun is undeniable.
PharmaRun's resounding success can be attributed to several factors, including the vast market opportunity it offers, its flexible payment options such as Buy Now, Pay Later (BNPL), the scope of the problem it addresses, and the exceptional execution by its talented team. Adedeji exclaims with joy that their remarkable achievement is all the more astounding since they had never pitched to an audience before. This unequivocally demonstrates the support for their scalable solution and its undeniable potential, surpassing even the most established founders in the industry.
The Nigerian healthtech startup plans to raise $500,000 for business expansion and product development. The victory at Pitch2Win not only validates their concept but also propels them into the limelight, granting them access to potential investors and unprecedented visibility.
PharmaRun's remarkable journey showcases its unwavering commitment to transforming the health-tech landscape and bridging the accessibility divide in the pharmaceutical industry.