Second Round for The GSMA Climate Resilience Fund Is Now Open For Applications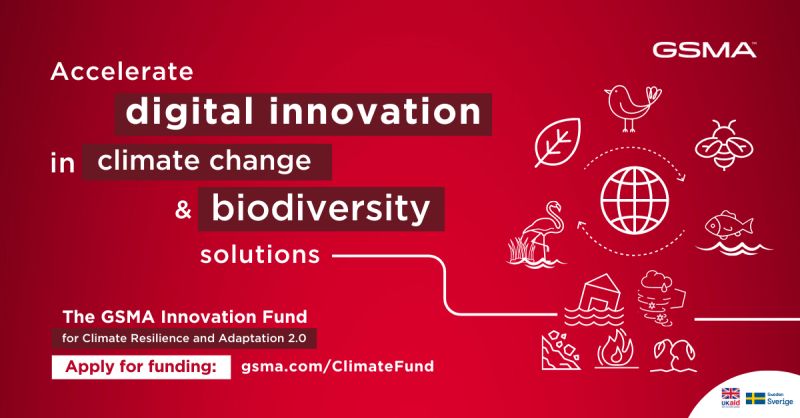 The issue of climate change has led to a severe global crisis that has resulted in the destruction of nations and the displacement of countless individuals. To this end, the second phase of the GSMA Innovation Fund for Climate Resilience and Adaptation is now underway.
The fund supports tech start-ups and social enterprises in Africa, Asia, Europe, Latin America, the Caribbean, and the Pacific Islands. The goal of this programme is to develop solutions that make use of digital technology, particularly mobile, to boost climate change adaptation and resilience.
Organizations that are chosen will receive a comprehensive support package, including grant funding. The grant reward is between GBP100,000 ($125,000) and GBP250,000 ($200,000). The selected organizations will receive tailored technical assistance, peer learning opportunities, and assistance in forming relationships with mobile operators and public sector organizations.
The program also pledges to boost startups' visibility to potential partners and investors by featuring them in GSMA's events, publications, and social media. This is a follow-up to the successful first edition from the previous year, which saw funding awarded to eight African start-ups.
Two renowned international organizations have partnered to develop GSMA Innovation. Swedish International Development Cooperation Agency (Sida) and the Foreign, Commonwealth, and Development Office of the United Kingdom (FCDO).
This programme also seeks to have a beneficial socio-economic and environmental impact by piloting and scaling up digital technology breakthroughs. Especially, in regions with populations that are most at risk from present or potential climate concerns.
Application for the GSMA Innovation Fund can be submitted here and is open until 16 May, 2023.
About GSMA
GSMA is a worldwide organization that brings together the mobile ecosystem to explore, create, and provide innovation that forms the foundation for favourable business environments and social transformation. Their events offer effective methods of uniting the ecosystem and associated industries, fostering strong business relationships, and promoting positive impact.