South African e-ride Platform, inDriver Introduces Zero Rate Strategy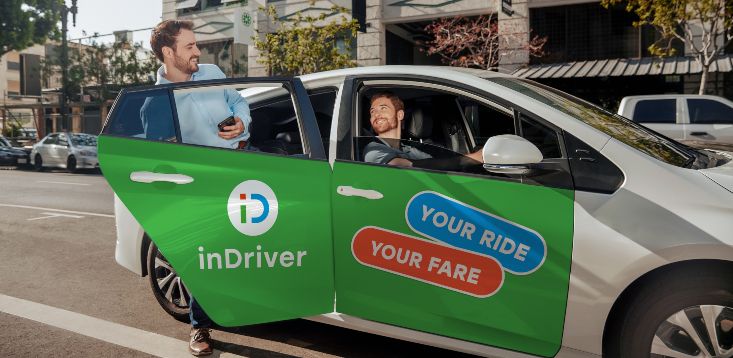 E-taxi service platform, inDriver, has adopted a new service strategy for users. According to the platform, the use of mobile data is now free for all users of inDriver, becoming the first ride-sharing software in South Africa to adopt the strategy. The California headquartered startup claims it would pay for any mobile data usage fees incurred by users. According to the company, the main goal is to broaden access to digital technology and aid in closing the digital divide in the nations where it operates.
Access to the internet in Africa has remained limited by affordability. Those in rural areas are still 33% less likely to utilize mobile internet than adults in urban areas, according to reports. Users will save money on data usage while still taking advantage of the platform's features due to the new approach.
Many nations throughout the world, including South Africa, have embraced universal service and access to offer convenient and cheap access to telecommunications services and close the digital divide. The use of startup services has been hampered by the limited access and affordability of the internet for those who are financially vulnerable.
The main four telecom providers in South Africa—Vodacom, MTN, Cell C, and Telkom Mobile—have a combined market share of 99%, and while the company has a strategic partnership with MTN, it claims to pay the costs associated with using data.
Vincent Lilane, a business development representative for inDriver, acknowledged that the startup is able to offer and receive the services customers need at reasonable pricing and not have to worry about needing WiFi to utilize it because of its connection with the main mobile operator, MTN.
About inDriver
InDriver was established in the US in 2013 to offer customers an effective substitute to services from taxi aggregators with rigid price structures.
The platform ran in Tanzania for a year before expanding to South Africa in 2019. Since making its debut in Africa, the platform has expanded its service to 10 cities across five distinct African countries, including Kenya, Uganda, and Nigeria.
The inDriver app is similar to other ride-hailing apps, yet it differs significantly. Riders can offer drivers the fee they like, and the two parties can come to an agreement. The rider has the option to wait till another driver arrives if they are not happy. Once both the driver and the passenger have agreed on a fare, they proceed to their destination.
In essence, inDriver's service doesn't have set rates for rides but instead relies on a novel peer-to-peer pricing model that enables passengers and drivers to haggle directly over fares. According to the business, this makes sure that the terms are as clear-cut and equitable as feasible.
InDriver claims to be the world's fastest-growing ride-hailing service. It claims that more than 150 million people have downloaded its app and that 645+ cities in 45 countries now provide the service. After finishing a $150 million financing round with Insight Partners, General Catalyst, and Bond Capital, which valued the firm at $1.23 billion, inDriver attained unicorn status in early 2021.