Sun King, Clean Start-up Secures $130m Funding Round From BII, Stanbic Bank Kenya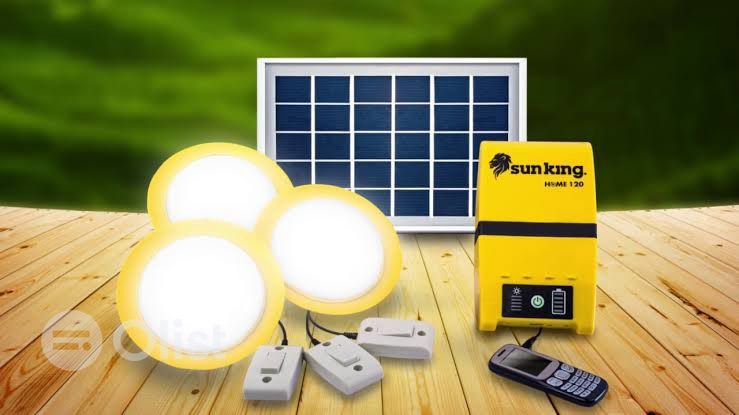 British International Investment (BII), the development finance institution (DFI) and impact investor of the UK, along with Stanbic Bank Kenya (a member of the Standard Bank Group), have pledged their support to Sun King. Sun King is a cleantech start-up that provides off-grid solar energy solutions. The commitment includes a substantial funding round of $130 million and a collaborative working capital facility of $20 million.
To facilitate its growth ambitions, Sun King has garnered support from prominent development finance institutions (DFIs) and commercial lenders. This backing includes investments from Absa, BII, FMO, Norfund, Stanbic Bank Kenya, the Trade and Development Bank (TDB), and Citi. These institutions have provided financial support to Sun King, emphasizing the company's potential for expansion in the future.
By extending a supplementary working capital facility of $20 million, BII and Stanbic Bank aim to enhance Sun King's ability to meet the increasing demand in an underserved market. This additional financial support will enable Sun King to expand its production capacity and deliver a greater quantity of affordable, high-quality products to its target audience. The focus is on addressing the rising demand for reliable and affordable energy solutions in the market, thus furthering Sun King's impact in reaching underserved communities.
What this means for Kenya
With a track record of empowering over 100 million individuals, Sun King has played a significant role in providing energy access to underserved populations. The recent investments received by the company are expected to expedite Sun King's efforts in bringing sustainable and dependable energy solutions to more households and businesses in Kenya. These investments will enable Sun King to expand its reach and contribute to a greener and more modern energy landscape in the country.
In Kenya, approximately 30% of the population currently lacks access to electricity. The provided facility will enable Kenyan households and businesses to shift towards clean, dependable, and cost-effective solar energy solutions. This transition will not only address the electricity gap but also empower individuals and businesses with access to reliable energy and modern appliances.
Anish Thakkar, Co-Founder, Sun King said: "For many years, British International Investment and Stanbic have been invaluable partners in Sun King's mission to equip underserved consumers with clean, renewable energy. Today, one in five Kenyans use Sun King products for light and power. British International Investment and Stanbic's investment propels us forward, allowing Sun King to meet the ever-evolving energy demands of Kenyan customers and to better serve those overlooked by traditional energy systems."
Geoffrey Manley, Head of Energy Access and Efficiency, BII, said "Once again, we are proud to support Sun King and are delighted to participate in BII's third funding round to the company. Alongside other investors, we reinforce our shared commitment to mobilise climate finance, boost energy access and improve the quality of life of Kenyan households."
"These complimentary commitments bring more solar home systems to those living with no or limited access to traditional energy sources – supplying energy efficient solutions while unlocking more commercial capital to advance the development of the market."
Rentia van Tonder, Global Head of Power, Standard Bank said "Africa is well positioned to benefit from the green economy, and we are proud to have partnered with Sun King to facilitate this landmark transaction. It is another demonstration of the Standard Bank Group's ongoing commitment to drive sustainable growth in Africa's renewable energy sector."
"Our clients are looking at transitioning to net zero and fast-tracking renewable energy as a key value proposition, and as such we have prioritised sustainable finance as a way to unlock growth across African economies. As the largest bank on the continent, we have the local knowledge and a good opportunity to play a leading role to realise the possibilities presented by Africa's longer-term structural trends."
About Sun King
Sun King specializes in designing, distributing, installing, and providing financing for contemporary solar energy solutions. These solutions cater to individuals, households, and businesses that lack access to, dependability on, or affordability of traditional electric grid connections.
Sun King, backed by DFIs like BII, is the world's largest off-grid solar energy company, fueled by early-stage funding. In 2022, Sun King successfully concluded a Series D equity funding round, raising $330 million. Private equity investors General Atlantic, M&G, and Leapfrog were among the participants in this funding round.
Throughout Sun King's growth journey, the financing provided by  (BII) and Stanbic Bank Kenya has evolved alongside it. Both institutions have embraced a flexible, patient, and long-term lending approach, adapting to the expanding scope of Sun King's operations. This collaborative approach has allowed BII and Stanbic Bank Kenya to support Sun King's growth and contribute to its success in providing sustainable energy solutions.