Lagos ARM Labs Techstars Accelerator Program Selects 12 African Startups for its Inaugural Batch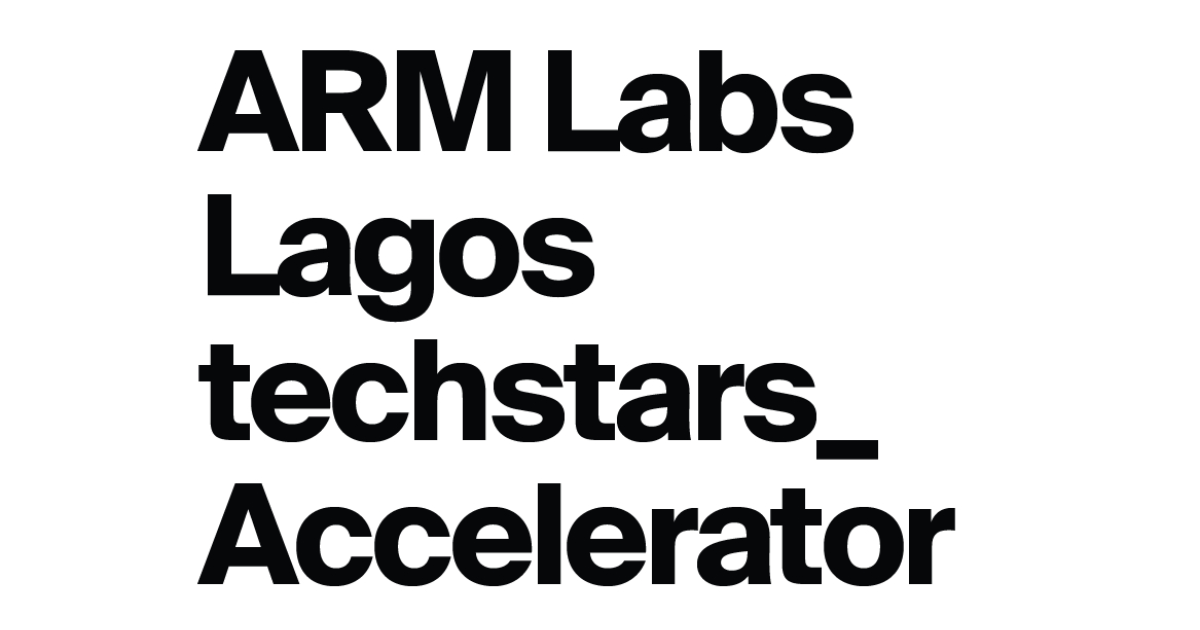 The African and Nigerian tech ecosystems are set to benefit greatly from the ARM Labs Lagos Techstars Accelerator Program. In partnership with Techstars and Lagos-based innovation ARM Labs, this program is focused on building early-stage African fintech and proptech startups. The program selected its inaugural class of 12 startups, comprising 10 Nigerian and 2 Kenyan startups, 50% of which have female CEOs.
Startups that applied for this program went through several interviews with members of the Techstars global team, and a final interview with Techstars Managing Director, Oyin Solebo and a 15-member screening committee. Some members of this committee included Ashim Octerra Managing Partner, Octerra Capital; Olumide Soyombo, Partner at Voltron Capital; Charlene Chen, former COO of AZA Finance, among others.
Speaking on the selection process, Techstars MD said "After a competitive application process, we have chosen entrepreneurs who can be exceptional founders, startups that have the potential to be industry leaders, and a cohort that is collectively capable of bringing innovation and change to Africa and the world."
Also, the program, which started in December 2022, will provide a 13-week boot camp program where the startups will receive mentorship and be taught the fundamentals of building a startup. The sessions are delivered in a hybrid manner, allowing the startups to participate in physical sessions at least three times a week. The startups will also have access to 95 industry experts as mentors, providing them unparalleled support and guidance.
Solebo further explained "We've curated content and sessions based on what every founder needs and their specific market. The startups will attend sessions on understanding your customer and your unique value proposition, creating a financial model, scaling, recruiting, and retaining top talent."
What the Selected Startups for the ARM Labs Lagos Techstars Accelerator Program Stand to Benefit
In addition, the startups will receive the Techstars standard deal of $120,000—$20,000 equity upfront and an optional $100,000 convertible note investment in exchange for 6–9% equity. This not only provides the startups with the necessary financial support to grow, but it also gives them access to the vast networks and resources provided by Techstars and ARM Labs.
The program has already hosted speakers such as Tunde Kehinde, Co-founder and CEO of Lidya, Bode Abifarin, COO of Flutterwave, and Amandine Lobelle, COO of Paystack, among others. These successful entrepreneurs provide valuable insights and guidance to startups, helping them achieve their goals.
According to Ina Alogwu, Group Director, Digital Transformation, ARMHoldCo, the ARM Labs Lagos Techstars Accelerator Program is committed to unearthing the next set of unicorns out of Africa, and this is a great opportunity for African and Nigerian startups to receive the support they need to grow and succeed. With mentorship, funding, and access to networks and resources, the program provides a platform for startups to thrive and bring innovation and change to Africa and the world.
Notably, the inaugural program which ends in March with a demo day event where the startups are invited to pitch their product to investors and provide a demo is a valuable initiative that will benefit the African and Nigerian tech ecosystems. It provides startups with the support and resources they need to grow and succeed, and we look forward to seeing the impact that this program will have on the future of African and Nigerian tech startups.
Meet the 12 Selected Startups
AlphabloQ is a real estate investment platform founded by Trevor Kimani and John Mbui. The startup's mission is to reduce the entry barrier for real estate investors by enabling investors to purchase a fraction of income-generating properties.
Peppa.io, founded by Banky Alao, Bridget Yadua-Soremekun, and Emmanuel Obute, is making it safer to buy on social platforms for Africans through the use of payment protection.
CDcare Makes it easy for Africans to own gadgets, appliances, cars, and more at zero interest, through smart installment plans. The company was founded by Tobi Odukoya and Deji Farohun.
Cladfy, founded by Ebby Gatamu and Kibe John, provides microfinance lenders with credit profiling, digitized loan management, and access to affordable, reliable financing.
Flick enables users to connect multiple bank accounts and pay directly from one source, making payments 7x faster. Ruth Olojede and Dipo Gbadeboise are the founders of the company.
Keble, founded by Emmanuel Oballa, Agulanna Josemaria, Adebisi Borokinni, and Valentine Offiah, enables Africans at home and abroad to purchase fractional shares of global real estate for as low as $10.
Keza
Keza is powering smartphone financing by enabling people to buy brand-new and certified pre-owned smartphones on a flexible payment plan. Keza Africa was founded by Aisha Hussaini.
Salad was founded by Chikodi Ukaiwe and Seunfunmi Omotunde and is providing employees with access to financial services and benefits beyond their monthly paychecks.
Sidebrief simplifies the process of starting and scaling a business across borders, with its one-stop solution for registration, banking, and regulatory compliance. The company was founded by Eunice Olopade, Abdulwaheed Yusuf, and Usman Sotunde.
Towntalk, founded by Folake Edun, Disun Vera-Cruz, and Tomiwa Erinosho, is building Area!–a protection platform giving companies peace of mind when moving goods and people from point A to B, by providing real-time location and behavioral analytics, vehicle tracking, and access to insurance providers.
Vittas is a digital lender for healthcare providers, using machine learning, partnerships, and embedded 3rd party SaaS solutions to provide loans for the purchase of medications and medical equipment. Vittas was founded by Sulav Singh, Collins Uche, and Eric Okemmadu.
Oystr Finance, founded by Ifedolapo Lawal, Olusola Onajobi, and Omotayo Iginla is democratizing credit in Africa. The company provides lenders with an infrastructure to help them launch low-risk micro-loan products grow their portfolios and expand into new markets in less than 30 minutes.