TheOuut's Review of the African Tech Startup Ecosystem in 2022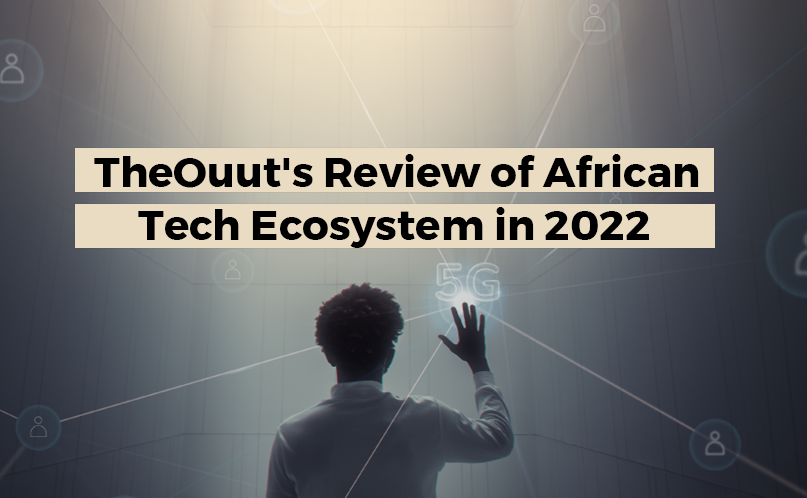 Owing to the impressive performance of African Startups in 2021, which continued into Q1 2022, where over $1 billion was raised, experts such as the African Private Equity and Venture Capital Association (AVCA), were optimistic about Africa's chances of eclipsing the $4.5 billion raised in 2021 to a new record of $7 billion by the end of 2022. However, the faltering global economy had a negative impact on worldwide startup investment, with a noteworthy year-on-year fall of 55% in Q3 2022 compared to Q3 2021. According to The Big Deal report, African startups managed to maintain their upward trend, raising over $4.84 billion in 2022, a 7.62 percent increase from $4.46 billion in 2021.
This great feat was achieved even as global tech funding for the year was down by 35%  YoY from the 2021 record, contracting by 19% quarter over quarter (QoQ) in Q4'22 to reach $65.9 billion, nearing pre-Covid funding levels. This brought total venture funding in 2022 to $415.1 billion —Deal volume, however, fell by only 4% YoY in 2022, reaching 36,177 deals according to CB Insights 2022 State of Ventures report.
According to the Big Deal report, Africa's startup funding in 2022 shattered records in terms of capital raised, making it the only region globally with an upward trend, number of deals, and number of investors.
More than 1,000 deals for $100k or more were announced in 2022, representing an 11% increase over the previous year, which featured 818 deals worth $100k or more.
In 2022, 144 startups reported their first $1 million+ venture fundraising, up from 110 in 2021. Since 2019, at least one Africa-based investor has been one of the key investors in more than half of the $1 million+ investments in Africa, and this number has expanded significantly since 2019.
Africa has piqued the interest of more investors than ever before, with over 1,000 unique investors taking part in at least one venture on the continent in 2022, a 15% rise from 800 investors in 2021. Furthermore, launch Africa emerged as the most active investor in Africa's tech ecosystem in 2022 with more than one deal every week.
Additionally, female-led startups raised more money than the previous year in 2022, accounting for 2.4 percent of overall financing, up from 0.95 percent in 2021. Meanwhile, the proportion of male CEOs receiving funding has fallen from 93% in 2021 to 85% in 2022. According to the data, funding raised by the founding team gender mix accounted for 13% ($624 million) of total investment raised by African startups.
The Big Four
The "big four" (Nigeria, South Africa, Kenya, and Egypt) continue to dominate funding raised, with $1.2 billion, $1.1 billion, $820 million, and $550 million, respectively, accounting for 75% of total funding in 2022, up from 81% in 2021. Kenya, on the other hand, has risen to second place, surpassing Egypt and South Africa, while Nigeria remains the top financial recipient.
According to The Main Deal, only Nigeria and South Africa had a decrease in financing in 2022, out of the big four African countries that have raised substantial capital funding. This decline is mostly due to the second-half funding downturn that affected practically every tech ecosystem on the continent, according to CB Insights' State of Venture Q3'22 report, which found that venture capital in Africa fell by 54% in Q3 2022. However, in terms of investment, Nigeria remains by far the largest market (286 $100k+ deals, +14% YoY | $1.2bn, -29% YoY). In 2022, the country registered two $100 million+'mega deals,' Flutterwave's $250 million Series D in February and Interswitch's $110 million round disclosed in May, compared to five in 2021.
Funding by Regions
Western Africa: Despite a small decrease YoY (-12%, from $2 billion in 2021 to $1.8 billion in 2022) firmly leads the continent. The strong performance in other regions notwithstanding means it represented a relatively smaller portion of the funding on the continent in 2022: 37%, down from 43% in 2021 (-7pp).
Northern Africa: this was one of the clear winners of 2022 with a +62% YoY growth in terms of funding raised (from ~$700 million to $1.1 billion), crossing the $1 billion mark for the first time. Its share of funding raised on the continent mathematically grew, from 15% to 23% (+8pp).
Eastern Africa: This region also reached the $1 billion milestone for the first time, attracting more than twice as much funding in 2022 compared to the previous year ($1.2 billion vs. ~$600 million) resulting in its relative share of continental funding more than doubling YoY: from 12% to 26% (+13pp).
Southern Africa: Was the biggest loser in 2022 (-44% YoY) from $1.1 billion in 2021 to just over $600 million in 2022. As a result, its share of the total funding was also about halved: 12%, down from 23% (-11pp).
Central Africa: This region remains miles behind its neighbors with ~$50 million raised (more than double the 2021 number) and a total share of funding that surpassed 1% for the first time.
It is equally worthy of note that in the various regions except Central Africa -, a 'Big Four' dominates. Their weight ranges from Nigeria's 68% of Western African funding to South Africa's 92% in Southern Africa. However, the relative weight of the Big Four in their respective regions has been decreasing between 2021 and 2022 in Western Africa (-17pp YoY), Northern Africa (-14pp YoY), and Southern Africa (-6pp YoY); Eastern Africa is the only exception with Kenya's share of East Africa funding growing +14pp YoY.
Deals by sectors
Fintech remains the top sector in terms of funding raised, but its share of total Venture Capital funding has decreased from 53% in 2021 to 37% in 2022. Back in 2021, fintech represented the majority of funding raised on the continent, with a share in constant progression. Yet in 2022, the amount invested in fintech start-ups in Africa decreased ($1.8 billion, down from $2.5 billion, i.e. -28% YoY), and so did its share of funding raised (37%, -17pp). Still, the sector claimed the largest number of $100m+ transactions aka 'mega deals' though (4 out of 9): Flutterwave, MNT-Halan, Interswitch, and MFS Africa.
Energy funding more than doubled YoY (from $413 million to $874 million) – driven in particular by PEG Africa's acquisition by Bboxx estimated at $200 million and Sun King's $260 million Series D -, making it the second largest sector in 2022 (18%, +9pp).
Logistic & Transport (13%, +3pp) which experienced decent YoY growth (+38% YoY), even overpassing Fintech in Q4, thanks to Yassir's $150 million Series B came third.
Retail came next at $455m (+44% YoY), falling short of the podium as it had in 2021; Wasoko's $125 million Series B round was the largest transaction in the sector.
Other significant sectors growing YoY included Telecom, Media & Entertainment [#5], Agriculture & Food [#6], and Deeptech [#7] with the $100m Series B of InstaDeep.
Healthtech funding went down -41% YoY (from $226 million to $132 million) and -69% YoY for Edtech & Jobs [#9] (from $276 million to $84 million).
Interestingly, if you group Energy & Water, Agri & Food, as well as Waste Management start-ups, the investments in these "Climate & Environment" sectors have doubled YoY (from $580m in 2021 to $1.2bn in 2022).
African Startups' top Deals in 2022
Sunking emerge as the largest deal announced in 2022 with $260 million in its series D funding, Flutterwave raised $250 million in its Series D round, Interswitch, one of Africa's largest fintech companies, secured a $110 million deal in a joint venture deal with LeapFrog Investments and Tana Africa Capital to increase its presence across Africa with its digital payment services.