​UNDP-EU Announces 17 Finalists For Its Growth Stage Impact Ventures Program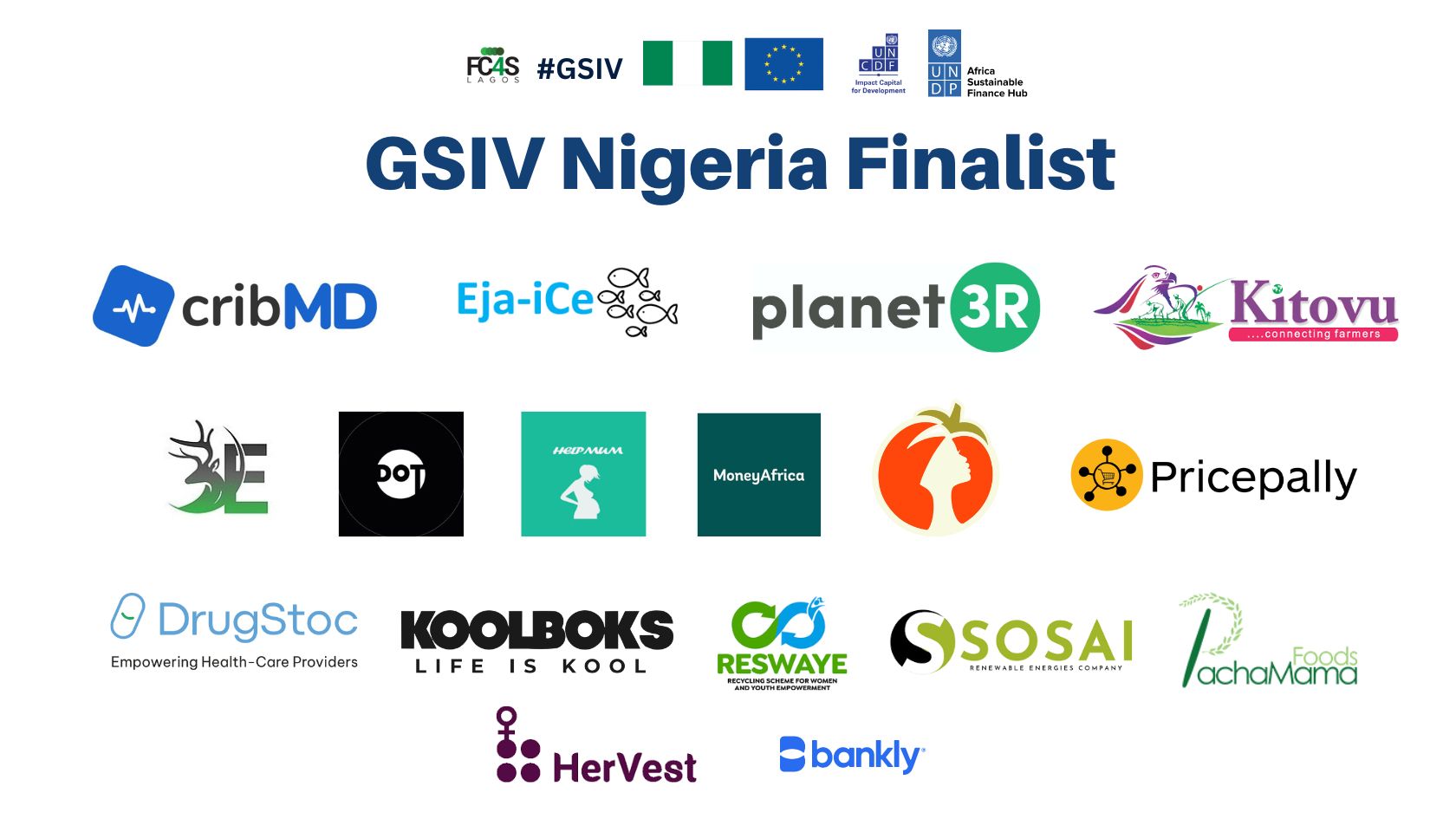 The United Nations Development Programme (UNDP) and the European Union (EU) have announced the 17 finalists of the Growth Stage Impact Ventures (GSIV) program. Launched in Nigeria, this initiative aims to recognize and support enterprises that have achieved commercial success while actively contributing to the Sustainable Development Goals (SDGs).
​The 17 finalists include a diverse range of ventures: HelpMum, MoneyAfrica, Doe, Kitovu, Pricepally, Pachamama Foods, Tomato Jos, Crib MD, DrugStoc, Planet3R, Reswaye, Eja-ice, KoolBoks, Sosai, Bankly, DOT, and Hervest.
These selected finalists will receive comprehensive support to enhance their readiness for investment, including training on UNDP's SDG Impact Standards to integrate sustainability into their business strategies. They will also gain exposure to potential financing opportunities from Development Finance Institutions, UN Agencies (including the UNCDF), and domestic and international investors.
Dr. Abiodun Adereni, the founder and CEO of HelpMum, expressed excitement about being selected for the program, stating, "We eagerly anticipate how this great opportunity will help us scale our impact at HelpMum Africa."
A total of 131 companies from various sectors were nominated for the GSIV program, ranging from Food and Agriculture to Renewable Resources, Infrastructure, Technology and Communication, Health Care, Services, and Consumer Goods. After rigorous evaluation, these 17 enterprises emerged as finalists.
Most of the nominated ventures reported that at least 75% of their employees are based in Nigeria, contributing to local employment, social development, and poverty reduction. Some ventures also have offices in other countries, such as the United Kingdom, Ghana, Kenya, and South Africa.
The GSIV program aims to address the SDG financing gap in developing countries, which surged by 56% after the COVID-19 pandemic, reaching USD 3.9 trillion in 2020, according to the OECD. In Africa, achieving the SDGs is estimated to cost USD 1.3 trillion annually, with a projected increase to $19.5 trillion due to population growth (UNECA, 2020). Surprisingly, less than 1% of global private financing assets could fill this gap and accelerate SDG progress.
The GSIV program identifies enterprises from developing countries that have developed scalable products and services contributing to the SDGs while achieving commercial success. These ventures have demonstrated a proven impact, product-market fit, and a revenue-generating self-sustainable model to attract local and international capital.
This initiative is aligned with Nigeria's national development needs and policy priorities, focusing on seven priority sectors where private capital can drive significant change. A highlight of the program will be the opportunity for these finalists to engage with investors and key ecosystem players during the 6th Annual Convening on Impact Investing, scheduled for October 31st and November 1st, 2023, at the prestigious Lagos Oriental Hotel in Lagos, Nigeria.