VC Corner: the best startup founders are the ones willing to grind, think outside of the box – Eunice Ajim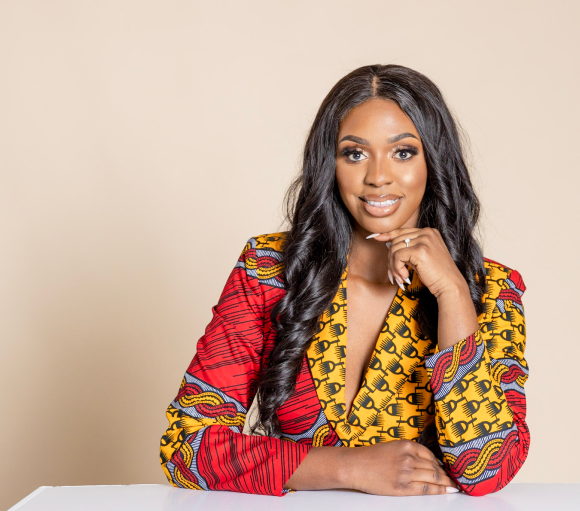 In 2021, African startups raised over $4 billion in venture capital, with seven tech startups becoming unicorns, a meteoric rise from 2019 and 2020. This success for startups became a precursor for more funding activities by VC firms.
Despite the huge capital that came into the continent, only two early-stage VC firms launched last year, Voltron Capital and Echelon Capital. A steep decline from previous years.
To set things rolling this year, Eunice Ajim launched Ajim Capital in January, to back African founders so they can focus and grow their businesses rather than worry about funding.
In a virtual chit-chat with founder and General Partner, Eunice Ajim, she gives an insight into her journey to entrepreneurship and the motivation behind providing capital for tech startups, with a focus on Africa.
Growing up in Cameroon, Eunice didn't imagine that she would end up as an entrepreneur or a founder of a VC firm. But as a young teenager in Central Africa, she did, however, have an innate entrepreneurship drive, a skill set that would become vital to surviving in corporate America and in her career.
Ajim who migrated to the U.S as an International student in 2011, is not a stranger to the struggles of starting and running a tech startup and navigating the complexities of a competitive and dynamic tech scene.
In the U.S., Eunice was first faced with the challenge of being from French-speaking Cameroon. Because of this, she first went to an English school, before enrolling at the Houston Community college as she turned sixteen, with prospects for a degree in Business but switched to pursue a degree in Mathematics and Statistics after her associate from Louisiana Tech University.
After graduating in 2016, she settled in Texas, where she landed her first role as a data analyst at Apple Inc. "I was doing analytics for them, and during that time, Data Science and Machine Learning were booming," Eunice told The Ouut on a call.
Despite working at one of the biggest tech companies in the world, Eunice wanted more. "I knew that there was no way I was going to live my American or African dream being an employee, so I wanted to get into the tech startup scene".
Eunice says she has always been an entrepreneur. As a young girl in Cameroon, she'd save her pocket money to buy biscuits and candies in bulk, then sell them to her schoolmates. Even as a student in the US, she always figured out ways to make money through entrepreneurship so she could survive. So, having a regular job just didn't seem right for her.
"I hated it, I hated corporate America. So, I said to myself, I need to go out and build a company and solve a problem, and I would be rewarded because that is what excites me".
She eventually quit her job at Apple and founded her first startup, DataGig in 2017, an online marketplace that connects data scientists to SMBs. Within months, she grew the company's revenue to a substantial amount per month and started fundraising.
While fundraising, she faced a lot of rejections. Some people said the idea wasn't going to work, the market wasn't large enough and other such remarks.
But she eventually got an opportunity to partner with another startup that had a similar model as DataGig but for a different market. On that note, she closed DataGig and started OpenTeams, which is an online marketplace that connects service providers with open-source software users.
In its first year, OpenTeams raised $680,000 in pre-seed funding. By the second year, the company had hired some full-time employees and were posting revenues in millions of dollars. In the third year, OpenTeams raised about $3 million in another funding round and almost doubled its revenue.
INTO STARTING A VC FIRM
While Eunice was busy growing her startup to significant heights in the US. The African tech scene was gaining international attention.
Paystack got acquired by Stripe, in one of the largest deals on the continent, Flutterwave became a Unicorn in early 2021 and other exciting happenings in the African tech ecosystem piqued her interest.
As a founder with a vision to always give back to Africa, she hired resource and technical personnel from the continent, especially from Nigeria and Rwanda.
"My vision has always been what can I do to help the continent. Even as an entrepreneur in the US, I have always looked for opportunities to help Africans."
As an Angel Investor, she noticed that there was a huge gap in early-stage financing in the continent. In September 2021, she left OpenTeams to launch a venture capital firm focused on early-stage startups in the African continent.
As an investor, she understands the challenges involved in starting a tech company; building and maintaining a company, and handling rejections from investors.  With that, she's able to liaise with founders in order to proffer the best plans that'll result in success.
The firm looks out for exceptional founders that solve a meaningful problems. Offering between $25,000 to $150,000 for early-stage financing for startups. Especially looking out for tech or tech-enabled startups that are B2B or B2C2B, targeting businesses or consumers and businesses. As a minority VC firm, Ajim Capital provides expert advice as support to startups, in addition to funding.
Eunice disclosed that the firm has grown a network of experts, from business development, product development, marketing strategies, and legal hiring services for startups.
At the moment, Eunice Ajim is the only General Partner (GP) of Ajim Capital.  The firm is looking to bring on an associate, an analyst, and an investor relationship while trying to finalize agreements with contract staff and those working on a volunteer basis.
While the present focus is giving as much equity in the initial cheque size, the company envisions doing follow-up rounds in the next two years.
Ajim Capital considers startups that would create meaningful products for Africans. Products that solve infrastructure problems, or digitalizing one that has over time been done manually. Startups that provide opportunities through its products and services, to Africans. Startups with a strong team, that are highly knowledgeable in their specified niches in tech. And have the capacity to be highly scalable, with returns in revenue.
Speaking of the qualities of a good founder, she says "the best startup founders are the ones willing to grind, think outside of the box. Actually build something, put it out on the market and get enough traction."
The African tech ecosystem is growing at an exponential rate, with more startups springing up to solve problems unique to the African continent. Ajim Capital is offering innovative founders the opportunity to grow and thrive in this competitive space.