Vuleka Crowned Winner At The Visa Everywhere Initiative (VEI) Competition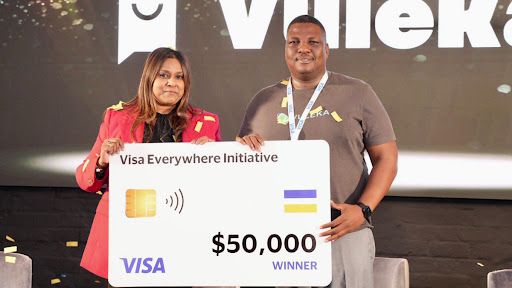 Vuleka, a local start-up in South Africa was declared the winner of the fintech competition, the Visa Everywhere Initiative (VEI).  This event is the South African edition held in Cape Town where Vuleka was awarded prize money of $50,000 (R926,751). This will advance the startup to the regional finals of the Central and Eastern Europe, Middle East, and Africa (CEMEA) competition, scheduled for July.

Brian Makwaiba, founder of Vuleka expressed his excitement, saying, "I'm very happy that we won, and I'm excited for the future partnership with Visa. We plan to reinvest the funds in the business and focus more on the fintech side of things."

If Vuleka succeeds at CEMEA regionals, it will compete in the global finale on September 19 in San Francisco.

About Vuleka
Vuleka, which was introduced in 2017, facilitates trade within the informal sector by connecting small manufacturers, large wholesalers, and spaza shop owners through its platform. This platform can be accessed through various means such as an app, WhatsApp, a network of agents, or by phone. It enables spaza shop owners to directly sell their goods to consumers.

Since its introduction, the platform has attracted more than 7,000 customers and has also implemented a buy-now-pay-later feature for the businesses of its clients. "We have a vision to get every informal business cashless, just like Visa does," said Makwaiba.

"We started this business and grew it; now, we've seen that there is a market. The business is going to focus more on building out those solutions. We believe it's going to be easier to scale the solution that we have," Makwaiba added.

According to Lineshree Moodley, the General Manager of Visa South Africa, the event was organized to recognize innovation and novel concepts that tackle future challenges and problems within the payments ecosystem. She emphasized that the focus was not only on discovering innovative solutions but also on promoting inclusive innovation.
Moodley stated that the finalists in this year's competition presented a wide range of ideas and were focused on addressing real challenges, not only in South Africa but also across the continent.

"This is what success looks like when we can develop solutions that build more financial inclusion. Our winner is solving a very real challenge that we have. SMEs are the lifeblood of our economy, and bringing them digitally into the financial ecosystem is something we all have to work together to solve," she said.

About the Visa Everywhere Initiative
VEI, launched in 2015, is an international innovation competition that challenges start-ups and fintech companies to address upcoming payment and commerce challenges encountered by businesses in various industries and sizes. Its objective is to showcase the products and solutions of start-ups while facilitating connections with influential stakeholders in the banking, merchant, venture capital, and government sectors.

According to Visa, the initiative has facilitated over $16 billion in funding for start-ups from over 100 countries since its inception. The network of the initiative comprises nearly 12,000 start-ups and entrepreneurs from around the world.

Past Winners
Last year, Nigeria's ThriveAgric emerged as the winner of the VEI global grand prize, receiving $100,000 (R1.9 million). In the local leg of the competition held in Cape Town, five start-ups, including Franc, Tweak, Float, iiDENTIFii, and Vuleka, presented their pitches to a panel of judges at Innovation City.

The social impact award of $10,000 (R185,183) was presented to Franc. iiDENTIFii secured second place and received $20,000 (R370,345), while Tweak claimed third place and was awarded $30,000 (R555,517).

Speaking about the importance of VEI, Moodley said: "With the rapid growth in the move towards digital, we know that we have to have a lot of bold ideas, need to push boundaries and look across the different players in the ecosystem. Fintechs, start-ups and entrepreneurs have a huge role to play in terms of providing those solutions."

"When you consider the five finalists' pitches, they have very good ideas that solve challenges we see in the future, with the big one being inclusion. The Visa Everywhere Initiative provides a platform for their voices to be heard. A lot of people have great ideas, but they don't always see the full potential because of a lack of platforms."

Moodley expressed her optimism that Vuleka will emerge as the winner of the grand prize of $100,000 in San Francisco later this year.