We-Fi Regional Summit 2.0 holds in Dubai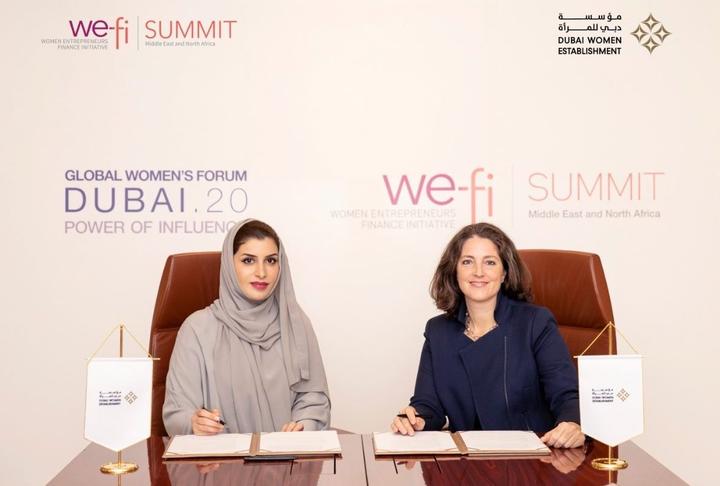 This year in Dubai, from February 16-17, 2020, the second We-Fi regional summit will hold focusing on women entrepreneurs in the Middle East and North Africa region.
The event will be co-organized with the Dubai Women Establishment during the Global Women's Forum Dubai 2020, a global two-day event themed 'The Power of Influence'', with the aim of highlighting dynamic women in governments and the business world, as well as their impact and contributions across the global economy and society.
Wendy Teleki, Head of the We-Fi Secretariat upon signing a Letter of Collaboration said, "The Regional Summit is a flagship event for our organization, and we are very pleased that we can collaborate with Dubai Women Establishment and use the GWFD to propel more support for women entrepreneurs in the Middle East and North Africa."
"Starting and growing a business is one of the most powerful tools for women to build a better future for themselves and their communities and this event we will discuss actions to make this a reality for women around the world. The event also underlines our partnership with the UAE government, one of the first contributing donors to We-Fi."
Mona Ghanem Al Marri, Managing Director and Chairperson of the Board of Dubai Women Establishment (DWE) said: "It is an honor to collaborate with We-Fi, a distinguished international Initiative, during the Global Women's Forum Dubai, an important event to advance gender balance in the region. This collaboration is aligned with our national strategy to establish and foster international collaborations in order to further elevate the standing of women in the UAE".
WE-FI collaborates with implementing Partners including the African Development Bank, the European Bank for Reconstruction and Development, the Islamic Development Bank and the World Bank Group (including the International Finance Corporation).
The summit recognizing challenges such as lack of access to financing and markets, and legal barriers facing women business owners ,will be a meeting space for high-level government representatives, leaders from international organizations, private and public-sector partners, We-Fi Leadership Champions, and women entrepreneurs from the MENA regions.
You can pre-register for the summit here.