Webinar: Utopia On "Entrepreneurship In Times Of Crisis."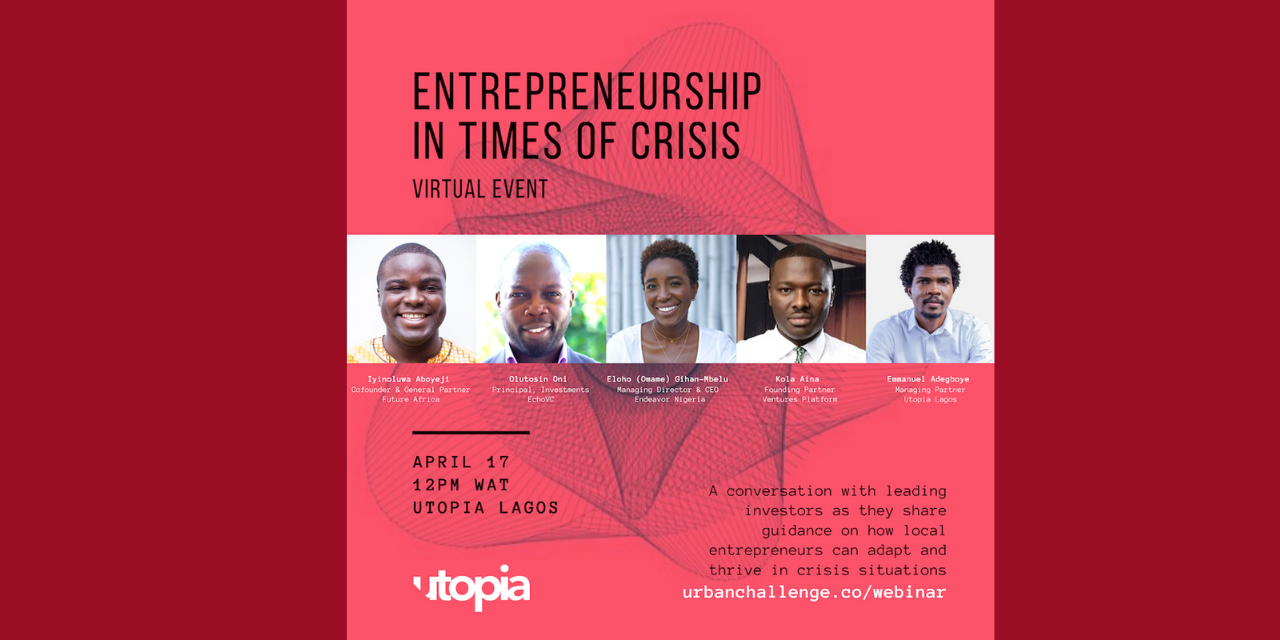 Utopia is the world's first urban innovation group focused solely on emerging cities and their slums. Utopia is creating a network of city labs across Africa, Asia, and Latin America to build an urban ecosystem for emerging cities.
The webinar which hosted a virtual panel session on "Entrepreneurship in Times of Crisis", focuses on how local entrepreneurs can make possible the continuation of business in these difficult times. The meeting came about as a result of their recent event on urban innovation in Africa.
The one-hour virtual event featured a couple of Nigeria most successful investors such as Eloho (Omame) Gihan-Mbelu – Managing Director & CEO, Endeavor Nigeria, Iyinoluwa Aboyeji – Co-founder and General Partner, Future Africa, Kola Aina – Founding Partner, Ventures Platform, Olutosin Oni – Principal, Investments and Portfolio Management at EchoVC, and Emmanuel Adegboye (Moderator) – Managing Partner, Utopia Lagos
During the 1-hour virtual event, Nigeria's most successful investors shared their perspectives and offer guidance on how local entrepreneurs can respond correctly in times of crisis, and on what trends are beginning to emerge that provide opportunity for entrepreneurs.
Advising entrepreneurs on how to keep businesses alive during this hard time, Kola Aina a founding partner of ventures platform advised entrepreneurs to look at the crisis in three forms: lock-down of the place, post-lockdown and how the country you are is fairing amid the lock-down. He also added that employers must be keen on checking up on their employees and their response to COVID 19.
Iyinoluwa Aboyeli a co-founder and general partner of future Africa was also given the opportunity to share his ideas on how startups can survive. Sharing his experience, he made mention of three key points to consider if you actually want to grow in the industry. He first mentioned that one must look at the structure of venture capital you want to go into, so as to sustain your businesses.
Adding the other two points, he explained that one must explore the opportunities that knock on your door, and also consider looking into history so as not to make irrational decisions that will collapse your business in the future.
He was also asked on how one can make a good business, he mentioned that you have to associate yourself with investors that are ready to help you find customers, who will always check up on you, and show you some funding programs as well.
"Raise money, pick great employees on the street and be smart about how you spend. This crisis is only depending on how you react to it, people are watching content on instagram so how are you reacting to it, how are you going to adapt your business will play a role " he said.
Olutosin Oni – Principal, Investments and Portfolio Management at EchoVC, gave some guidelines on how to run your business during this crisis.  He stated that we are heading down because of the pandemic and as a founder, you need to be psychologically strong, and you need to convey quickly with what is currently happening in the world. "We are heading down, how far this thing will be…this also drawing from our experiences. As a founder, you look out for your psychology, what you do in your company and you need to convey quickly with what is going on. As a founder, your mindset is important when something is going down you don't know where it will stop. It could be west than you think" he added