XPay collaborates with Fawry to roll out FawryPay Reference code for its customers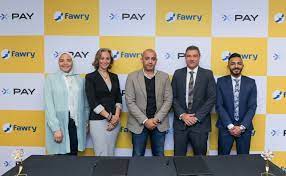 Egypt's leading electronic payments company, Fawry, has signed a partnership with Fawry to provide the 'FawryPay Reference code' and cash-out services to XPay's customers and merchants in Egypt.
The new deal will enable XPay to provide its customers and merchants with ultra-modern electronic payment methods to facilitate the process of managing their financial transactions.
This new collaboration aligns with Fawry's strategy of promoting financial inclusion and spreading the culture of electronic payment in financial transactions.
Head of Acceptance at Fawry, Bassem Lotfy stated, "We are pleased to cooperate with XPay and we hope to help them meet the needs of customers through the innovative technology that we will provide them with, especially the 'FawryPay reference code' service".
"Fawry has a clear policy at to stimulate startups working in financial technology and electronic payment to enrich the sector with innovative solutions, which is beneficial to the electronic payments market," he added.
On the other hand, the CEO of XPay, Dr. Mohamed Adelmotaleb also said, "This partnership is an important milestone and a contributing factor towards achieving our goal of digital transformation and financial empowerment, improving the quality of life for individuals and companies, through diversified digital solutions to enhance their financial management."
"This partnership has been developed to provide customers with better electronic payment options and support the state's policy towards digital transformation and financial inclusion", Dr. Adelmotaleb further stated.
Founded in 2018, XPay is an Egyptian fintech company that offers a seamless payment and management platform for smart communities to enhance the financial empowerment of individual and corporate through a variety of digital solution
Fawry is helping build a cashless society leveraging on its varied technological solutions and options, which serves the state's direction towards supporting the digital transformation agenda of Egypt's Vision 2030 and the initiatives of the Central Bank of Egypt.
This latest deal follows Fawry's partnership with the signing of 'My Fatoorah', an online payment platform in the GCC region, in order to provide FawryPay reference code service for My Fatoorah's customers and merchants in Egypt.