African genomic startup, 54gene secures $25 million in a series B round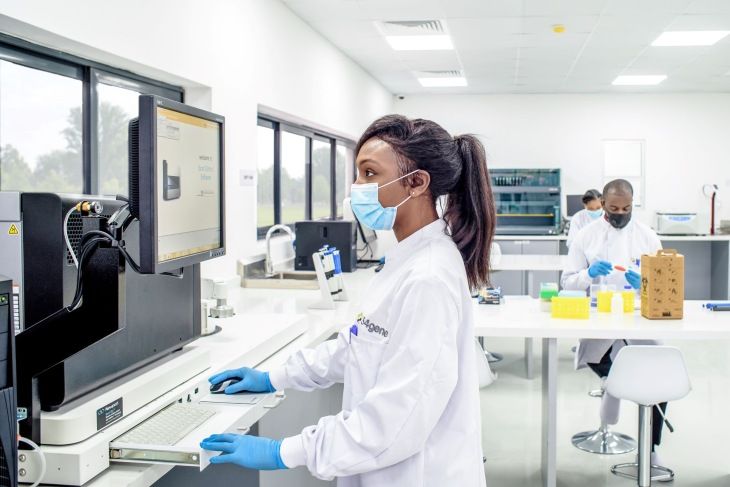 54gene, a health technology company with operations in Nigeria and US, has secured $25 million in a Series B funding round by pan African venture capital firm Cathay AfricInvest Innovation Fund. Other participants in the round include Adjuvant Capital, KdT Ventures, Plexo Capital, Endeavor Capital, Ingressive Capital and others.
This brings the total amount raised by the startup to around $45 million in about two years. 54gene had previously raised $15 million last year after securing a $4.5 million investment in seed round in 2019.
Founded in January 2019 by Abasi Ene-Obong (CEO), Damilola Oni, Gatumi Aliyu and Ogochukwu Francis Osifo, 54Gene offers drug discovery, clinical development and molecular diagnostics services to Africans.
In October 2020, 54gene launched its clinical programme services division to oversee clinical development services, intelligence, logistics and infrastructure to ensure the success of clinical trials being conducted in Africa, starting with Nigeria. The startup kicked off the project in partnership with bio-simulation company, Certara to supervise clinical trial management and support for every aspect of the study conducted in Nigeria.
World Economic Forum selects 54Gene and Sokowatch as Technology Pioneers
A month before that, the startup partnered with a US biotech firm Illumina to establish a new genetics testing facility at its laboratory in Nigeria to run advanced genomic analysis.
Now, the startup seems to be putting more focus on new drug discovery. Aside from expanding its capabilities in sequencing, target identification and validation, the startup says the new capital raised will also be deployed for precision medicine clinical trials enabling drug discovery in Africa for both Africans and the global population.
"It's truly incredible to witness the impact of African scientists in global research and it is critical to global health that this continues," CEO, Abasi Ene-Obong said. "We want to scale our contribution to global drug discovery by extensively developing life science capabilities on the continent and this additional capital will catalyse our endeavours."
The new capital will also enable the company to begin its expansion across the African continent.
According to reports, Africa houses more genetic diversity than any other continent. Yet, less than 3% of genomes already analysed come from Africans. This makes Africa a potentially rich source of new genetic information for health and drug discovery research. 54gene intends to leverage this as a global research resource while ensuring Africans benefit from advanced medical innovations.
Through this alliance, African samples stored in its biobank are being genotyped, sequenced and analysed without the need to send samples overseas, significantly reducing turnaround time and costs for test results.
To help achieve the lofty ambition the startup has set for itself, it has made some strategic senior appointments by bringing in new team members with world class exposure and experience.
Colm O'Dushlaine formerly of Regeneron Genetic Center and the Broad Institute of Harvard and MIT joins as Vice President – Genomics and Data Science.
Teresia Bost, General Counsel, joins the company with over 20 years' experience in healthcare where she's held various senior counsel roles at Celgene, was VP & Associate General Counsel at Jazz Pharmaceuticals, and General Counsel at Quartet Health.
Jude Uzonwanne, Chief Business Officer, was formerly a partner at IQVIA, ZS Associates and held multiple roles at the Monitor Group, Bain and Company, and the Bill and Melinda Gates Foundation.
Peter Fekkes, Vice President – Drug Discovery, developed and led drug discovery programs at Novartis, FogPharma and H3 Biosciences.
Jude Uzonwanne who was formerly a partner at IQVIA, ZS Associates and held multiple roles at the Monitor Group, Bain and Company, and the Bill and Melinda Gates Foundation joins the team as Chief Business Officer.
Speaking on the new senior appointments, Ene-Obong said the partners were brought in to keep the company true to its mission of equalizing healthcare. He said the partners can help the company replicate its success throughout Africa.
"We believe the world will benefit from an African global drug discovery company that leverages the deep insights found in genomics research in diverse populations and ensures true equity for the African population. It's exciting to see our company shift into the next gear as it targets becoming one of the top global companies in genomics research," he said.
54gene To Reinvest 5% of Proceeds From Commercial Drug Discovery Programs on African Scientists and Communities