African social media startup, ear1 close $520,000 pre-seed round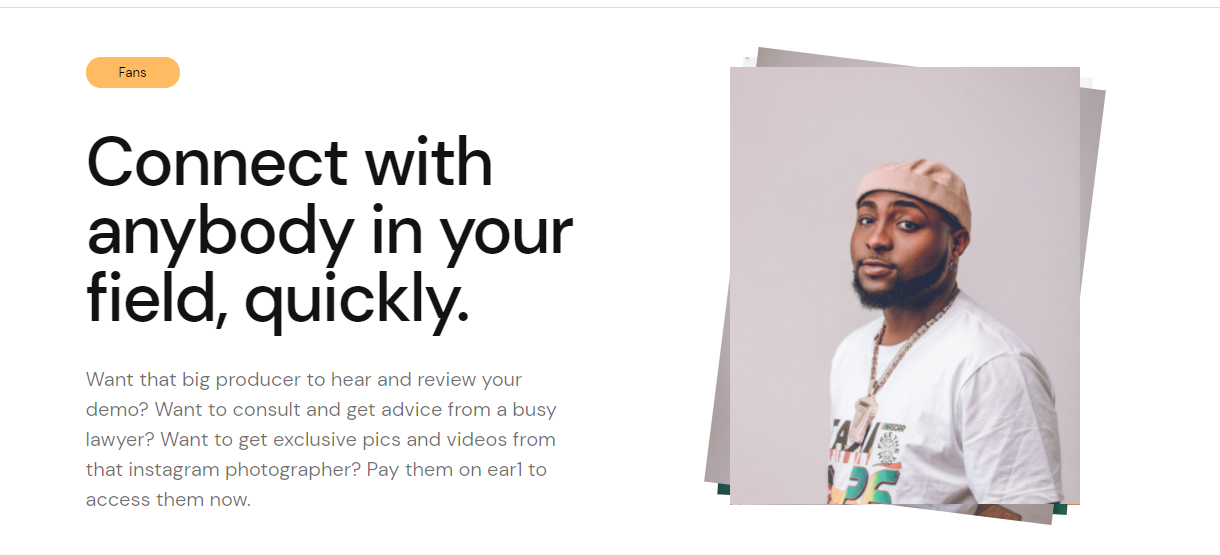 Ear1, an African social media startup that allows people to talk to influencers and professionals for a small amount, has announced the raise of a $520,000 pre-seed round.
The round was led by Danny Oyekan of Dan Ventures, with Alkesh Thavrani of Stellar International and Prosper Otemuyiwa (CTO of EdenLife) as other participants.
Founded by BitSika CEO and co-founder, Atsu Davoh, ear1 (pronounced 'ear-one') was built to incentivize access to professionals and influencers.
Despite the ubiquitousness of modern social media, access to top professionals is still challenging due to the design of traditional social media platforms.
Ear1 is looking to solve this access problem by allowing anyone to sign up and create a paywall that allows people to talk to them for a fee. Essentially, ear1 is a paid direct message product for priority conversations.
For the typical social media user, a profile acts as a one-to-many communication channel. The more popular the user is, the higher the number of inbound conversations. For top professionals who are typically very popular and sought-after, this situation can get overwhelming, requiring them to set up quality filters. However, the challenge with quality filters is that they restrict access to large swathes of people, including those with genuine concerns or proposals.
Speaking on the recent raise, Atsu Davoh, founder and CEO of Ear1 said, "We're thrilled with the recently concluded raise as it allows us to build faster and better. Ear1 is a product with endless possibilities. Our goal is to align incentives around network connections. People with serious messages for top professionals and celebrities can now get their messages across faster by paying to talk to them."
Prosper Otemuyiwa, an investor in ear1 and CTO of EdenLife also commented "ear1 is one product that will change the lives of creators and democratize access to top people in any field. I expect the product to morph quickly into an app that supports groups of people in open and closed channels. We might also see it become a one-stop platform for recruiters to talk to top talents in any industry"
How does ear1 work?
Although the company has announced its raise, the product is not yet available on both Google or Apple playstores. A recent tweet from Atsu revealed that the ear1 app has been submitted for review by both playstores and will soon be available.
In the meantime, the product is in open beta and members of the public can access it here.
Right now, ear1 is only available for users in Nigeria and Ghana due to payment constraints. However, Atsu wants to scale the product as quickly as possible.
Users on ear1 can currently create accounts and set prices for access to their messages. They can also give exceptions to other users which is useful for maintaining communication with close contacts.
The chat interface is intuitive and easy-on-the-eye, in a manner reminiscent of WhatsApp, Telegram, and other direct messaging products. The ear1 team confirmed that the chat system was built from scratch due to its peculiarities. All conversations on ear1 are end-to-end encrypted, so security is guaranteed.
There's a search page where you can search for any user and preview their bio and pricing before reaching out to them. To send a request to a user, you have to make a payment equivalent to their pricing. If the user accepts the request, the chat commences. Paid chats are typically valid for one week. That means, after a week, the requester has to pay another fee to continue the conversation.
Currently, the ear1 conversation interface allows for text and audio communication i.e. voice notes. Users can also attach files including videos, images, pdf, and Word documents. Calls (video and audio) are not available at the moment. Atsu says it will be implemented depending on user requests.
Users also have access to a wallet where they can see their earnings in real-time. You can also check on whether you have received any new requests.
Following the raise, ear1 is looking to "build like crazy, engage the influencer community, promote the app, and partner with creators". Preparations are already underway as according to Atsu, the brand has engaged popular names like David "Davido" Adeleke, Erica Nweledim, and John Dumelo as ambassadors. Official announcements will go out soon.