8 African startups pitch at Techstars Toronto Demo Day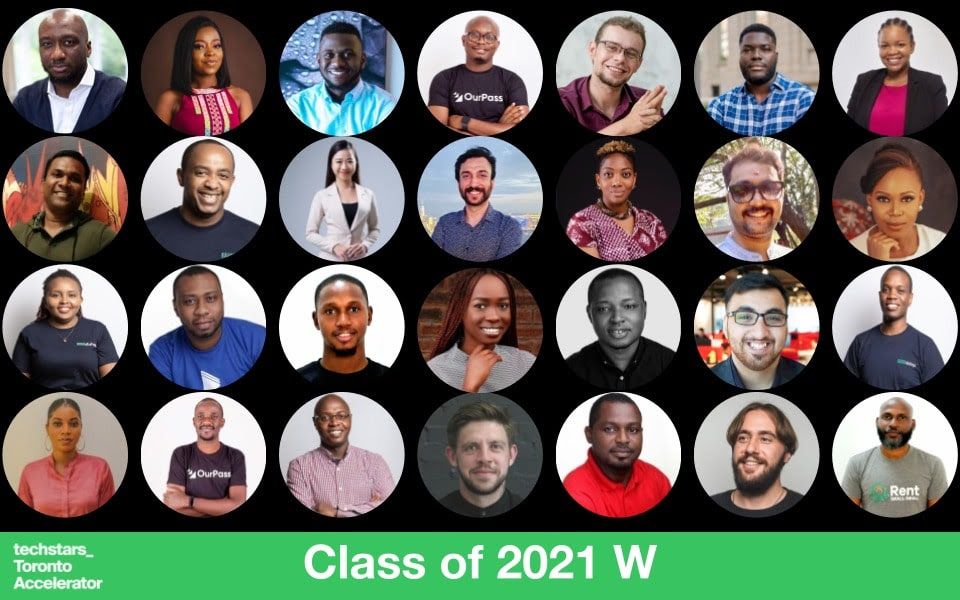 Last year, two African startups Plentywaka (now Treepz) and TalentQL made it into the Techstars Toronto Accelerator program, alongside 8 other startups.
Since then, these two startups have recorded significant growth and traction. With Treepz raising $2.8 million in seed funding and expanding to Ghana and Uganda.
On the Techstars Toronto Demo Day that was held yesterday, of the 12 startups in the program, 8 were African startups who are working to solve some of the infrastructural and service gaps in the continent.
Check them out below.
Duhqa provides an e-commerce tech platform for retailers that connects them to manufacturers and suppliers, thus solving for logistics and delivery inefficiencies which means no more fragmented markets in Africa.  Since launching only in January of 2021, Duhqa already has more than 2,000 active businesses as paying customers, has surpassed $1.5M in revenues, and has a team of 22 staff with plans to expand across all of Sub Saharan Africa by 2025.
Fleri is a US-based conditional remittance platform that ensures that the money immigrants send back home goes directly into specific services for their loved ones starting with healthcare coverage. In Nov 2021, Fleri added coverage for two new African countries – Zimbabwe and Zambia to their pilot countries of Nigeria and Ghana.  They already have more than 10,000 migrant Africans signed up to their waitlist and recently won a $100K grant from Rev1 and the state of Ohio. They recently launched a product to help travelers to Africa pre-book at-home tests to meet the mandatory health testing requirements for leaving these countries.
Healthtracka is a digital health startup decentralizing lab diagnostics in Africa with at-home health testing. Users book their lab tests on healthtracka.com, have their samples collected at home, and receive digital results in 48hrs.  The company was launched in May of 2021 and is already in three of the biggest cities in Nigeria. They have 2,000+ tests delivered at home and have acquired 1,500 paying customers with $30k in monthly revenue.
Kyshi provides a formal, simple and secure platform for Africans to transact across borders. The Kyshi marketplace runs a peer-to-peer system that lets you create or accept an offer at a convenient exchange rate set by people on the platform, not by banks. Kyshi is on a mission to unlock more countries while demystifying money transfers one currency at a time, connecting you to Africa. Kyshi has over 30,000 users and an average growth rate of 65% month over month!
Lenco is a B2B neobank for businesses and is on its way to becoming the "World's Bank for Black-owned Businesses". Lenco provides local and cross-border digital banking to businesses in Africa and soon to black-owned businesses globally. Lenco has launched just 9 months ago and is growing at a remarkable 35% month-on-month. Lenco has recently completed its Canadian HQ incorporation and will be acquiring a Money Service Business License to power its' cross-border business operations plans.  Today, Lenco is lives in Nigeria and will be launching imminently in 2 other African countries, before expanding to North America and beyond.
OurPass is a mobile app that enables consumers to shop with one click, thereby reducing abandoned carts and increasing sales for merchants. Focused on the fastest-growing African e-commerce industry, the product was launched in September 2021 and has already completed more than 10k transactions, has 5000 users, and over $1M in transaction volume, in just the first 3 months!
Read: One-click checkout platform Ourpass raise $1 million pre-seed round
Marking Techstars first-ever investment in Rwanda, Payday is a pan-African fintech company helping Africans send & receive money across Africa and globally faster and with lower costs than any other money service. The company was launched in July 2021 and is already live in 10 countries. Payday has processed over USD 5M already (in just 4 months!) and has more than 10,000 active customers on its way to becoming the only payment app that Africans will ever need.
RentSmallSmall is the first Proptech company from Africa to join Techstars and is using technology to organize the massive Nigerian rental market. RentSmallSmall allows home seekers to find a property on the go, stay within budget, and pay rent monthly instead of annually in advance which is the unfortunate expectation of Nigerian landlords. RentSmallSmall has over $2.4M in revenue with 20,000+ tenants on the waiting list and a vibrant furniture leasing business and real estate investment platform for the African diaspora to purchase apartments and homes in Africa and subsequently add supply to the RentSmallSmall platform.
If you'd like to catch up on the Demo Day event which was held virtually, then click here.