CATAPULT: Inclusion Africa announce 14 Fintech Startups to participate in 2021 edition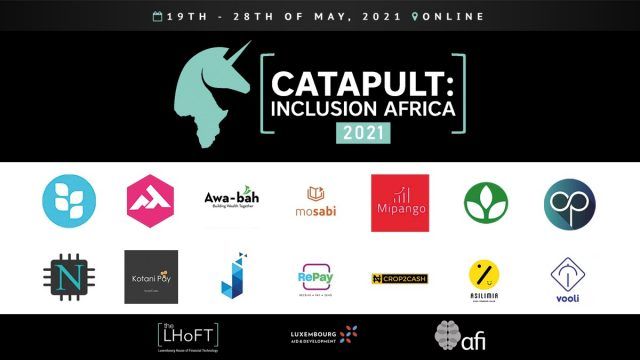 The 2021 edition of Catapult: Inclusion Africa has announced the 14 fintech startups that will take part in the bi-annual program.
The program will hold from 19 to 28, May 2021. The selected startups will take part in an eight-day boot camp during which they will train and network with industry stakeholders.
Investors participating in this year's edition include Bamboo Partners, TLG Capital, ZedCrest Capital, Rising Tide Africa, Outlierz, Angaza Capital, Anza Capital, Baobab Group, Beyond Capital, Advans, CRE VC, DRK Foundation, AfricInvest, Triodos Capital, Sherpa Africa Partners amongst others, who will work with the cohort throughout the program.
The CATAPULT: Inclusion Africa program which started in 2018 was developed by the LHoFT Foundation, and the program targets companies focusing on financial inclusion in Africa, aiming to build bridges between Africa and Europe, highlighting their initiatives and very much aligned with the sustainability goals of Luxembourg's finance center.
CATAPULT: Inclusion Africa is sponsored by the Ministry of Foreign & European Affairs – Directorate for Development and Humanitarian Affairs, and supported by the Alliance for Financial Inclusion as well as key strategic partners such as ADA, InFine, University of Luxembourg, LuxFlag, Innpact, LuxAfrica, ACRC, MicroInsurance Network, CGAP, LMDF, SPTF, UABA, the European Investment Bank and Compellio.
The fintech startups participating in the program offer services across a variety of fields such as cryptocurrency, digital payments, and financing.
The selected startups include:
Emata (Uganda)
Moja Bank (Ivory Coast)
AWABAH (Nigeria)
Mosabi (Sierra Leone)
Mipango (Tanzania)
Igugu Global (Nigeria)
Chromepay (Israel)
Nokwary Technologies (Ghana)
Kotani Pay (Kenya)
Juakali (France)
Africa (Kenya)
Crop2Cash (Nigeria)
Asilimia France (France)
Vooli Insurtech (Kenya)
The selected startups will conclude the program by staging a pitching event. Due to public health guidelines, the event will be hosted online on 27 May and is open to the public.
You can register to attend the pitching event here
Kenyan based Pezesha wins CATAPULT: Inclusion Africa Awards.