Facebook to fuse Messenger into Instagram for an integrated chat system.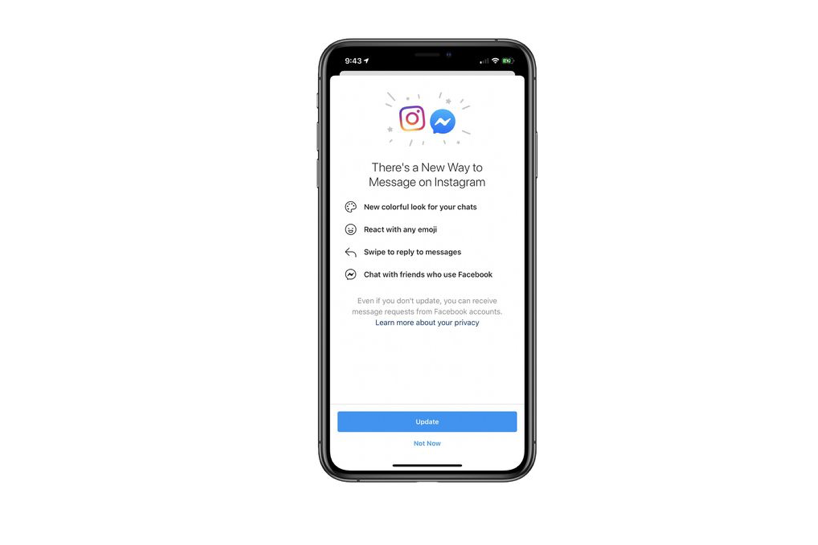 Facebook is planning to fuse Messenger to Instagram to enable an integrated chat system on both the apps according to reports.
Instagram users on both Android and iOS platforms will soon notice a DM icon on top right corner of their home screen to be replaced by the Messenger logo.
When users click on the icon, they will be able to browse through a new colorful messaging screen, which allows them to chat with friends who use Facebook. The feature is likely to roll out in stages since not all users have the feature.
However, Instagram has not officially announced any rollout plans yet. According to a report by The Verge, some users at the publication started receiving a pop-up update screen on Instagram, saying, "There's a New Way to Message on Instagram," listing some new features.
Aside letting Instagram users to "chat with friends who use Facebook," the new features include a colorful overhaul of the chat screen, emoji reactions, and swiping right to reply to messages instantly. The pop-up also stated that even if users do not update the app, they can still receive message requests from Facebook accounts.
Per the report, the DM icon on the home screen will be replaced by the Facebook Messenger logo after users update the app .
The chat screens appears more colorful, as the sender's messages shift from blue to purple upon scrolling.
Nevertheless, The Verge also revealed that it was not able to message Facebook users from Instagram as at now. This new update comes after Facebook's longstanding plan to integrate Messenger in Instagram.
Sometime in May this year, Instagram started allowing users to create new Messenger Rooms and invite friends to join a conversation straight from the app, a feature that was also rolled out to WhatsApp.