Quro Medical and Life Healthcare partner to provide hybrid healthcare delivery for Africans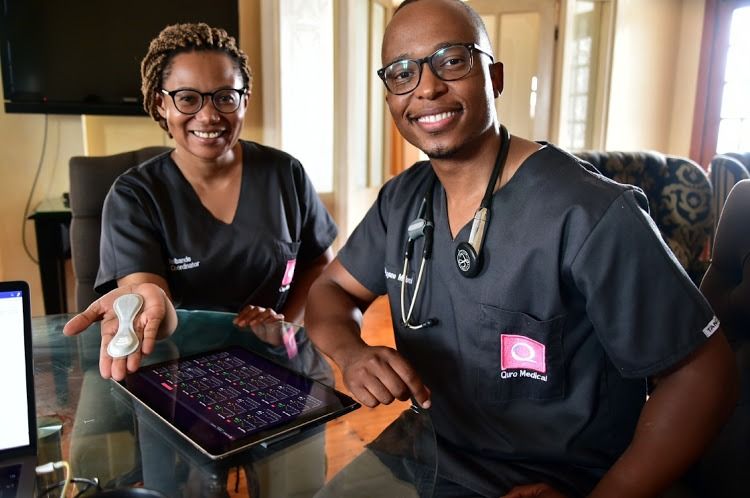 Quro Medical, a Johannesburg-based health tech startup that offers accessible and affordable healthcare for South Africans has secured undisclosed financing (PDF) from Life Healthcare (LHC), a leading international healthcare organization, and South Africa's largest private hospital chain.
This deal is coming after Quro Medical raised a $1.1 million seed round 3 months ago. A demonstration of its growth potentials and level of acceptance in the rainbow country.
Quro Medical was founded in 2018 by Dr. Vuyane Mhlomi and Zikho Pali, the startup basically operates tech-driven healthcare at home company. With the help of healthcare technology, the startup analyzes real-time data to monitor the health of patients. Using this method, Quro Medicals provides round-the-clock medical service for patients who need constant healthcare monitoring, outside the acute hospital care, with the option of getting assistance remotely.
This deal will see both companies partner to provide persons with technology-enabled ways to access high-quality healthcare at home – when they need it. This collaboration is mutually beneficial to both parties and the biggest gainers will be South Africans who now have the option of choosing either of two healthcare options. Shlomi said this is the first of its kind deal and it may result in an "increased appetite for collaboration within the healthcare provider space or between healthcare providers and tech companies."
While Life Healthcare is a global people-centered, diversified healthcare organization listed on the Johannesburg Stock Exchange. LHC has over 33 years of experience in the South African private healthcare sector, and currently operates 66 healthcare facilities in southern Africa, and is actively present in 10 countries globally.
LHC has vast medical expertise and thousands of hundreds of patients who trust their services; on the other hand, Quro Medical has the technology that can help Life Healthcare reach their patients faster and efficiently.
Peter Wharton-Hood, Life Healthcare Group Chief Executive explained in a statement that the ongoing strain on the South African healthcare system by the COVID-19 pandemic has necessitated the need for digitally-enabled home-based healthcare solutions.
"Our people-centered approach has encouraged us to think of new and innovative ways to further serve our patients outside of our hospital service offering, continuing to live our purpose of making life better," Wharton-Hood said.
"We can therefore continue to treat patients who don't require further in-hospital care, but need monitoring while making additional in-hospital resources available for those who do. Our shared passion for improving healthcare in South Africa makes our new partnership with Quro Medical purpose-driven. We look forward to providing this digital healthcare solution to our patients soon," the CEO concluded.
With this investment, LHC will be able to provide its patients with onsite and remote care— a hybrid healthcare model that will continue to drive its relevance in both local and global markets.
According to Mhlomi, Quro Medical's Co-Founder/CEO, data-driven clinical interventions demonstrate incredibly good outcomes for patients. "When you're able to be further assisted in your own home, your recovery and healing are accelerated."
Mhlomi adds that Quro Medical goes beyond traditional telehealth. "Patients get safe, world-class treatment with 24/7 monitoring in the best place to continue healing: at home. We're excited to leverage LHC's vast hospital experience with our home-care expertise to give patients affordable access to at-home medical services".
The latest partnership between Quro Medical and LHC has the potential of kickstarting a new trend of hybrid healthcare systems in Africa where treatment of patients can be done on or offsite. This deal also aligns with Quro Medical's expansion plans as it will make it easy for them to enter markets where LHC is present.